City Guide: Los Angeles
Los Angeles Travel Guide
What can we say about a metropolis where us vegetarian and vegan cows dwell for many months of the year?... Well, for starters, it is to our great delight that vegetarian restaurants and vegan cafes can be found throughout Los Angeles, a HUGE sprawl comprising of neighboring cities divided by super highways, annual household income, and multiple languages. The Greater Los Angeles country is home to over 7 million people from diverse ethnic origins. English and Spanish are the primary languages spoken though many others are spoken throughout.
---
L.A. is a very veg-friendly city
The cultural diversity of Los Angeles is an evident influence on the local vegetarian food restaurant industry. Where else but L.A. can you find strictly VEGAN and VEGETARIAN dining, be it Chinese, Ethiopian, Mexican, Thai, American, International Fusion, Vegan Macrobiotic, Raw Gourmet or Vegetarian Indian restaurants? Vegetarian food can be as creative and diverse as the city's inhabitants.
Before you pack your bags and come out to Los Angeles, be warned that traffic hours usually last all day and will drive anyone bonkers (sometimes we feel like we live in a parking lot). And the sky can look a little gray and brown... While we are not advocating more auto vehicle usage, do plan your mode of transportation. Buses and light rail will take you to major city destinations and is generally on-time. However, if you plan to venture often beyond city limits, consider finding access to a car or carpool. Also get yourself a guide book and some maps to help navigate your way.
A few vegetarian restaurants to check out when in the Los Angeles area...
Beverly and Fairfax area: Vegan Glory serves Thai and American casual dining; Rahel's serves traditional Ethiopian in vegan versions.
South Bay: Green Temple serves healthy vegetarian American and Mexican specialties.
San Gabriel Valley: Happy Veggie Garden serves saucy Chinese vegetarian cuisine; Hsi Lai Buddhist Temple serves home-style Taiwanese pure vegetarian comfort food.
Find more great eats at: Los Angeles vegetarian restaurants
Los Angeles natural food markets that offer healthy choices...
San Fernando Valley: Follow Your Heart vegetarian market and cafe
Fairfax area: Erewon health food market and deli
Greater LA County: Farmers' Markets everyday of the week in different cities; check out Wednesdays in Santa Monica and Sundays in Hollywood
Throughout greater Los Angeles County: Whole Foods Market, Wild Oats Marketplace, and Trader Joe's all offer vegetarian-friendly foods and grocery
Find a comprehensive & up-to-date list of health food stores and vegetarian restaurants in Los Angeles & nearby cities at: HappyCow's guide to Southern California and Los Angeles
Fun outdoor activities to enjoy in Los Angeles...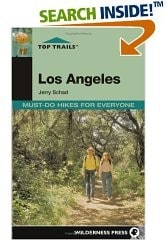 Hiking
L.A. is surrounded by awesome mountain ranges to the west, north, and northeast. Try Topanga State park, Soltice Canyon, Malibu Canyon, Hollywood Hills, and Will Rogers State Park, just to name a few.
Beach walks
Take a stroll on the beaches all along the coast off of the Pacific Coast from Malibu to the north to Redondo Beach to the south. Our favorite beaches include Zuma Beach and El Matador, both around 10 miles north of Perpperdine University.
People watch
Venice beach is great for checking out a wild mix of artists, exhibitionists, and tourists. Santa Monica's Third Street Promenade is great for easy strolls, shopping, and dining. Or watch surfers catch some waves all along the Pacific Coast Highway.
You might also enjoy exploring the museums, city landmarks, and other good stuff the guide books tell you.
And if you feel like listening to some progressive radio, tune to KPFK Pacifica Radio 90.7FM anytime, or check out eclectic music and National Public Radio news on KCRW at 88.9FM.
Enjoy your stay in the City of Angels.
Lonely Planet Los Angeles and Southern California
Here are some Los Angeles Vegetarian and Vegan Restaurants, including veg friendly & raw food restaurants:
Bulan Thai Vegetarian Kitchen
7168 Melrose Ave, Los Angeles, CA 90046
323-857-1882
Cinnamon Vegetarian Mexican Restaurant
5511 N Figueroa Blvd, Los Angeles, CA 90042
323-982-9480
Euphoria Loves Rawvolution Raw Cafe
2301 Main St, Santa Monica, CA 90405
310-392-9501
Follow Your Heart Vegetarian Restaurant and Market
21825 Sherman Way, Sherman Oaks, CA 91303
818-348-3240
Happy Family III Vegetarian Restaurant
111 N Atlantic Blvd, Monterey Park, CA 91754
626-282-8986
Native Foods Vegan Restaurant
1110 Gayley Ave, Los Angeles, CA 90024
310-209-1055
Rahel Ethiopian Vegetarian Cuisine
1047 S Fairfax Ave, Los Angeles, CA 90019
323-937-8401
Real Food Daily
514 Santa Monica Blvd, Santa Monica, CA 90401
310-451-7544
The Green Temple Vegetarian Restaurant
1700 S Catalina Ave, Redondo Beach, CA 90277
310-944-4525
The Vegan Joint
10438 National Blvd, Los Angeles, CA 90034
310-559-1357
---
For a complete & up-to-date list of vegetarian restaurants and vegan restaurants
in Los Angeles city & surrounding areas, see: Greater Los Angeles Area City Listings
Note: some links in this article are part of Amazon's affiliate program, so when you make a purchase a small amount will go to support the HappyCow website.