Banners - Spread the Word!
Thank you for linking to HappyCow & sharing this invaluable resource.
If you would like a Description:
"HappyCow.net is your one-stop resource for everything VEG. Find vegetarian restaurants and health food stores worldwide; read travel and health articles; download mobile app; exchange recipes and stories. Join HappyCow's growing community of caring people who are dedicated to promoting a healthy, compassionate, and sustainable lifestyle."
If you would like to add a banner on your site, we have some samples below. Please link them to: https://www.happycow.net
PS. We grant you permission to re-size our banner(s) to fit your website; however no permission is given for the editing of any HappyCow banners without our explicit consent.

125x125

120x90

120x60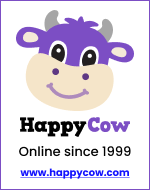 150x190

300x75
Search Box

Icon

Icon

Icon

Icon