Not so long ago, the idea of a single vegan dish, let alone a whole bakery, was the stuff dreams are made from. Today, there are hundreds of vegan bakeries in the world. More are popping up every day and vegans everywhere are delighted.
This is just the first of many lists of fantastic 100% vegan bakeries. If you know of other fine establishments, please send them to us with their HappyCow link, and if you have a favorite dish at the bakery share that too!  This is a great list to start with, and we can add more versions later:
Vegan Treats – Bethlehem, Pennsylvania, USA – What started as an effort to create cruelty-free foods has blossomed into a baking phenomenon. Danielle Konya, the founder of Vegan Treats, didn't think that you needed to sacrifice flavor in order to eat cruelty-free. Her first creation, the Peanut Butter Bomb cake, gave rise to an entire bakery. She has been a guest on dozens of TV shows, a guest chef spot at Google, and she even beat 50 non-vegan chefs to win the Best Overall Award on PBS's Feast of Sweets.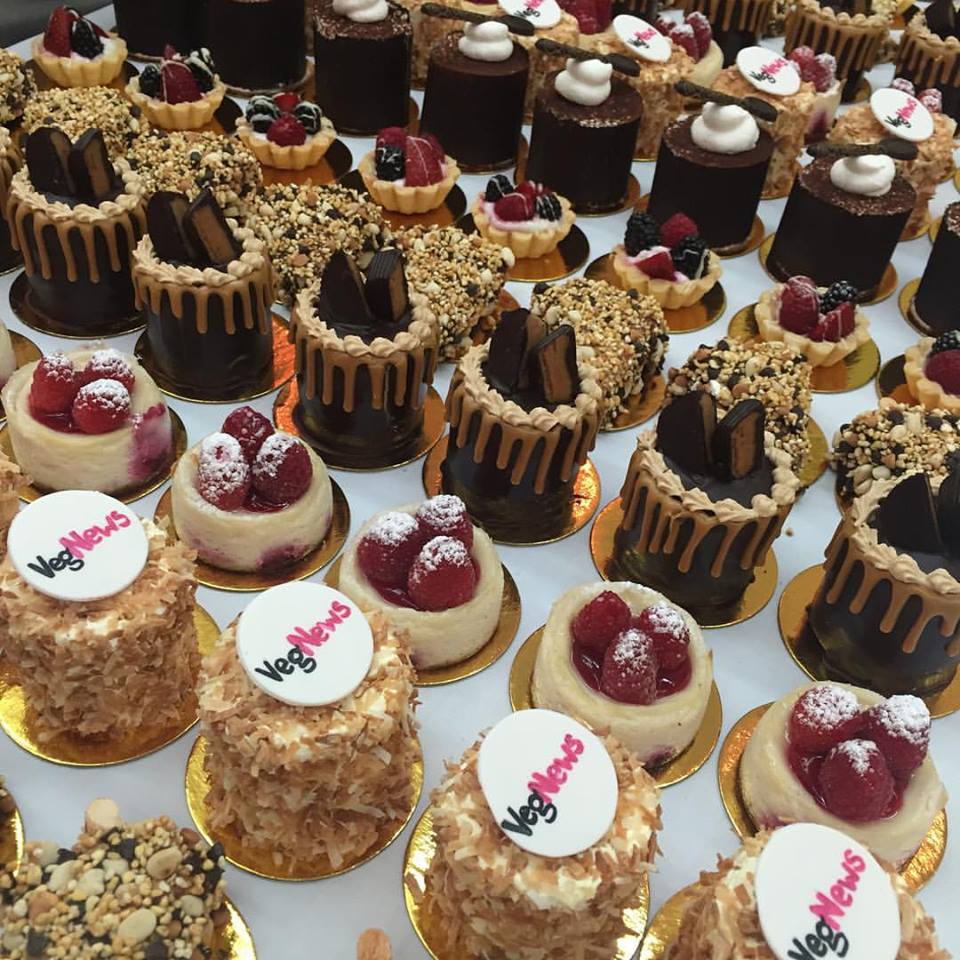 Vegan Treats
Veganerie – Bangkok, Thailand – More than just a bakery, this café has a little bit of everything for everyone. They are most famous for their baked goods, like an Apple Crumble with sesame and sweet potato ice cream. They offer lots of different dessert made with waffle, ice cream, and sundry fruits. This is an amazing vegan eatery in the heart of one of the world's most dynamic cities. If you are in Bangkok, whether you are a strict vegan or not, Veganerie is some place that you need to stop off at. Also, check out our video interview with Veganerie's owner!
Veganerie
Little Bird Organics – Auckland, New Zealand – Little Bird creates amazing foods that are mostly raw and 100% vegan. They have multiple locations throughout the Auckland area. Apple crumb cake with fig and ginger topping is just one of their amazing offerings. Little Bird is the brainchild of Megan and Jeremy, who wanted to share their vision of high-quality vegan foods with the world. They have succeeded.
Little Bird Organics
Nami – Phoenix, Arizona, USA – Born from their world-famous organic ice cream treats. Their treats are all vegan and made from the finest ingredients. Their mouth-watering goodies range from vegan cupcakes to donuts to cakes. Chef Damon Brasch and Pastry Chef Morgan Delight have even created a vegan take 'n' bake cookie dough called namiDoh. This is a bakery that is well worth looking into.
Nami
Through Being Cool Vegan Bakery – Toronto, Ontario, Canada – Donuts! They have lots of amazing treats but Through Being Cool has perfected the vegan donut. Glazed, sugared, chocolate, you name it, Through Being Cool makes it. They have lots of other wonderful treats as well. This is a vegan bakery that is not to be missed and don't forget to bring your non-vegan friends so they can see that veganism is not a sacrifice.
Through Being Cool
Karma Baker – Westlake Village, California, USA – Karma is one to the most complete and outstanding vegan bakeries in the world. They do custom cakes that are perfect for any event, including weddings. They have muffins (banana crumb cake muffin) and Karma cakes that look suspiciously like a big bakery manufactured cake. This is one of the reasons that being a vegan is so awesome.
Karma Baker
Sticky Fingers Bakery – Washington, DC, USA – Two words – Oh, My! There are so many outstanding cakes that it must be impossible to choose. They have a rich red velvet cake that is amazing and dozens of other types of cakes available. They even take on-line orders for in-store pick up. We might need to have a layover in Washington just to get one of these cakes.
Sticky Fingers
Pixie Retreat RAW'r Laboratorie and Makery – Portland, Oregon, USA – A live and raw food restaurant, Pixie Retreat makes wonderful treats. They have café food as well, but their sweets are a really great reason to come here. While almost nothing is technically "baked," it is all delicious. They have the most wondrous looking puddings and cold treats. Raw is not as yucky as some people think in the right hands.
Pixie Retreat
Missionary Chocolates – Portland, Oregon, USA – This delicious eatery makes only one thing: vegan truffles. It is a scrumptious vegan chocolatier that proves that you don't need milk to make amazing chocolates. Julliett Oscar's review on Happy Cow sums it up: "I don't think I'm exaggerating when I tell you that buying some Missionary Chocolates can make the world a better place. This is love in a bite (or 2 for you dainty types) and the world needs all the love it can get."
Missionary Chocolates
Vegan Folie's – Paris, France – This vegan bakery in the land of eggs and cream is an outstanding representative of what cruelty-free cooking can be. It is one of the most recognized and highly rated bakeries in the world. Many vegans have written that every trip to Paris MUST include Vegan Folie's, and judging from the menu and reviews, they aren't wrong.
Vegan Folie's
*All photos via each bakery's Facebook page.
Comment via Facebook