We've come a long way baby. We've got vegan restaurants in every major city in the US . Now vegan bakeries are popping up showcasing that desserts and treats can be made vegan and taste exactly the same and better than their unhealthy animal-filled counterparts. So if you ever need a cake or desserts for a party order from these top rated vegan bakeries and don't tell anyone it's vegan. They would never know!
Sticky Fingers Bakery
1370 Park Rd NW (at Columbia Heights/Mount Pleasant area, Washington DC)
Washington, District Of Columbia 20010
202-299-9700
This was one of the first vegan bakeries to offer tasty treats like cinnamon buns, Smores cupcakes, "Little Devils" (vanilla cream filled chocolate cake sandwich topped with chocolate), and Build-Your-Own cakes. The creator, Doron Petersan, had the opportunity to compete in Cupcake Wars, and won! You go girl! Needless to say, Sticky Fingers is one of the best vegan bakeries in the US!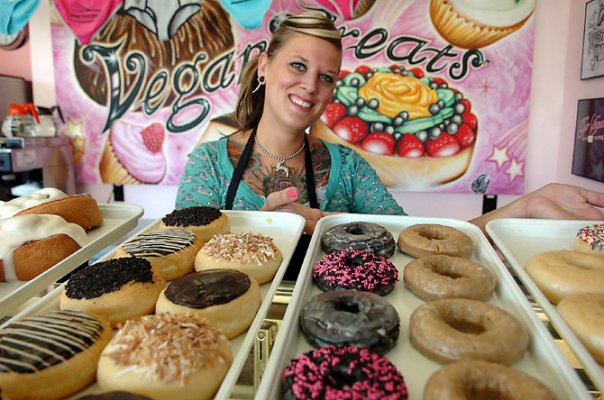 Vegan Treats
1444 Linden St
Bethlehem, Pennsylvania 18018
610-861-7660
Vegan Treats is one of the highest rated vegan bakeries on HappyCow and this list would not be complete without them. They serve surrounding restaurants and cafes with thousands of yummy baked treats in New York, Baltimore, DC, and Philadelphia. If you live anywhere near those places there's a good chance you can get Vegan Treats in your belly! They even have a Google Map that will tell you who carries their baked goods.
Mud Pie Vegan Bakery & Coffeehouse
1615 W 39th St (at State Line Rd )
Kansas City, Missouri 64111
816-726-0761
A vegan bakery in all places! Mud Pie is gaining popularity for their cupcakes (like Chocolate Raspberry, French Toast, Peanut Butter, and Vanilla with Coffee Buttercream), cinnamon rolls (every good bakery should have them!), gluten-free and soy-free options, and many non-dairy milk choices for your coffee (including their very own cashew and sunflower seed milk). Sounds like heaven to me!
Dulce Vegan Bakery & Cafe
1994 Hosea L Williams Dr NE (at Howard St SE )
Atlanta, Georgia 30317
404-624-7417
I'm all for vegan bakeries popping up in unexpected places. Take Atlanta for example. If a place like this is going to survive it will need to serve not only delicious baked goods but scrumptious lunch items as well. Dulce Vegan does just that. Like any great bakery they will make you a kick-butt gorgeous wedding cake for your special day.
Back to Eden Bakery
2217 NE Alberta St (at Alberta District)
Portland, Oregon 97211
503-477-5022
Portland is the perfect town to house one of the best vegan bakeries and Back to Eden does not disappoint! If a bakery has vegan soft serve than that is a place I want to visit! Reviewer favorites are the German chocolate cake, the whoopie pies, varying flavors of cheesecake, and savory pastries too. Pictured is the coconut cream pie, which was so rich and delightful it must be shared with at least one other person.
If you don't see your favorite bakery listed on HappyCow, be sure to submit it! And when you visit your favorite places be sure to leave your review with photos on the site!
Comment via Facebook