Hong Kong can be a real nightmare for veg*ans trying to eat in omnivorous eateries. For example Chinese omnivorous places often use chicken stock in food they bill as vegetarian. As per tons of other omnivorous places around the world (as mentioned before in this blog), many HK places to eat have no serious detailed understanding of vegetarian terms and concepts. This is regardless of the ethnicity of the cuisine a restaurant offers.
There are though some omnivorous eateries in Hong Kong that appear to target the compassionate / health conscious consumer. Are the following omni places in HK worth considering for the veg*an diner? In writing this article the intention was to try to be constructive and positive. In reality some places made that much easier than others. The listings are in alphabetical order.
1) Anything But Salads (Sheung Wan) – Calista Go and Delon Tuan at ABS are happy to talk at length about vegan, raw, gluten free and the rest. In the time when material for this article was being investigated, Calista and Delon advised that they have previously removed the solitary non-vegetarian item that was in their stock list. They advise ABS is now 100% vegetarian. With only two non-vegan items stocked it is also very vegan friendly.
Conclusion – These guys know what they are talking about. Well worth checking out for vegans.
2) Bella Kitchen (Causeway Bay) – Bella Kitchen market themselves as 'Green, Organic, Healthy'. If you take a look at their website there's quite a lengthy section there billed as vegetarian. On strolling in to ask a question or two of the manager, the manager was asked if all of the cheeses in the Five Cheese Pizza were made with non-animal rennet. The manager didn't appear to understand what rennet is (see explanation below for anyone uncertain). This is despite this pizza being billed in the vegetarian section of the menu.
Rennet is a complex of enzymes produced in the stomachs of ruminant mammals. Rennet is used in the production of most cheeses. Chymosin, its key component, is a protease enzyme that curdles the casein in milk. This helps young mammals digest their mothers' milk. Rennet can also be used to separate milk into solid curds (for cheese making) and liquid whey. The mammal is killed to obtain its rennet. Non-animal rennet alternatives are suitable for consumption by vegetarians.
An explanation of rennet was given to the manager (with a much simpler description than that stated above). The response given back made it clear that none of the cheeses on this alleged vegetarian pizza have been checked for non-animal rennet. Thus the intended next question on being able to provide vegan cheese seemed pointless and was not asked.
Conclusion – Lots of room for improvement. Understanding of basic principles of vegetarianism (never mind veganism), sadly seem to be… let's politely describe as questionable. The menu appears very open to questions around misrepresentation.
3) Dandy's Organic Cafe (Sheung Wan) – The menu at Dandy's contains an extensive list of symbols representing suitability against assorted diets (vegan, gluten free, alkalise, low carbohydrate, dairy free, nut free, low G.I.). The manager, Vivi Cheung, assures us that the kitchen has a divided section separating utensils between vegan and non-vegan cooking.
Conclusion – Another establishment under what appears to be well-informed management.
4) Food Lab (Science Park) – This is another omnivorous establishment that is big on organic food with end to end ownership of grow -> cook -> dine. Vegetables come from their own organic farm. Like Dandy's their menu offers dishes labelled against a variety of specialist diets (e.g. vegan, raw, gluten free, contains nuts, prevents 3 hi, prevents diabetes, prevents cancer etc).
Food Lab's Louis Giroud articulated at considerable length on Food Lab. This gave the impression of someone very knowledgeable in his field. Louis offers his assurance that appropriate kitchen protocols are followed to prevent the specialist diet purity of each dish being violated.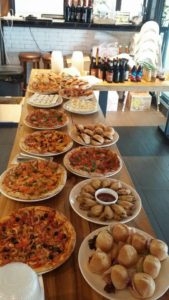 Conclusion – Sounds worth checking out if around there.
5) Fringe Club (Central) – The Fringe Club has two restaurants as well as two theatre halls (they are a venue for a music, comedy & drama). They have a Monday to Friday lunch time offer in one of their restaurants billed as a vegetarian buffet. On approaching The Fringe Club it was a pleasure to be invited in to speak with the manager, the very personable Benny Chia.
There's a bunch of positive things to say about this place. The vibe is relaxed with something of a bohemian sort of feel. And of course if one of the performances floats your boat then so much the better. It is thus with regret to report the following…
The alleged all-vegetarian lunch time buffet: cheese hasn't been checked as to whether it was made from non-animal rennet. Also the a la carte menu contains a dish listed as Thai Vegetarian Curry. The staff in the kitchen are indeed Thai to give the curry a real ring of authenticity. More sobering though is the situation that the kitchen staff add fish sauce to what is marketed as a vegetarian curry.
Benny states that the kitchen in The Fringe Club is something that has grown organically (in the human sense, not in the context of organic farming). He asserts that the kitchen until now hasn't been developed with any kind of systematic plan.
Conclusion – A lovely place to take in a performance. And if the level of detail and rigour with regard to providing vegetarian food were to get some traction… It would also become a pleasure in the future to consider recommending The Fringe Club as a place to eat.
6) Kale (Sheung Wan) – On stepping into this establishment the server advised that the manager was unavailable. The server was kind enough though to answer some questions on the menu content. The menu is balanced towards meat dishes. For example the three set menus are either beef, chicken or fish. There's no marking on the menu indicating specialist diet suitability of each dish.
The server on being asked though stated that all their salads are vegan. He also mentioned that all their salads are gluten free other than the pasta. A message was sent to the manager via their facebook page asking for additional information. No reply has been received.
Conclusion – Underwhelming. Happy to reconsider in the future if given encouraging info.
7) Nood Food (various HK locations) – Here the info provided came from the raw food chef, Moises Mehl. Moises' knowledge was another to appear impressive. Food products here are labelled against assorted diet suitabilities (gluten free, paleo, nut free, organic, vegan, raw). What should be a story of some positivity though is somewhat undermined. The undermining is by stories reaching this way of beef sandwiches labelled as vegan. There's also stories of egg sandwiches labelled as vegan. On talking with Moises he clearly appears to know what he is talking about. Do the rest of the Nood Food team?
Conclusion – It only takes a little sloppiness to undermine confidence in an entire operation. If giving Nood Food a try keep your eyes peeled for details on the packaging.
8) O Green Cafe (Sheung Wan) – This was quite a confusing story. Like some others O Green Cafe embraced labeling dishes against assorted diets (vegan, gluten free etc). The confusion comes from a "Vegan Patty Breakfast" listed on the menu as including egg. Also the "Organic Vegan Sandwich" is listed on the menu with cheddar cheese.
To clear up the confusion the waiting staff were approached on two separate occasions. This was to discuss these two confidence-eroding oddities. Sure enough it's not vegan cheese. The menu was displayed on their front door window. It's a menu with two really amateur looking own goals. Diligently checking when walking past daily, weeks passed without the menu being amended. Weeks became months.
Their website has no 'contact us' email id. A letter was thus posted on two occasions addressed for the attention of the manager. Still no update was made to the menu.
Things then got worse. A vegan diner in this restaurant reported that one of the alleged vegan dishes he ordered contained chicken. Were protocols followed in the kitchen to protect the diet purity of each dish? If yes, they weren't good enough.
Between the time of the second letter posted to management and the publication of this feature, O Green Cafe went out of business.
Conclusion – Closed.
9) Organic 21 (Central) – Organic 21 is a social enterprise with very commendable staff employment goals for young people. They also have a health food shop right next door to the café with some interesting products on offer. Vince Chi, the head chef, explained that they source much of their produce from their organic farm in Yuen Long.
There appeared little on the menu of vegan potential. Vince explained that at this moment they can possibly try to customise some dishes on request. He added that the veg*an client wasn't currently in the target market of their café. That may change in the future. At the time of speaking with Vince he advised that the cheese that they use was not checked to see if it contained non-animal rennet.
Conclusion – Usually keen to endorse a social enterprise, at the moment the health food shop is of possible interest to the veg*an consumer. Of course it would be fabulous if the restaurant also became veg*an friendly in future.
10) Sinmei Tea Room (Sheung Wan) – On strolling into Sinmei Tea Room and stepping through the menu with the server… The server was asked about the content of different dishes. After being asked the server explained what added up to there not being any vegan dishes on the menu. Also on the menu was tuna. This made the description on the Sinmei facebook page of "vegetarian and vegan restaurant" seem odd (nothing vegan on the menu and the restaurant isn't all vegetarian). On pointing this out in a follow up with the manager, Sinmei removed the 'vegetarian and vegan' claim on Facebook.
Tuna – not on the menu at vegetarian restaurants
There's cheese on the menu. Due to the uninspiring nature of the replies already given, a question wasn't asked on whether or not that cheese contains non-animal rennet.
Conclusion – If Sinmei becomes serious in the future about targeting the veg*an diner it would be a pleasure to consider endorsing this place.
11) Tallore Artisan Soups (Wan Chai) – No prizes to anyone for guessing this place includes soup on its menu. There's anything up to four soups on each day of which no more than one will be non-vegan. There's also a bunch of salads and sandwiches on sale that are a mixture of vegan, lacto-vegetarian and omnivorous.
On being asked if the cheese was genuinely vegetarian, Stijn Lannoo, the manager, confidently replied back, "Yes, its Devondale". He also very nicely followed this up with an email with this weblink with 14 home made vegan cheese recipes. As a post script to this though Stijn advises one of his suppliers has gone out of business. Thus the cheese they currently use isn't vegetarian.
Conclusion – Another positive option.
12) Topiary (Central)
Topiary is a high end lounge bar that also includes a small food menu. With only two meat dishes the menu is balanced towards vegetarian clientèle. Ellen at Topiary commented that the cheese currently used is sourced as cheese with non-animal rennet. Further she explained that they are currently in the process of switching the cheese used on the pizza and mini burger to be vegan.
Conclusion – Another venue making some encouraging noises in the right direction .
To any of the restaurateurs of the above establishments reading this… Feel free to get in touch if you want to provide an update to any of this info.
Notes:-
(1) The spelling of "veg*an" deliberately includes the use of the asterisk as a wildcard string. Thus "veg*an" is intended to mean "vegan and / or vegetarian". This is a deliberate spelling of "veg*an" instead of "veg*n" since "veg*n" (without an "a" as the second last character) can also mean "vegetation".
Hong Kong image source: Lonely Planet
Save
Save
Comment via Facebook