Ray Holroyd and Kate Haddow are Revolution Harmony – a vegan duo who use the power of music to inspire positive change in the world. On 1 November (World Vegan Day) they will release their new single, titled "A Hymn". I caught up with them to find out more about how they're using their musical talents to save lives and be a voice for animals.
Kate and Ray, can you first tell us a little bit about how the two of you ended up making music together as Revolution Harmony?
Kate: A year ago, I wanted to record some of my songs, but I didn't feel confident in my guitar playing. I responded to Ray's ad for music lessons and soon realized that I was in for a lot more than I bargained for! Through him, I have discovered the world of music as never before. He has an incredibly unique way of teaching music and I am very grateful to have benefited from his decades of experience. In the spring he asked me to teach with him as the Revolution Harmony School of Music. Then we moved in together. Then we got engaged. So it was only a matter of time before we started making music together! So far we have had a lot of fun writing, playing and singing together and we're excited to do more.
Were you both already vegan when you met?
Kate: Ray had been vegan for eight years when we met last year. I have been vegetarian for eight years and have been eating a mostly vegan diet for the last six. However, in February, I fully committed to veganism after Ray shared with me the horrific 'living' conditions of dairy cows and their babies. It is heartbreaking that so many people don't know or don't want to know about the realities of the dairy industry, and it brings me hope to know that a simple diet and lifestyle choice can save lives.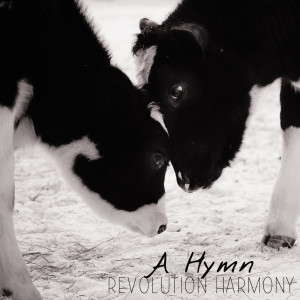 What inspired you to write your new single, 'A Hymn'?
Ray: In three words: the dairy industry. So much attention has been given to the meat industry, but personally I think the dairy industry is the greatest evil in existence. Meat is murder, yes, but dairy is murder following a lifetime of continuous rape and kidnapping. There are tens of millions of people all around the world cutting meat out of their diets, but sadly most of those compassionate humans are clueless about the fact that they're supporting something even crueler than the meat industry. I know this, as I was one of them, until I watched a PETA video back in 2006. The cries in that footage of a mummy and baby cow being separated still haunt me. 'A Hymn' is our lament to these tortured sentient beings trapped in a living hell, where death is their only relief. Our song is a bearing witness to their suffering, as well as a plea to humans to end this tragic daily holocaust. As the mother-baby bond is sacred, we took musical and even lyrical inspiration from the religious nature of J.S. Bach's selfless approach to composing. He was all about the music, not himself. Bach believed that he was nothing more than a channel for his god to create through, and the pure intention behind his music was to inspire people to be good and do the right thing. We hope 'A Hymn' will inspire people to do the right thing and go vegan! And, for the record, we don't follow any organized religions; our religion is veganism.
It has been suggested that the song could become the animal rights movement's "vegan anthem." Was that something you had in mind when you were writing it?
Kate: As Ray said, our intention with 'A Hymn' was to create a song that mourns the terrible loss and suffering that animals experience every day. We wanted the voiceless to have a voice. We wanted to write a song that expressed our own heartfelt sadness. It was only after we had written it that we considered it a "vegan anthem." Anthem, which is a synonym of hymn, means "a rousing or uplifting song identified with a particular group or cause, as well as a choral composition based on a biblical passage." Our song certainly has both those aspects to it.
What kind of role do you think music can play in animal activism, or activism in general?
Ray: I could write a thesis on this topic, haha! In fact, maybe I will. Not here, though, don't worry, I'll try to keep this short-ish. My personal experience of growing up in apartheid South Africa opened my eyes to the true power of music. Multicultural bands like National Wake were uniting people of all colors through their music, while Mandela was in prison. Musicians like them and Lucky Dube, who was our Bob Marley, laid the foundation upon which Madiba built the rainbow nation. Experiencing firsthand how empowering music was through that tragic era inspired me for the rest of my life! Music reaches deep inside us, way beyond the depths that anything else can achieve. There was actually a study in Africa recently, where they played music to the remote Mafa tribe who had never been exposed to music from outside their community, and it was discovered that they interpret the emotion behind music the same way we do in the west. This ended the ongoing debate about whether the feelings we experience from music are nature or nurture, confirming once-and-for-all that music is the only universal language. In 'A Hymn' we sing "May twelve save them," which is a reference to the 12 notes of music, as we believe music has the power to tap into people's empathy and inspire them to go vegan.
In your experience, how widespread is awareness of animal rights among musicians and in the music industry in general?
Ray: These are good questions! Thank you! I've been actively involved in the music industry for over two decades, and I've been vegan for almost one decade now, and what I've noticed is vegan musicians are clearly divided into two groups. One group uses their music to proudly promote veganism, and the other doesn't. Don't get me wrong, this is definitely not a judgment. As a musician who's been signed to a record label, and as a journalist who's interviewed countless other musicians, I truly understand the complexities of this fickle business. It's sadly not always possible to be outspoken about animal rights when you're in a band, or when you have a label/manager, or when you're touring with non-vegan bands. That's exactly why I'm done with all of that! As a vegan straight-edger, I'm just not interested in playing that game or living that lifestyle, which is why Kate and I are independent musicians. We've had offers from labels, but we want to use our music to make the world a better place, and the music industry simply isn't set up to facilitate that. Having said all this, though, in the nine years I've been vegan, I've noticed a colossal difference in attitudes, acceptance and awareness of veganism. I clearly remember playing a show with The Haunted at The Underworld in London, a couple weeks after I went vegan in 2006, and the conversations that came up around that topic still make me laugh or cry! Times have changed a lot since then, and Kate and I are committed to doing everything in our power to help the animal rights revolution.
Do you think veganism and animal rights will be a central theme of your music in the future?
Kate: Veganism is about empathy and living compassionately, and those principles are the foundation of all our music. We will continue making music from the heart, in the hope that it will touch people and make a positive difference in the world.
Are you planning a tour to promote the release of 'A Hymn'? If so, are there any particular vegan or vegetarian restaurants you're looking forward to checking out while on tour?
Kate: What a great question. I've not toured before, so I hadn't made the connection that going on tour means having access to new delicious vegan restaurants! We don't have plans to tour specifically to promote 'A Hymn,' although we are aiming to have our debut album out next fall, supported by a West Coast tour, including a vegan restaurant tour, haha! Stay tuned for tour info at our website RH12.org. In the meantime, we'll be hitting up our favorite spots in Victoria and Vancouver, like Be Love, where 'A Hymn' actually came into being, Lotus Pond, Green Cuisine, Dharma Kitchen, 3G, Panz and, of course, Vegan Pizza House!
—
Please see below to view the brand new music video for Revolution Harmony's debut track 'A Hymn,' which sees its worldwide release on November 1, World Vegan Day. The Canada-based musical duo partnered exclusively with PETA UK to premiere this moving visual accompaniment to their poignant track, with direction and footage from The Ghosts In Our Machine's Liz Marshall and image stills from We Animals' Jo-Anne McArthur.
About the author: Wendy Werneth is an intrepid traveller, foodie and polyglot. Having become vegan after many years of travel across 7 continents and nearly 100 countries, she's now on a mission to show you how fun and fulfilling vegan travel can be. Join her on adventures around the world at The Nomadic Vegan (www.thenomadicvegan.com) and download her free mini ebook, "8 Steps for Fun and Easy Vegan Travel" (www.thenomadicvegan.com/free-offer). You can also follow her on Twitter (twitter.com/nomadic_vegan) and Facebook (facebook.com/LikeWendyWerneth).
Comment via Facebook