Shop: DVDs
Popular Vegan DVDs
Topics: Cookbooks | Desserts | Animal Rights | Health | Inspiration | Family | Educational | Magazines | Documentary / Movies
Here are some vegetarian, animal rights, related DVD videos that we like and recommend to you.
If we're missing something important, please let us know.
Featured:
FORKS OVER KNIVES
The film examines the profound claim that most, if not all, of the so-called "diseases of affluence" that afflict us can be controlled, or even reversed, by rejecting our present menu of animal-based and processed foods. The major storyline in the film traces the personal journeys of a pair of pioneering yet under-appreciated researchers, Dr. T. Colin Campbell and Dr. Caldwell Esselstyn. -more info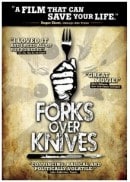 Adblock Detected
HappyCow relies on advertising in order to keep bringing you the best FREE online vegan restaurant guide. If you are seeing this message, you probably have an ad blocker turned on. Please consider disabling it to see content from our partners and support the work HappyCow does.
These book links are part of Amazon's affiliate program, so when you make a purchase a small amount will go to support the HappyCow website. Also note, some of the books listed here are auto-generated by Amazon.com. If you see anything that doesn't belong here please send us details. Thanks!