Shop: Books: Raw Food Books
Popular Books on Raw Foodism
Topics: Cookbooks | Desserts | Animal Rights | Health | Inspiration | Family | Educational | Magazines | Documentary / Movies
These are some of the more popular raw foods books on the market that HappyCow recommends.
If you have a favorite book of raw recipes, raw diet information, or a book on raw living, please email us.
Featured:
The 80/10/10 Diet
After more than 5 years of intensive work the definitive guide to the 80/10/10 Diet is here! Get your hands on the latest book by Dr. Douglas Graham, The 80/10/10 Diet: Balancing Your Health, Your Weight, and Your Life One Luscious Bite at a Time. If you have struggled with staying raw, would like to lose weight, or change your life for the better, look no further than this groundbreaking book. -more info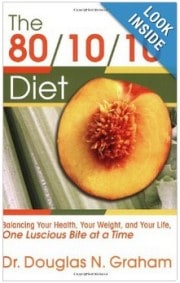 Adblock Detected
HappyCow relies on advertising in order to keep bringing you the best FREE online vegan restaurant guide. If you are seeing this message, you probably have an ad blocker turned on. Please consider disabling it to see content from our partners and support the work HappyCow does.
These book links are part of Amazon's affiliate program, so when you make a purchase a small amount will go to support the HappyCow website. Also note, some of the books listed here are auto-generated by Amazon.com. If you see anything that doesn't belong here please send us details. Thanks!