Shop: Books: Animal Rights Books
Popular Books On Animal Rights
Topics: Cookbooks | Desserts | Animal Rights | Health | Inspiration | Family | Educational | Magazines | Documentary / Movies
Here are some informative and compelling books on animals welfare & animal rights.
Featured:
Why We Love Dogs, Eat Pigs, and Wear Cows: An Introduction to Carnism In her groundbreaking new book, Why We Love Dogs, Eat Pigs, and Wear Cows, Melanie Joy explores the invisible system that shapes our perception of the meat we eat, so that we love some animals and eat others without knowing why. She calls this system carnism. Carnism is the belief system, or ideology, that allows us to selectively choose which animals become our meat, and it is sustained by complex psychological and social mechanisms. Like other "isms" (racism, ageism, etc.), carnism is most harmful when it is unrecognized and unacknowledged. Why We Love Dogs, Eat Pigs, and Wear Cows names and explains this phenomenon and offers it up for examination. Unlike the many books that explain why we shouldn't eat meat, Joy's book explains why we do eat meat -- and thus how we can make more informed choices as citizens and consumers. more info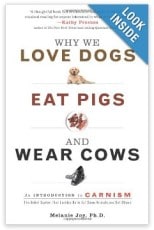 Adblock Detected
HappyCow relies on advertising in order to keep bringing you the best FREE online vegan restaurant guide. If you are seeing this message, you probably have an ad blocker turned on. Please consider disabling it to see content from our partners and support the work HappyCow does.
These book links are part of Amazon's affiliate program, so when you make a purchase a small amount will go to support the HappyCow website. Also note, some of the books listed here are auto-generated by Amazon.com. If you see anything that doesn't belong here please send us details. Thanks!