Shop: Books: Dessert Cookbooks
Popular Dessert Recipes Books
Topics: Cookbooks | Desserts | Animal Rights | Health | Inspiration | Family | Educational | Magazines | Documentary / Movies
Here are some vegetarian and vegan dessert cookbooks, some of which we like and others that have been recommended to us. If you enjoy cooking vegetarian food, want to explore new, delicious vegan dessert recipes, or want to learn more about healthy cooking, be sure to check these out. Enjoy!
Featured:
The Joy of Vegan Baking
Whether you want to bake dairy- and egg-free for health, ethical, or environmental reasons, The Joy of Vegan Baking lets you have your cake and eat it, too! Featuring 150 familiar favorites -- from cakes, cookies, and crepes to pies, puddings, and pastries -- this book will show you just how easy, convenient, and delectable baking without eggs and dairy can be. more info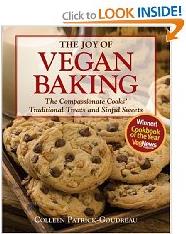 Adblock Detected
HappyCow relies on advertising in order to keep bringing you the best FREE online vegan restaurant guide. If you are seeing this message, you probably have an ad blocker turned on. Please consider disabling it to see content from our partners and support the work HappyCow does.
These book links are part of Amazon's affiliate program, so when you make a purchase a small amount will go to support the HappyCow website. Also note, some of the books listed here are auto-generated by Amazon.com. If you see anything that doesn't belong here please send us details. Thanks!