Books on peace, meditation, and wisdom to inspire you to live fully each day. Learn from the masters and sages of all times. Also, you might like to check-out HappyCow's Wisdom & Spirituality Forum.
Featured: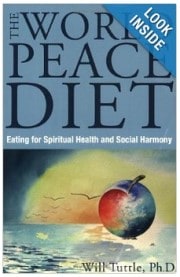 World Peace Diet: Eating for Spiritual Health and Social Harmony
Food is our most intimate and telling connection both with the living natural order and with our living cultural heritage. By eating the plants and animals of our earth, we literally incorporate them. It is also through this act of eating that we partake of our culture's values and paradigms at the most primal levels. It is becoming increasingly obvious, however, that the choices we make about our food are leading to environmental degradation, enormous human health problems, and unimaginable cruelty toward our fellow creatures. -more info
These book links are part of Amazon's affiliate program, so when you make a purchase a small amount will go to support the HappyCow website. Also note, some of the books listed here are auto-generated by Amazon.com. If you see anything that doesn't belong here please send us details. Thanks!
---
Related Content