Shop: Books: Health and Nutrition
Books to Support Good Vegan Nutrition
Topics: Cookbooks | Desserts | Animal Rights | Health | Inspiration | Family | Educational | Magazines | Documentary / Movies
Some helpful natural health resources and guides covering topics including alternative medicine, eastern approach to health and wellness, holistic healing, and more. Be sure to also check out HappyCow's section on vegan health.
Featured:
Becoming Vegan: The Complete Guide to Adopting a Healthy Plant-Based Diet
As registered dietitians, Davis and Melina are well-qualified to provide the latest information on how a vegan diet can protect against cancer, heart disease, and other chronic illnesses getting all the protein you need without meat meeting your needs for calcium without dairy products what vegans need to know about B12 why good fats are vital to healthy and how to get them balanced diets for infants, children, and seniors pregnancy and breast-feeding tips for vegan moms considerations for overweight, underweight, and eating disorders achieving peak performance as a vegan athlete how to deal gracefully with a non vegan world. -more info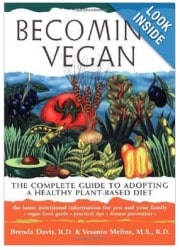 Adblock Detected
HappyCow relies on advertising in order to keep bringing you the best FREE online vegan restaurant guide. If you are seeing this message, you probably have an ad blocker turned on. Please consider disabling it to see content from our partners and support the work HappyCow does.
These book links are part of Amazon's affiliate program, so when you make a purchase a small amount will go to support the HappyCow website. Also note, some of the books listed here are auto-generated by Amazon.com. If you see anything that doesn't belong here please send us details. Thanks!