Food trailers are all the rage along with food trucks, which have been popular since the 50's. From Portland to Los Angeles to Austin to Kansas City to Chicago, having a food truck or trailer is a great way for small business owners to get their delicious, inexpensive meals to the people without breaking their own bank. If you are a mobile food truck you have to be social media savvy, constantly updating your patrons of your whereabouts. Food trailers on the other hand remain stationary in a designated location, usually with other trailers in a "trailer park". Whether your visiting a truck or a trailer, these new pop-up restaurants aren't going anywhere. Here's some of our favorites in no particular order.
Homegrown Smoker
SW 4th and College (at /near PSU)
Portland, Oregon 97211
Twitter @homegrownsmoker
How could you possibly go wrong with a food cart dedicated to vegan barbecue?? With a 5 star rating on HappyCow, the Homegrown Smoker is not to be missed. And you could possibly miss it because Portland has the larger number of food carts per capita in the US. Don't forget to bring cash and an empty stomach! Photo above features: Chronic Tempeh Ribs, Smoked Soy Curls, Mac-no=cheese, BBQ bakes beans, Gluten-free Cornbread (YUM!).
Morels Food Truck
Louisville, Kentucky
502-276-6115
Twitter @Morelsfoodtruck
A vegan food truck where?? In Louisville, Kentucky? No way! Morels is the first vegan food truck to hit Louisville with various sandwiches and sides, like the popular Bahn Mi hot dog (huh?) and the "beefy" queso and chips. It's cheap, it's vegan, and now you can find some of their food at local stores. Better check their Facebook page for delicious specials and locations.
Like No Udder
Providence, Rhode Island 02903
401-419-8869
@LikeNoUdder
The world's first all vegan soft serve and dessert truck, Like No Udder, also has shakes, candy bars, floats and fruit slushies. I wish they could franchise this and get a truck in every major city! How perfect would that be?
Mac n' Soul Food
Miami, Florida
305-791-6226
Twitter @macnfoodtruck
A food truck dedicated to vegan mac n' cheese that's all gluten-free? A vegan's dream has come to Miami of all places. With menu items like sweet potato fries, fried green tomatoes, and fried okra, Mac n' Soul Food knows the way to a southern girl's heart. They also try to source local ingredients and only use biodegradable packaging!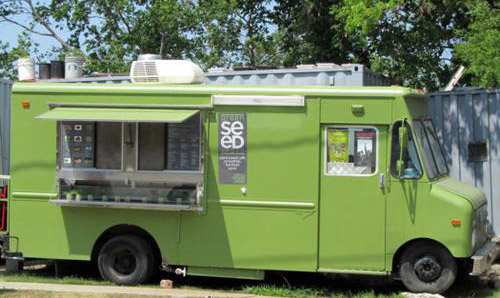 Green Seed Vegan
2305 Wheeler (at Dowling)
Houston, Texas 77004
713-487-VEGN
Twitter @GreenSeedVegan
Houston is known as one of the most overweight cities in the US, but things are changing! They now have a vegan and raw food truck with sandwiches, sweet potato fries, smoothies and more. HappyCow reviewer faves are the "Illy Cheesesteak, Mega Salad, the sweet potato fries, and smoothies. Call or text in your order so it's waiting for you when you arrive to beat the heat.
Counter Culture
120 E North Loop (at Ave F)
Austin, Texas 78751
Twitter @CCVegan
A local favorite and one of the first food trailers to hit Austin, Counter Culture has won many contests and awards for it's delicious and healthy vegan offerings. Huge servings, affordable prices and a shady picnic area for seating makes it a happening spot for a quick meal or outing with friends. HappyCow reviewer faves are the Philly Cheesesteak sandwich, BBQ Jackfruit Sandwich, and the raw desserts.
What is YOUR favorite vegan food truck or trailer? If you've been to any of the above places be sure to leave your reviews on HappyCow and share your photos! 
Comment via Facebook