The Butcher's Daughter is a cozy, crisp concept with lots of fresh food, good music and a very friendly staff. There is an easy going vibe for people enjoying their good, fresh food.
We were happy to see that a new location for The Butcher's Daughter was added since the last time we were in NY. So there is one in Nolita and one in the West Village.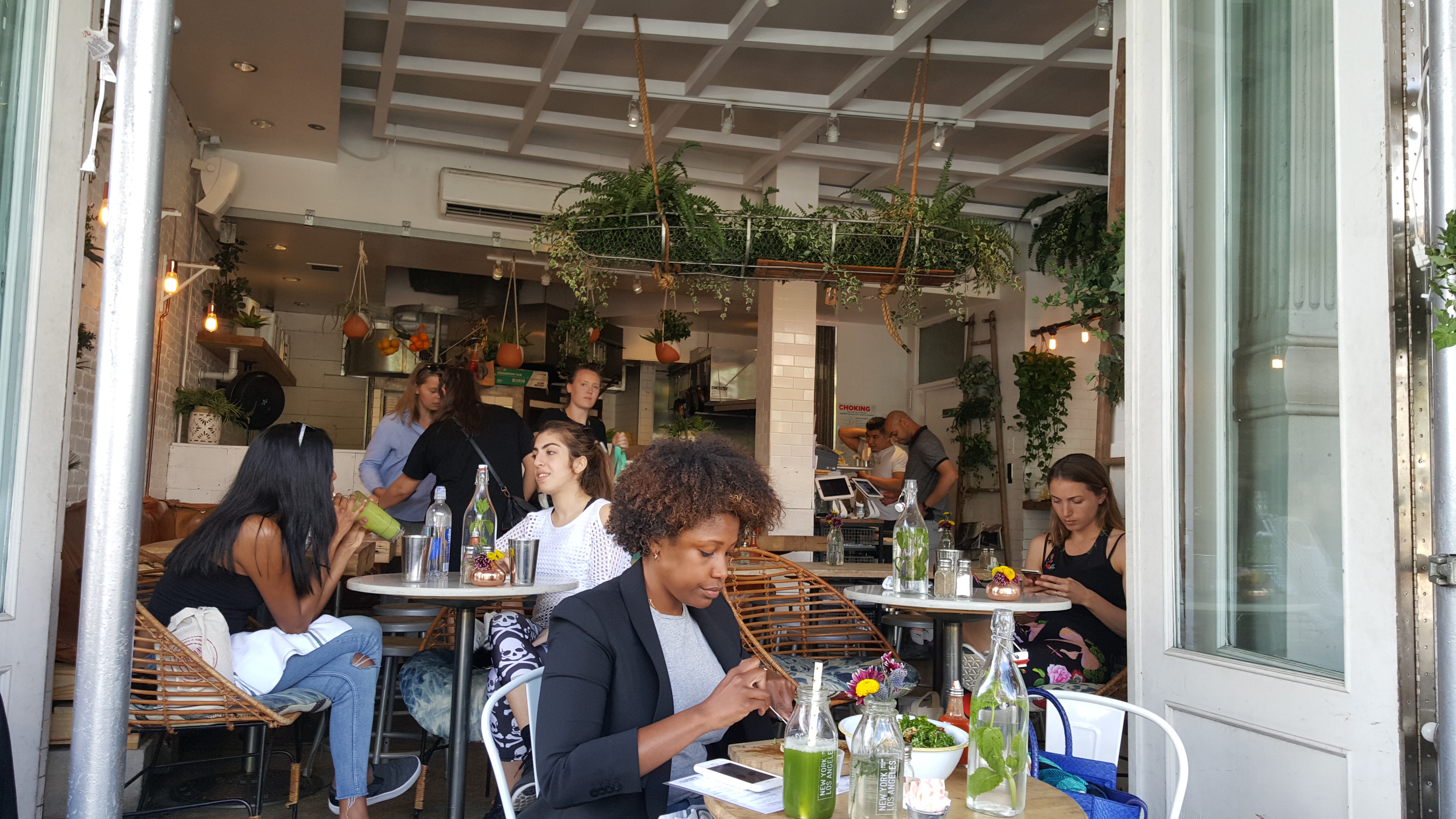 On their website they say:
The Butcher's Daughter is a plant-based restaurant, cafe, juice bar and "vegetable slaughterhouse."  We treat fruits and vegetables as a butcher would meat: We chop, fillet and carve fresh produce into healthy vegetarian dishes and press them into pretty juices.  
Our three locations serve breakfast, lunch, dinner and weekend brunch. We take pride in our daily changing menu, which is 100% vegetarian, and mostly vegan and gluten-free. We can always prepare substitutions for most dietary restrictions.
(photo via The Butcher's Daughter Facebook)
And it is true–they are more than willing to tell you about all the vegan options that are available. And what we saw around us was lots of large bowls with fresh green salads, avocado toast, and all kinds of beautiful greenery.
Unfortunately we were not able to have dinner here, but we had a lovely tea-stop in the afternoon. I loved my fresh mint tea and the tasty vegan banana bread/cake with two fruit jams.
(photo via The Butcher's Daughter Facebook)
And looking at the menu I couldn't help but wonder how good everything else was, like the Butternut Quinoa Salad or the Mediterranean Bowl! The Vegan Spaghetti & Meatballs sounded good too, as well as the Butcher's Burger and the Raw Pesto Linguine! So many options, so little time ;-). The Butcher's Daughter is definitely worth a visit!
About the author: Mariëlle van de Kerkhof — happy urban gardener who loves to travel and eat great vegan food! www.mariellevandekerkhof.com
Comment via Facebook