Mexico City is la-creme-de-la-vegan-creme.
Before I arrived, I thought it would be tricky to find veggie food here. But I soon realized that the only tricky thing would be choosing which of the many places to go to!
So I went to as many places as I could, and here's my list of the best spots for vegan food in Mexico City…
1. Por Siempre
Great for:
-Unbelievably tasty tacos
-If you're really hungry, as you can add as much on the side as you fancy, with unlimited potatoes, herby beans & salsas
-Incredible value
A huge range of vegan options – including tacos, gringas (like double-sided tacos) and tortas (like a sandwich) – crammed full of vegan-friendly fillings, like non-cheese cheese (featuring nuts), and non-chorizo chorizo (featuring mushrooms).
The guys who run this stall put so much love and passion into their cooking, and if you have any room left, try one of their mouthwateringly delicious vegan cakes too.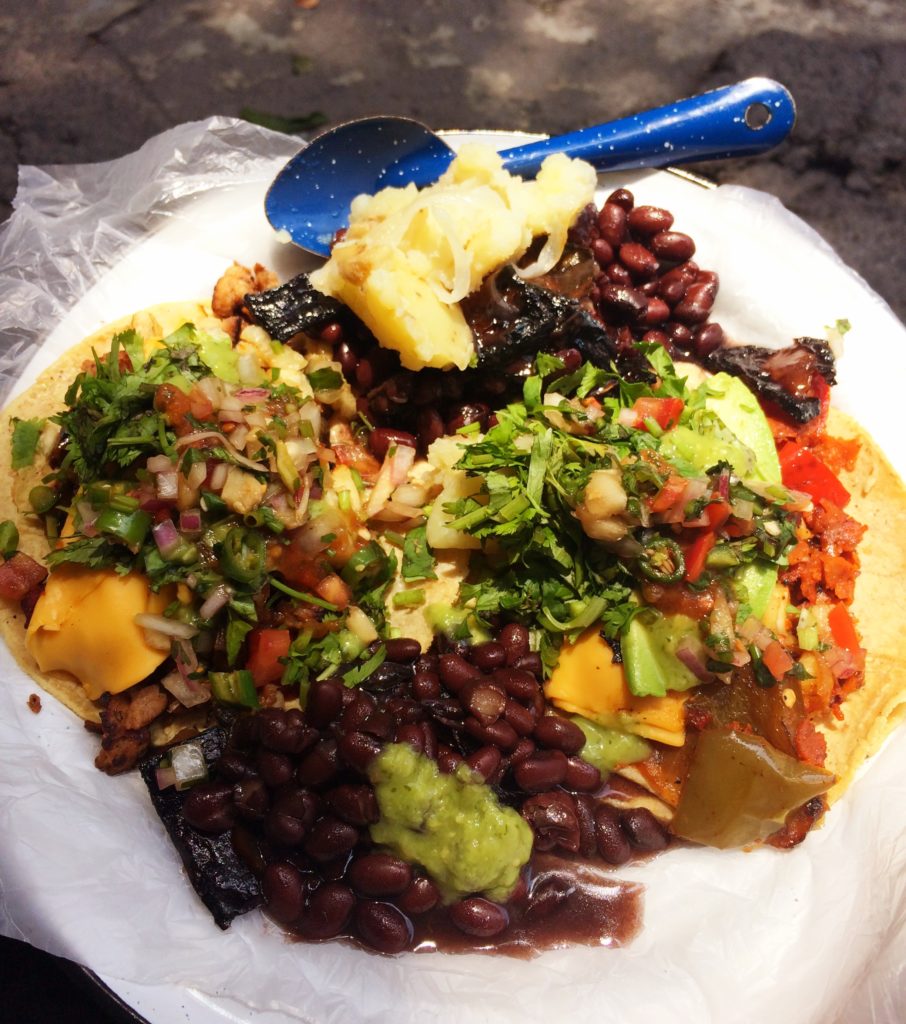 2. Pan D'Monium
Great for:
-The best vegan burgers
-Incredible value
Sometimes vegan burgers can be a bit hit & miss – either the burger can be a bit bland or the bread can be a bit dodgy. Not these guys. They've perfected the whole shabang.
They offer three different flavours of vegan burgers, which all come in a different bun that compliments the burger. A sign of true flavour matching.
They also offer hot dogs and vegan friendly pizzas which are pretty darn tasty too.
Plus, their meal combo is a great value; a main, piri-piri spiced chips, and juice of the day is only 65 pesos (under 4 USD).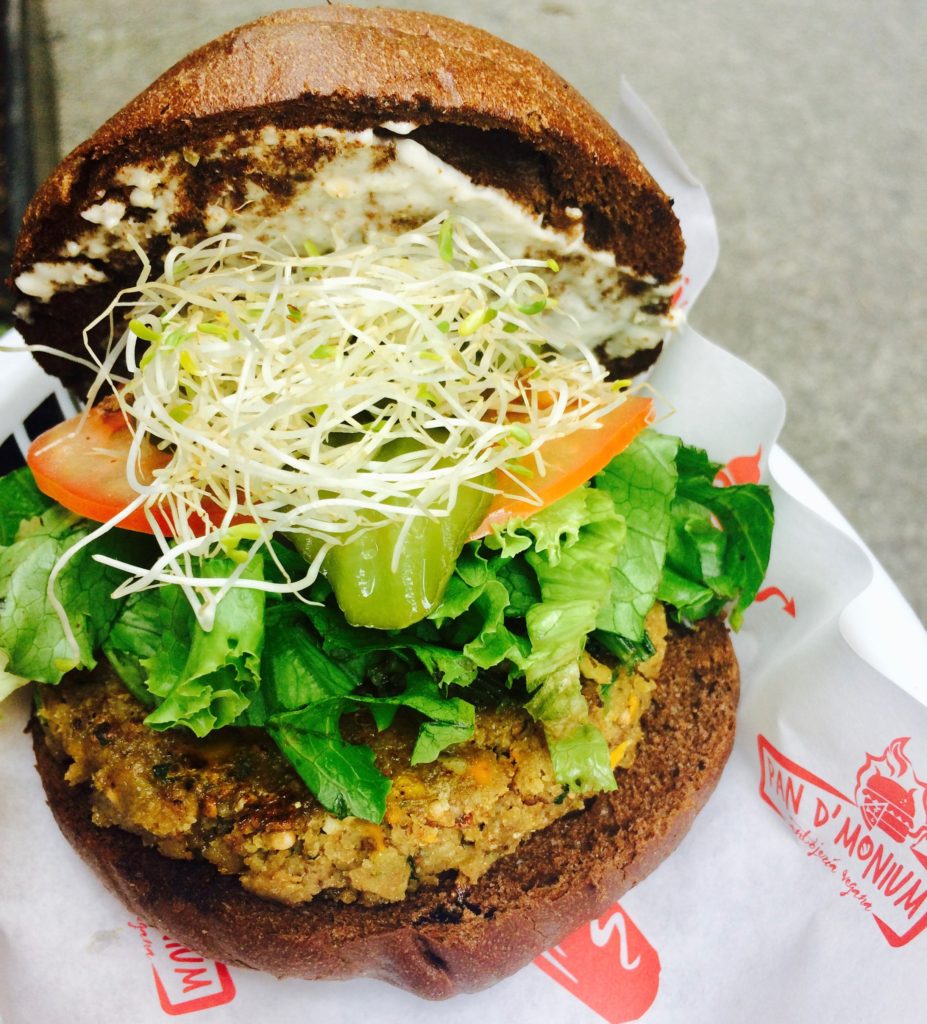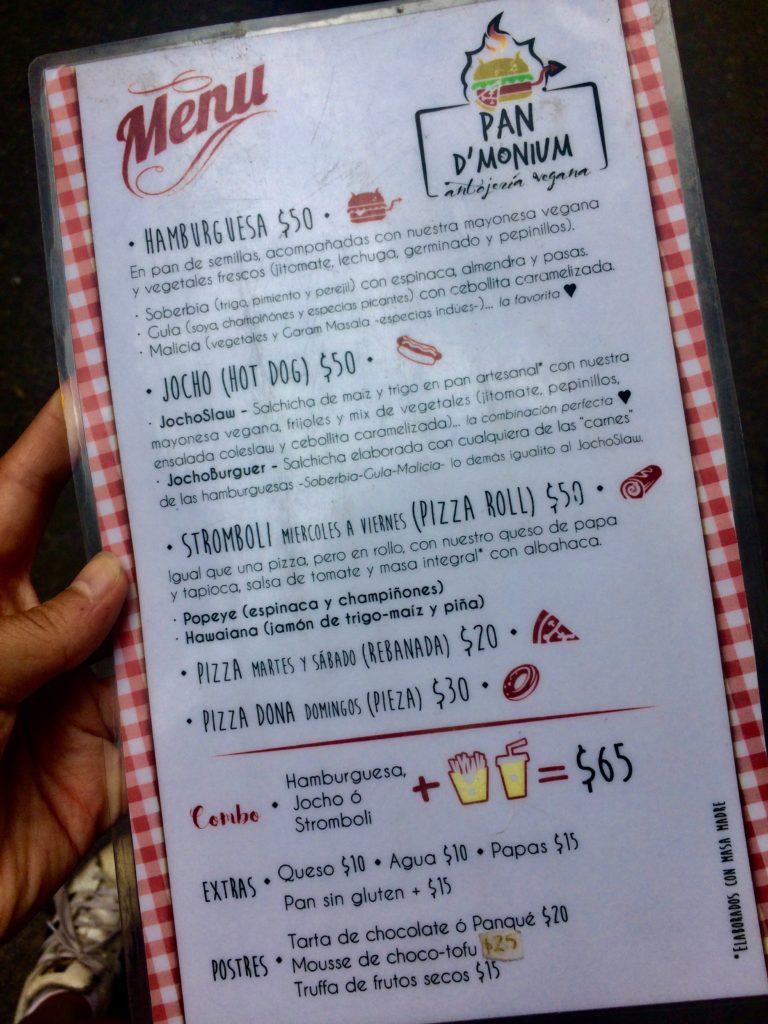 3. Temictli
Great for:
-A massive tower of insane vegan nachos
If the leaning tower of Pisa was in the form of nachos, they'd be the vegan nachos at Temictli. Covered in heaps of guacamole, vegan cheese, beans, tomato & salsas – and for 60 pesos (less than 4 USD) they are an absolute bargain.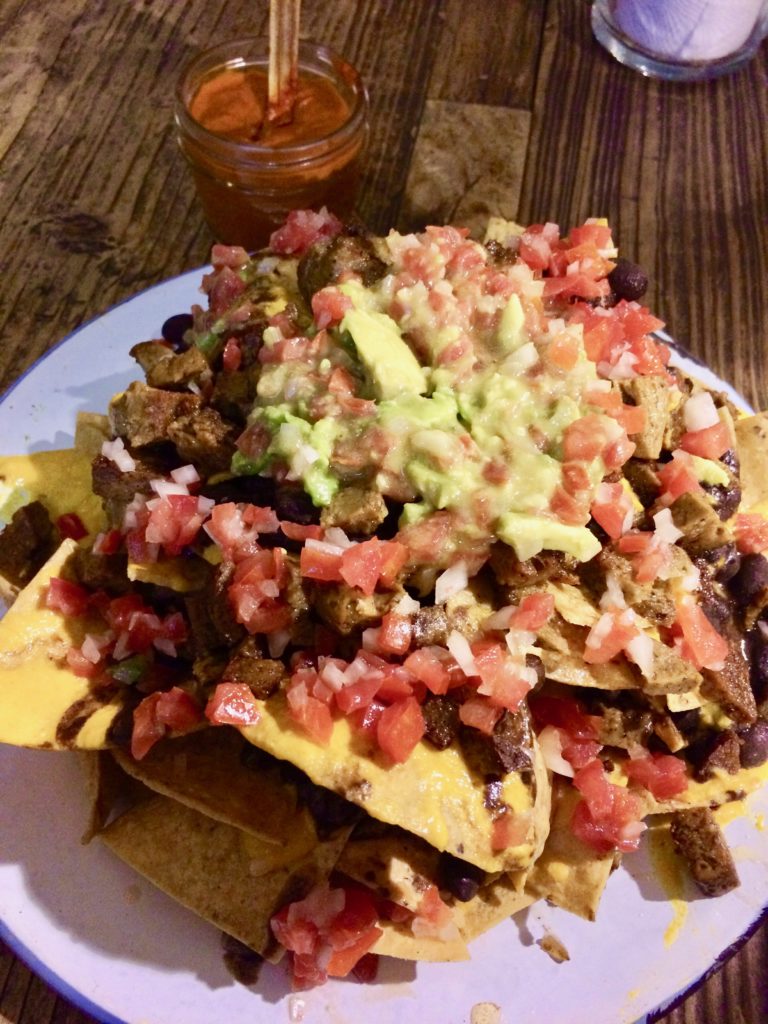 4. Mora Mora
Great for:
-Smoothie bowls topped with superfoods & homemade nut butters
Pop down to Mora Mora for a spot of yoga & then reenergize afterwards with a smoothie bowl packed full of superfood goodness and a homemade juice. So refreshing, healthy & delicious.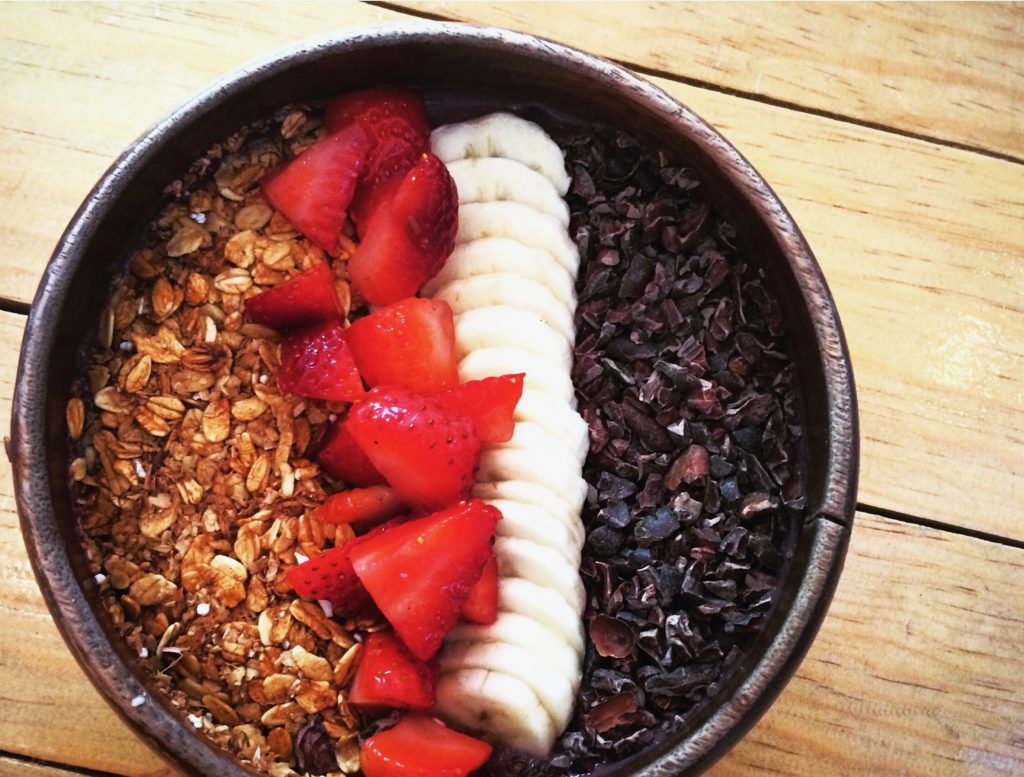 5. Falafelito
Great for:
-Location, and people (and dog) watching on the park
-Falafel
-Value for money
If you like falafel, try the falafel snack here. It felt a little misleading calling it a snack, as it's 15 balls of falafel, with hummus and a spinach salad, for just 60 pesos.
Or if you want to go all-out, the wraps are huge with 9 pieces of falafel for 95 pesos – but for me, this is way too big (and I have a pretty big appetite). Plus, the falafel is the best bit so why waste your appetite on eating the unnecessary wrap, and just have more falafel – for cheaper!
(image via Falafelito Facebook page)
Great for:
-Guacahummus: the perfect mix of two of the world's best dishes
-Coffee
When you're feeling indecisive and can't choose between guacamole or hummus – just go for both and get the "guacahummus". Their mains are also equally impressive, like the "vegan chilaquiles with almond cream, cauliflower chorizo & spicy tomatillo sauce, guacamole with spirulina". And even their coffee is impressive, as it comes in a massive mug (or some would call it a bowl).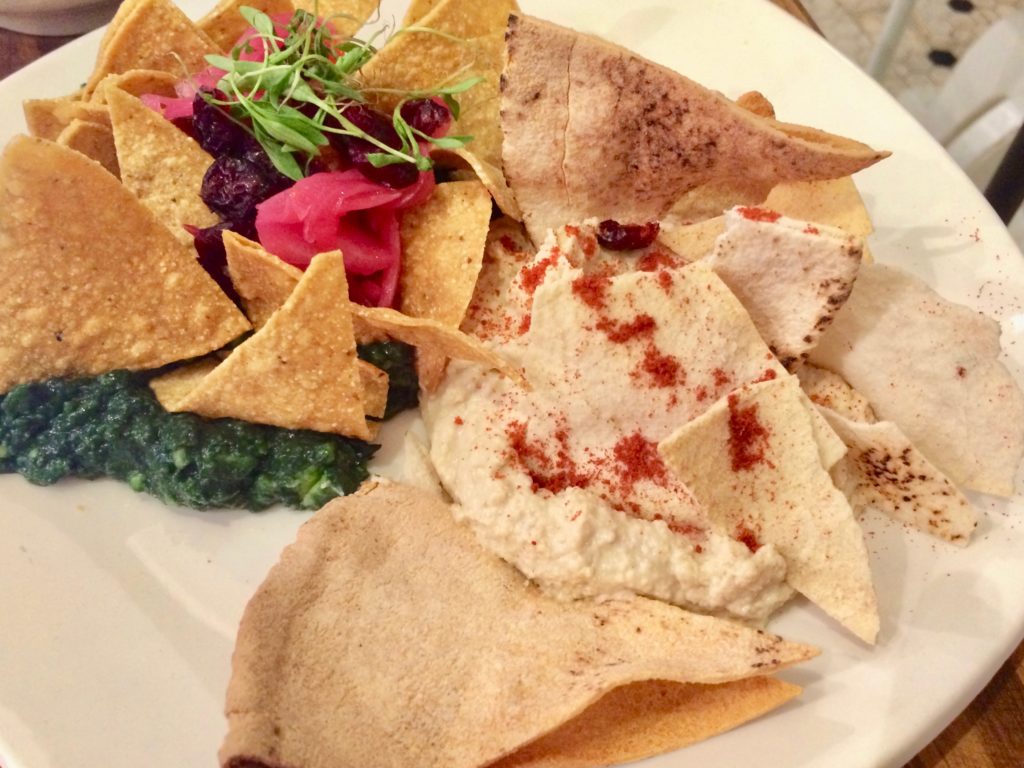 7. Gatorta
Great for:
-Tortas (Mexican sandwiches)
-Desserts
If you're in Mexico City, one thing you've gotta try is the Mexican torta. And the ones from Gatorta are the most amazing vegan equivalents – with so many different flavours, layers, and textures that all work so perfectly together. And if you've got any room left, try one of their famous vegan cakes too, where the icing is almost taller than the cake itself. Mmmmmmm que rico.
(image via Gatorta Facebook page)
8. La Pitahaya
Great for:
-Quirky but delicious tacos
Another spot for incredible tacos – the cauliflower taco with coconut curd and cabbage is literally to die for. Well, not literally, but you know what I mean.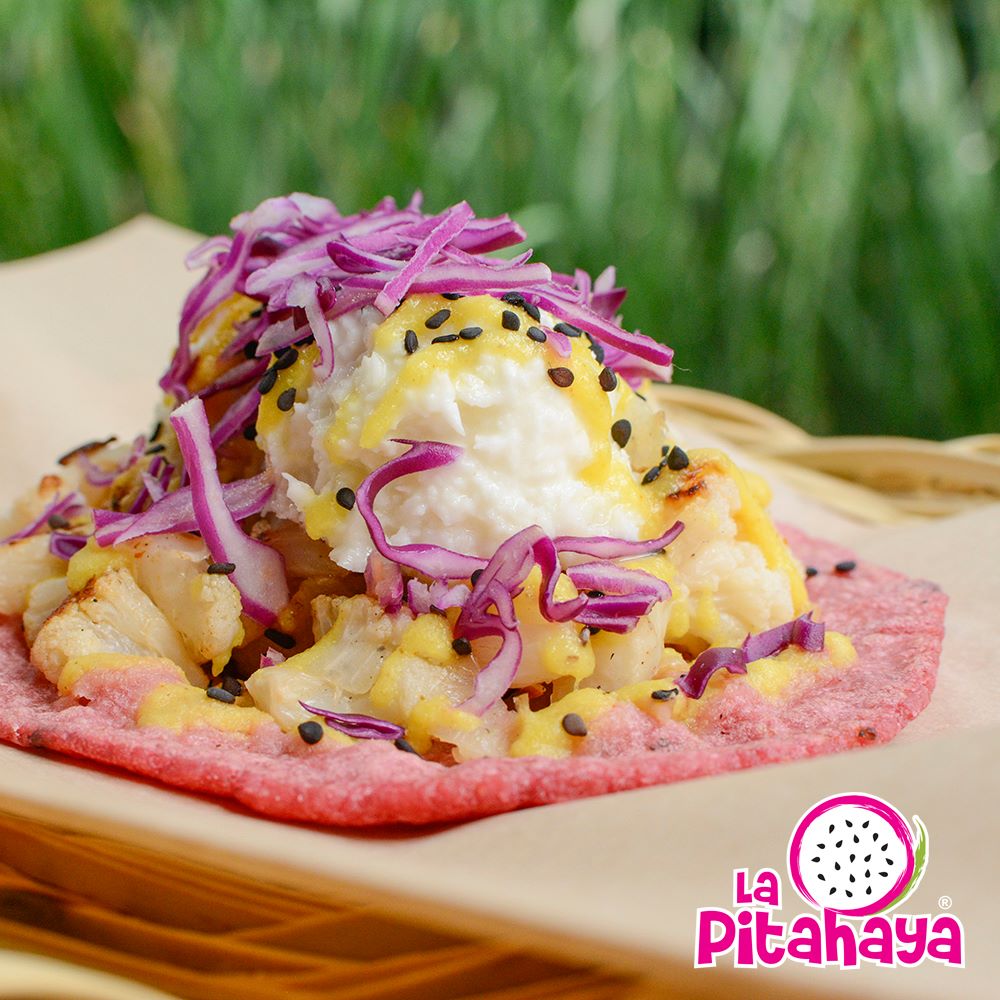 (image via La Pitahaya Facebook page)
9. Vegan Inc
Great for:
-Cauliflower burgers
-Kale & artichoke dip
In a slightly strange spot (in a shopping mall) – but don't let that put you off as the food's super tasty. Slightly more up market with pristine presentation.
(image via Vegan Inc Facebook page)
10. Los Loosers
Great for:
-A fusion of Asian & Mexico vegan food
So incredibly fresh and full of flavour – it's almost impossible to choose what to order from such a delicious menu. They've got gyozas, ramens, burgers, '6 platos de tacos'… if you can't decide, the only sensible option is to try them all.
(image via Los Loosers Facebook page)
About the author: Hats is a health-conscious travel blogger from England, who turned veggie on her trip round Latin America & now doesn't want to ever go back. Follow her journey at Hats Off or on Facebook, Instagram or Pinterest.
Comment via Facebook