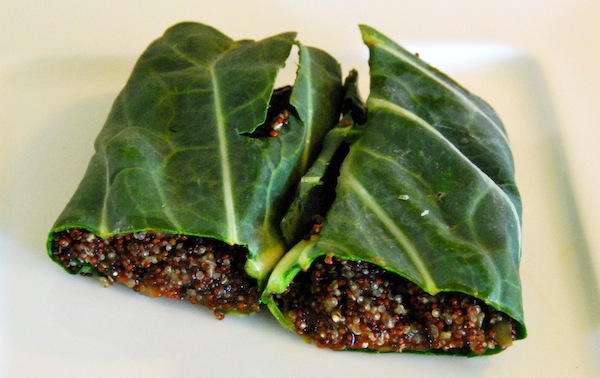 I was wondering how to fix a healthy burrito that would satisfy my tastes as well as those of my vegan friends. "It would even be better", I told my wife, "if I could make it without flour tortillas so my gluten-free friends could enjoy it too".
I had already decided to use a quinoa filling but needed something to replace the tortilla. My friend, Kris, shared his fresh collard greens with me a few weeks ago. Seeing them gave me the inspiration for the wrap. Why combine quinoa with collard greens? Flavor and nutrition. This wrap is healthy for you. That's the plain and simple of it.
Quinoa was once called the gold of the Incas, who recognized its value in increasing the stamina of their warriors. Not only is quinoa high in protein, but the protein it supplies is complete protein, meaning that it includes all essential amino acids. Collard greens may be the greatest of all commonly eaten cruciferous vegetables, known for their cholesterol-lowering ability. In addition, collards support our detox and anti-inflammatory systems.
If the Incas made wraps, here's how I imagine them doing it in a recipe I call the Inca Wrap.
Ingredients:
2 small white onions (chopped fine)
1 bell pepper (chopped)
1 tablespoon vegan margarine
2 cups red quinoa
4 cups water
1 tablespoon Better than Bullion Vegetable Base
½ tablespoon olive oil
1 clove garlic (minced)
1 28-ounce can organic crushed tomatoes
1 cup hot vegetable broth
½ teaspoon salt
1 teaspoon organic sugar (if substituting agave syrup, use 1 ½ teaspoons)
1 tablespoon red chili powder
¼ cup fresh cilantro (chopped)
Quinoa Directions:
Using a saucepan, sauté half of the chopped onions and all of the bell pepper in margarine until onions are translucent, about 5 minutes. Add quinoa, water and bullion to sauce pan. Cover and cook for 12 – 14 minutes on medium high. Quinoa should look translucent when fully cooked. Drain excess water from quinoa and set aside.
Sauce Directions:
Heat the olive oil in a frying pan over medium heat. Add the balance of the onions and cook until translucent (about 5 minutes). Add garlic and cook for another minute or two. Add crushed tomatoes, broth, salt, sugar and chili powder. Stir till well mixed. Simmer uncovered over low heat for approximately 15 to 20 minutes until sauce begins to thicken. Stir in cilantro, remove from heat and set aside.
Assembly Directions: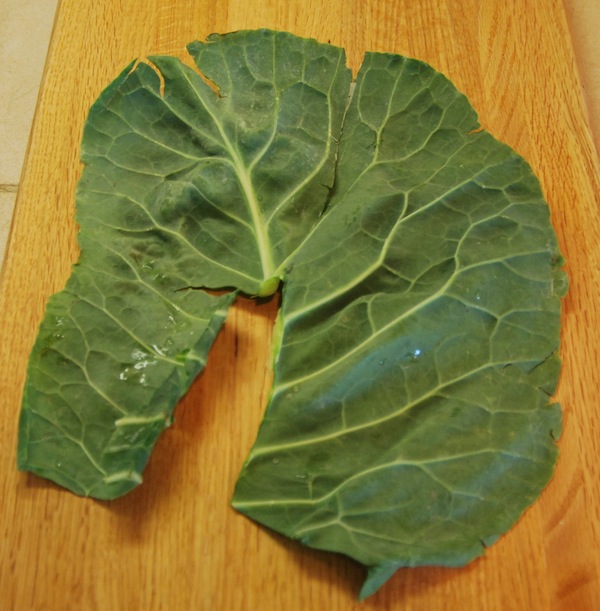 Lay four collard green leaves out and cut off most of woody stem.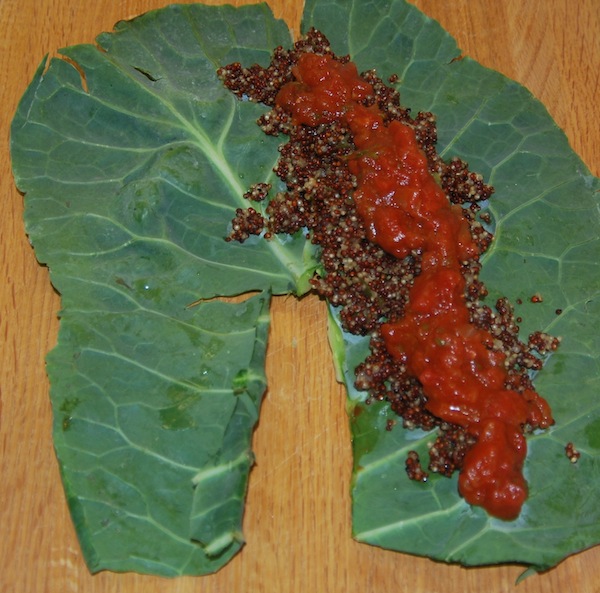 Spoon approximately ¾ cup quinoa down the center of each leaf. Layer sauce (approximately 2 tablespoons each) on top of quinoa.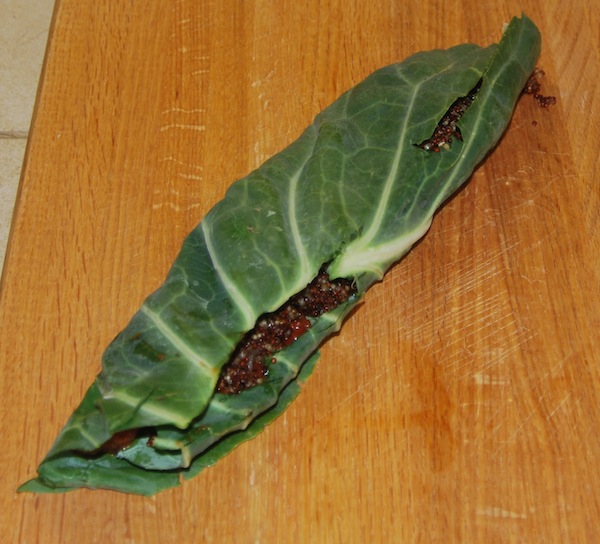 Roll up and trim off ends of leaf (if desired). Serve immediately.
Note: the leaves may be folded into a square to make eating a little easier. Use the excess sauce on vegetable enchiladas.
Comment via Facebook