July 4th is just around the corner! Have you planned what you are making for your holiday party? Many of you will be around the grill this 4th of July and want to bring some heart-healthy vegan dishes to share with friends. Did you know that HappyCow has a recipe section on the site? You will find recipes labeled by type and you can find a new ethnic dish to try like Asian, Mexican, Greek, Japanese, Vietnamese and more.
I took a look through the HappyCow recipes and found some dishes just perfect for your 4th of July party. These should satisfy any appetite and might even be a new introduction for some of your friends to vegan dishes.
Avocado Caprese Salad – Don't need to have mozzarella to make a beautiful caprese-like salad. Give this new take a try. It's quick, easy, and fast!
Black Bean Quesadillas – Everybody loves a quesadilla and if you use Daiya cheese no one will even know the difference!
Barbecued Tempeh – One of my personal favorites, bbq tempeh was just made to go in-between buns piled high with fixins' on 4th of July. You can put the tempeh on the grill do give it that chargrilled flavor.
Super Simple Seitan – To make any omnivore friends you have excited, try making homemade seitan then smother it with your favorite bbq sauce.
Broccoli Salad – No one will ever be able to tell that this salad is vegan and should be a favorite amongst your bbq. Can even be made the night before!
Cold Carrot Salad – Another quick and easy side dish for your bbq!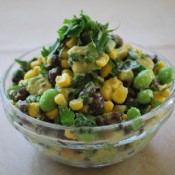 Edamame Salad – For something a little different try this Edamame Salad. It's a mix of Asian and Mexican flavors that is sure to be a hit.
Pina Colada Popsicles – I'm sure it's going to be blazing hot on Monday and everyone will really appreciate these cooling treats.
Raw Strawberry Pie – And what about a raw dessert that will impress everyone? This is quick, easy, delicious with no need to turn on the hot oven. The last thing you want to do on a hot summer day.
You can find these and more 4th of July recipes on HappyCow.net. You'll find the "Recipes" tab on the top Navigation menu. Then you can either search recipes by name or choose one of the menu categories listed by type of food or ethnicity. Don't forget to leave comments and rate the recipes you try!
And did you know you can add your original recipes to the site? We'd love your recipe contributions! Just log in and visit the Recipes page. To the right of the cookbook photos under the Category drop-down click "Add Your Recipe". Be sure only to submit original recipes or recipes that you have permission to post publicly. We can wait to see what healthy vegan recipes you are making!
Have a safe and healthy holiday from all of us at HappyCow!!
Comment via Facebook