It's no surprise that one of the largest growing cities in the US is bursting with vegetarian and vegan food trucks and trailers. What can I say? Austin is hip and comes up in spades with veg options. The food truck scene is becoming more and more popular. Austin is filled with food trailer parks with a variety of options and chairs and tables to dine at. Since it is sunny and beautiful most of the year in ATX these food parks are always bustling! Here are a few of my favorites. 
Whether you are a student at UT, live in Austin, or just visiting you have a food trailer park dedicated to vegan food near the UT campus. This area must be on your destination list because you can get food, drink and dessert at 3 different locations! Grab a wrap and Blueberry Lemonade from Conscious Cravings, some hummus from Moses Falafel and save room for dessert from Capital City Bakery.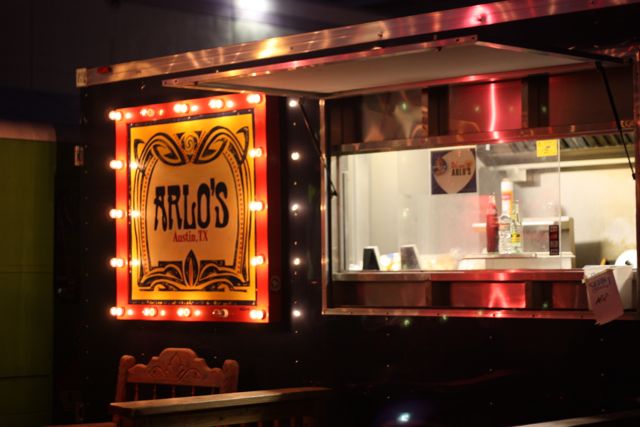 Arlo's
1500 E 6th (Onion St)
Austin, Texas 78702
323-359-5689
One of my favorite spots to hit in town is Arlo's. They seriously have the best vegan burger I have ever tried! No matter how many times I eat the bacon cheeseburger, sounds of ecstasy come from my mouth. They make the burger in house with lentils, grains and veggies and the bacon is seitan-based. The chicken tacos with chipotle sauce are delish too. It's in the back of a bar called Cheer Up Charlie's so I think you have to be 21 or over to get in, but if you beg they may let you grab a burger. Next door is another food cart with Asian veg options as well called Miso Hungry.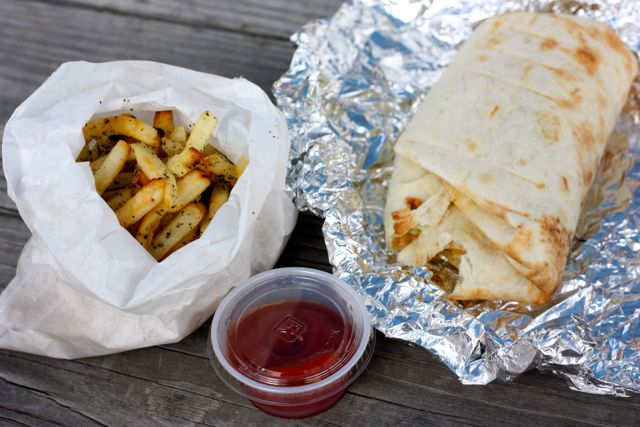 Conscious Cravings
1901 Rio Grande (W Martin Luther King Blvd)
Austin, Texas 78705
512-782-0546
Everything here is vegetarian with everything easily made vegan. Wraps and salads are creative and inexpensive. I love the way they grill the outside of the tortilla! The baked rosemary fries and blueberry lemonade are essential sides for a wrap of your choice.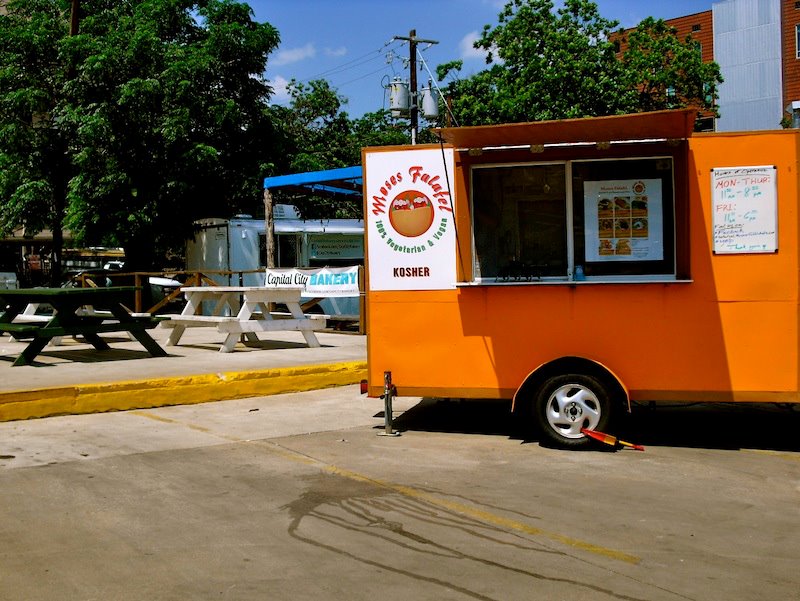 Moses Falafel
610 W Martin Luther King Jr Blvd
Austin, Texas 78705
325-370-9796
Moses Falafel has the best falafel and hummus I've had in town! And it's totally affordable. Watch the video for an interview with the owner, Samuel, who thankfully brought the traditional way of making falafel and hummus with him from his home country.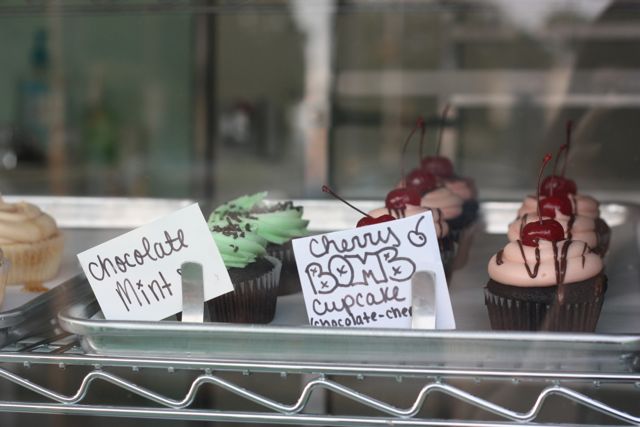 Capital City Bakery
1901 Rio Grande St
Austin, Texas 78705
512-666-7437
This vegan bakery on wheels can do no wrong! Everything I've had is delicious (albeit very sweet)  and the variety of goods is always plentiful. Whenever I'm wanting a naughty treat this is the first place I think of to visit. The owner Kristen comes up with the most creative desserts and takes everyone occasion, holiday or event to make something special. We ordered pies for both Thanksgiving and Christmas last year and the whole omnivore family loved them too!
There are quite a bit more vegan food trailers but there wasn't room to list them all! Vegan Yacht is awesome, the tacos at Vegan Nom are to live for, Schmaltz is a vegan Jewish food truck I can't wait to try, and Nomad Dosa has delicious vegan dosas. You can't go wrong with a visit to Austin whether you are vegan, vegetarian, or not!
Comment via Facebook