Organic Vegan Chocolate Candy Bars. Mmm… just seeing these words make me salivate. Chocolate… candy… bars…!
It's been a very sweet week because I ate some awesome vegan chocolate candy bars & gourmet chocolates by Sjaak's Organic Chocolate. I'm still in chocolate heaven cloud, actually.
Just as soon as I had finished eating my first Sjaak's chocolate candy bar, I went onto their website and drooled over all the different varieties they offer (and, of course, plotting which ones I would like to buy next). Just seeing the images of the chocolate assortment on their website made me feel like it's the holidays already–even though I don't celebrate Christmas or Hannukah I enjoy the spirit of the festivities.
Here's a little info about my fabulous new find:
Sjaak's Organic Chocolate is a small, family-run company founded by Jacques Holten, a long-time vegetarian who runs the business with his family in Northern California, US.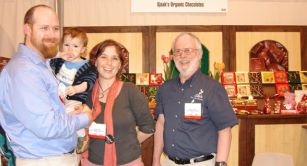 The company makes a spectrum of gourmet organic & fair trade chocolates, including many vegan ones like truffles, bite-size chocolates, candy bars, and holiday gift boxes. There's no animal ingredients in the vegan varieties, and the sugar that's used is non bone char. Everything is all natural with no artificial content.
Now VEGANS take note. Sjaak's makes vegan chocolate candy bars called "Eli's Earth Bars" which come in 3 incredible yummy varieties:
"Treasure Bar" is peanut butter crunch & caramel (so good that I ate an entire one in under 60 seconds).
"Dream Big Bar" is caramel and peanut butter topped with whole peanuts and coated in creamy chocolate (sweet like heaven).

"Celebrate Bar" is coconut caramel topped with whole almonds surrounded by chocolate (tasty like paradise).
These candy bars, along with holiday gift boxes and gourmet organic chocolates, are available for purchase on Sjaak's website at: http://sjaaks.com
Check 'em out. Chocolate heaven is only one click away.
Hmm… now if I could eat chocolate for breakfast, lunch, and dinner… hehehe.
Comment via Facebook