Orlando is not a very big city but houses one of the largest tourist attractions in the United States, Walt Disney World. Visitors from all over the world meet here for fun in the sun, eating and other tourist-friendly activities. So it would make sense that Orlando has some really great vegetarian and vegan restaurants right? Here are some of the top-rated restaurants on HappyCow for Orlando, Florida.
Photo by member HappyCowGirl
Ethos Vegan Kitchen
1235 N Orange Ave Ste 101 (at Virginia Ave)
Orlando, Florida 32804
407-228-3898
Not only is Ethos committed to making delicious vegan food they are friendly to the planet by using organic locally grown produce, biodegradable takeout packaging, and other environmentally safe products. They also offer a variety of gluten-free, soy-free and seasonal items on their menu. Take one look at the delectable menu and it will be hard to choose! Some HappyCow reviewer favorites are the Shepherd Pie, Pizzas, Coconut Curry Wrap and don't forget Sunday Brunch.
Loving Hut
2101 E Colonial Dr (at Bumby)
Orlando, Florida 32803
407-894-5673
No matter where you go in the world, if you can find a Loving Hut restaurant you will be in good hands. All the ones I've been to have been very affordable with delicious food. The Orlando franchise has a mix of Asian food like dumplings and fried rice, and American favorites like corn dogs and burgers.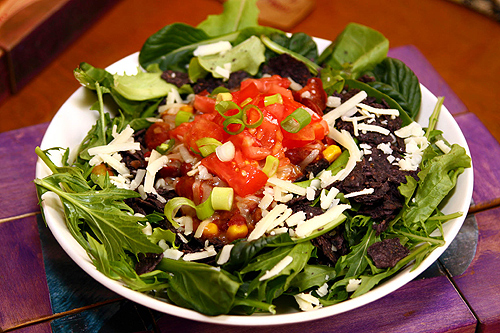 Dandelion Communitea Cafe
618 N Thornton Ave (at downtown)
Orlando, Florida 32803
407-362-1864
You already know we love Dandelion Communitea Cafe, which was featured in our Restaurateur Interview Series. This vegetarian cafe has rave reviews on HappyCow and is an integral part of the community. They  host events like Green Drinks, movie screenings, art shows, spoken word, and live music. You will find an awesome happy hour and Monday's are $5 Giddyup day where you can get their most popular item for only $5! I kind of wish this place was in my city!
Rhapsodic Bakery

710 N Mills Ave
Orlando, Florida 32803
407-704-8615
Every major city is not complete without a vegan bakery! Orlando is blessed to have one that offers vegan Hostess cupcakes, cookie sandwiches, tarts, scones, cheesecakes, and exotic frequently changing cupcake flavors like Pina Colada, Toasted Coconut, an reviewer favorite Chai cupcake. They also offer gluten-free and soy-free for our allergy sensitive friends.
One place missing from our HappyCow line-up that we are going to add right now is the new BabyCakes Bakery inside Walt Disney World. BabyCakes started in New York and has been wowing vegans and non-vegans alike with their tasty gluten-free treats. Stop by if you are in Disney World!
Photo by member HappyCowGirl
Garden Cafe
810 W Colonial Dr (at Edgewater, 1 mile west of I-4)
Orlando, Florida 32804
407-999-9799
This is your typical vegetarian Chinese restaurant with inexpensive hearty food like wonton soup, orange "chicken", fried rice, "pork" chops in peking sauce, and other faux meat favorites. It's been around for at least 13 years according to one HappyCow reviewer, and will make anyone's belly happy whether vegetarian, vegan, or omnivore.
Comment via Facebook