Need a no-fail dish for Thanksgiving? These beans fit the bill! Don't let the title fool you. These beans are made on the stove, but reminiscent of the sweet beans in a can that I grew up with. These beans are extremely kid-friendly–a great way to get kids to eat their beans, and of course, they are equally loved by adults. These beans can be a main dish (and star of your Thanksgiving dinner),  or they can be brought as a side dish for a Thanksgiving potluck.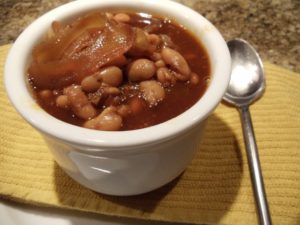 RECIPE
1 onion, sliced into thick rounds
1 clove of garlic, minced
2 C. of rich vegetable broth
1 T. tomato paste
1 15 oz. can of Great Northern beans (rinsed and drained)
1 15 oz. can of Cannellini beans (rinsed and drained)
2 bay leaves
1 t. salt
4 T. brown sugar
3 T. molasses
1 T. Bragg Liquid Aminos
3/4 t. Liquid Smoke
1 t. apple cider vinegar
1 1/2 T. prepared mustard
DIRECTIONS
In a large fry pan over medium heat, cook the onion and garlic in olive oil until the onion turns translucent. Add the veggie broth and tomato paste. Stir until the tomato paste dissolves. Add the remaining ingredients. Bring to a boil. Cover and reduce heat to low. Allow to simmer for about 10 to 15 minutes, to allow flavors to blend. Add additional broth, if you like your beans a little more saucy.
Comment via Facebook