---
Even 100+ years ago many 'vegans' & other meat abstainers were campaigning
for

animal rights &

against

vivisection.
Today we jump back to ~ 1911 to revisit……
………………………………………………………………………………………………………
Two old postcards & Trans-Atlantic Co-operation
Open the Doors!!
New York Anti-Vivisection Society
This first postcard promotes  the New York Anti-Vivisection Society's –  'The Open Door' magazine.
Mrs. Diana Belais – launched the New York Anti-Vivisection Society in 1908 – an article – here.
We love the images artwork which Diana Belais & friends commissioned / created for this campaign.
Note – Diana Belais (1858 -1944) – married to David Belais (1863 – 1933) of Belais Manufacturing Co. Published record of her antivivisection activity appears to have started in 1889,  when she was 30.   She founded The Open Door, an animal welfare magazine, in 1895, and continued publishing it until 1938. 
Her husband,  jeweler David Belais, in 1893 founded the Humane Society of New York (formally incorporated in 1904). ~ In 1917, a 55 year old jeweler and animals rights activist from Manhattan, by the name of David Belais, was the first to patent a new type of gold never before seen. For the many years that followed, into the late 20's, it was known "14k Belais" or "Belais metal." We now know it as white gold. ~
More about them here.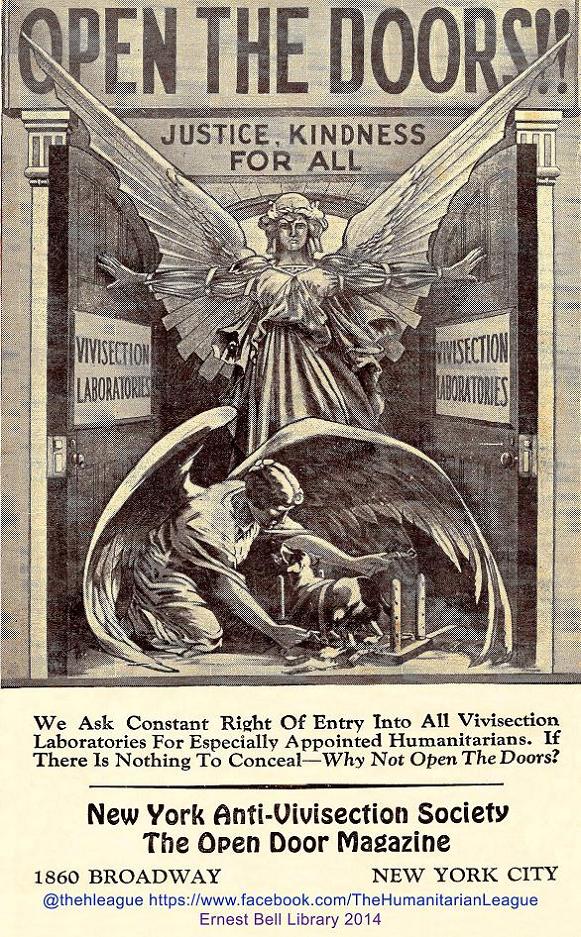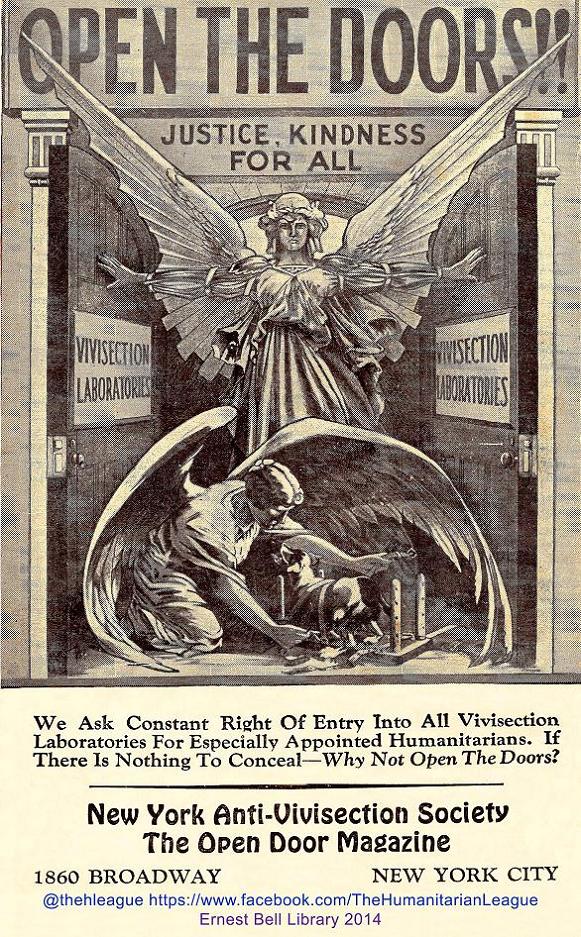 New York Anti-Vivisection Society postcard – circa 1911
"We ask constant right of entry into all vivisection laboratories for especially appointed humanitarians."
"If there is nothing to conceal – Why not open the doors?"
A striking angel is pushing open the doors of the Vivisection Laboratories – while another angel releases a puppy from some evil torture contraption.
Artist unknown
The second card is a nice example of anti-vivisection campaigners collaborating. The artwork has been sent to France & a French version has been produced.
In the library we have several examples of campaign artwork being shared in numerous countries & languages.
Another postcard from a related French anti-vivisection campaign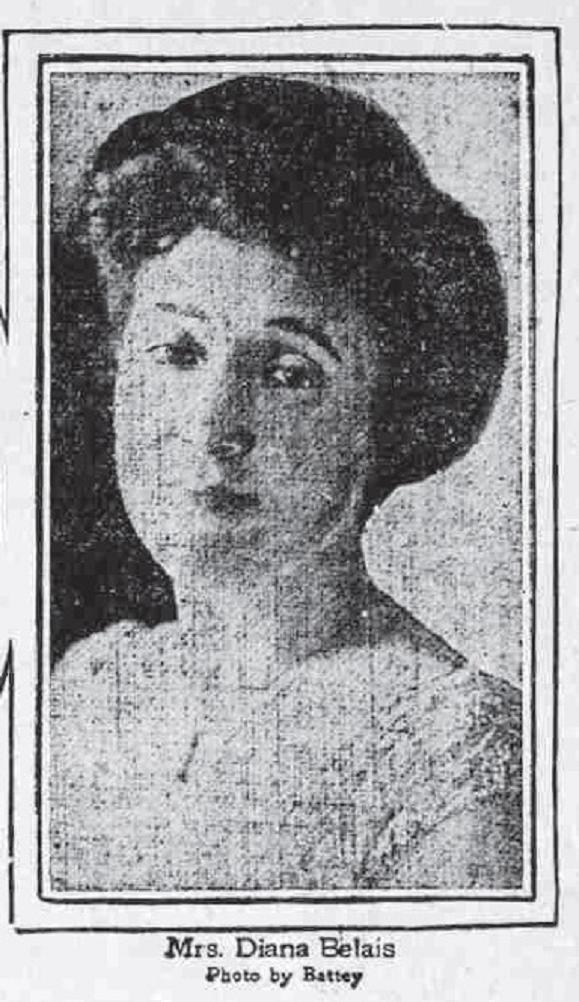 Diana Belais – circa 1910 – perhaps by Cornelius Marion Battey (1873–1927)?
………………………………………………………………………………………………………
We can share high resolution scans of the 2 'Open the Doors' postcards – each are approx. 10 mb .jpeg files – just ask!
………………………………………………………………………………………………………
 Academics & Doctors 
– in support of the –
 'Open the Doors'
Campaign
We have added the bold text to emphasize the doors references.
1) New York Times – Jan 27, 1911 – here.
Professor Margaret Sherwood in a letter –
"If the methods of vivisection are as humane as its ardent supporters say, why are they so unwilling to have them observed? It is not asked that an ignorant mass of people should inspect, but that a disinterested and intelligent committee should be allowed to go behind the closed doors."
2) New York Times – Jan 27, 1911 – article – here.
~ Prof. Sherwood pleads that, the medical colleges and schools throw open their doors to the investigating committees. What have they got to conceal? ~
Note – This is Margaret Pollack Sherwood (1864-1955) – life partner of Martha Hale Shackford (1875-1963). Professor of English at Wellesley College, 1889-1931. Sister of women's health pioneer Dr. Mary Sherwood and Johns Hopkins University economics professor Sidney Sherwood. Margaret wrote under the pen name Elizabeth Hastings.
3) San Francisco Chronicle – Dec, 10 1913 – here.
~ To open the doors of all vivisection laboratories is absolutely essential to give assurances that humane methods will prevail there, Miss Lind-af-Hageby of London, a famous English worker in the movement, declared that anti- vivisectionists were not sentimentalists or enemies of science or of medicine, but that they wished to cleanse science and medicine of some of their mistakes. ~
Note – Louise 'Lizzy' Lind-af-Hageby – (1878 – 1963) was a Swedish-British feminist and animal rights advocate who became one of England's most prominent anti-vivisection activists.
4) New York Times – Dec 10,1913 – here.
~ Dr. Hamilton F. Biggar of Cleveland, personal physician to John D. Rockefeller, urged the restriction of vivisection to the smallest possible proportions.
"Scores of dogs," he said "are slaughtered in laboratories of medical colleges for no other object than grandstand exhibition, with no beneficial results to medical science. To open the doors of all vivisection laboratories is absolutely essential." ~
Note – Hamilton Fisk Biggar  (1839 – 1926) – a Canadian homeopath, known as 'The Bishop of Homeopathy' and 'The Grand Old Man of American Homeopathy'.
5) Experimentation on Living Animals – Committee on Agriculture and Forestry, United States, Senate, Congress – 1916 – here.
~ Now, we are not in the Middle Ages. As Dr. Ernest Smith said, I can not understand why the medical men do not open the doors of their laboratories whether they are for examination purposes, whether they are for scholastic purposes, or whether they are for private consideration, and ask them in the name of God to come and see if the great medical profession is practicing cruelty. It seems to me, sir, that is the spirit of the modern medicine. That is the spirit of the. age and the spirit which ought to prevail in this matter. So far as I believe and can understand — and I have looked somewhat into the workings of this law in England — I do not believe for a moment, sir, that any legitimate medical experiment would be hampered by this investigation. ~
Note – C. Ernest Smith (Charles Ernest 1855-1939) Pastor of St Thomas Episcopal Church, Washington D. C.
6) Berkeley Daily Gazette – Sep 27, 1922 – here.
~ If Dr. Beckwith and men of his kind, who are engaged in animal experimentation, would throw open the doors of their laboratories to honest investigators and invite inspection of their work, much could be accomplished toward clearing the public mind of a long-established and firmly-fixed belief that inhuman cruelties are still being practiced in our universities and medical colleges. ~
Note – referring to – Dr. Theodore D. Beckwith (~1880-1946) – of the Department of Bacteriology at the University of California, Los Angeles – vivisector.
………………………………………………………………………………………………………
Some of our other Anti-Vivisection posts 
1) Some powerful anti-vivisection quotes from a 1906 publication! – here
2) UK, US & French Anti-vivisectionists – an article with multiple images – here
3) 'Bob' – Stolen for Vivisection – London, UK 1926 – here
………………………………………………………………………………………………………
The Ernest Bell Library looks after a growing archive of anti-vivisection material. Several of the  anti-vivisection societies of that period cooperated very closely.
Ernest Bell – ~ …gave much of his time to administration and fund-raising for three main reform causes: vegetarianism, humanitarianism, and animal welfare. Bell's fervency, family wealth, and publishing background made him an effective organizer. He became the honorary secretary of the Hampstead branch of the Society for the Prevention of Cruelty to Animals, and was later chairman of the Anti-Vivisection Society. At various times he was on the governing councils of the Royal Society for the Protection of Birds, the National Canine Defence League, the Cat's Protection League, the Pit-Ponies Protection Society, and the Anti-Bearing-Rein Association. He was in particular a main force behind the Animals' Friend Society (founded 1834). Twenty-two separate societies joined in giving him a lifetime award in 1929 in recognition of his work for animal causes. He was also an early member of the Humanitarian League, which had close connections with the Vegetarian Society; he became vice-president of the Vegetarian Society in 1896, and finally its president in 1914, a long tenure which only ended with his death in 1933. ~ – bio here – ……but in need of correction.
We look after examples of Ernest Bell's anti-vivisection writings in British, American & French anti-vivisection books, journals & pamphlets.
The Ernest Bell Library collection is shared very freely with museums, scholars & activists.
Early this year we shipped 80+ of our items to LA's National Museum of Animals & Society for their Light in Dark Places exhibition.
An article on Ecorazzi about the exhibition – here.
The Ernest Bell Library's primary objectives are to: –
Collect all of Ernest Bell's book & non-book works and make them easily accessible to everyone.
Collect the literature of vegetarianism and all the other humanitarian movements in which Ernest Bell was so deeply involved.
Assist students and scholars in their research.
Introduce all aspects of Ernest Bell's life, including his writings, campaign work, influences and his circle of friends.
Undertake our own research into missing aspects of Ernest Bell's life and work.
We already have more than 300 pieces of Ernest Bell's own writings.
We are also actively building a collection of examples of promotional material, campaign material, fundraising & marketing activities etc. – related to: –
veg(etari)an products.
veg(etari)an books & other publications.
veg(etari)an organisations.
veg(etari)an businesses.
animal rights organisations.
animal rights publications.
humanitarian organisations.
humanitarian publications.
rambling clubs run by members of the above groups & related publications.
the work of Richard St. Barbe Baker & the 'Men of the Trees' organization & its many sub-branches.
There are currently more than 2,000 items in the Ernest Bell Library.
We will complete the cataloging of the collection as & when adequate funds are available.
It is long past time for the library to go online!
 "I have little doubt that the proposal for the establishment of an Ernest Bell Library, which would specialize in humanitarian and progressive literature, and so form a sort of centre for students, will meet with a wide response." 
Henry S. Salt – writing in September 1934
………………………………………………………………………………………………………
If anyone would like more information, please send an email to: – 
humanitarianleague

(at)

outlook

(dot)

com 
– or message me  through HappyCow – 
………………………………………………………………………………………………………


If you are a Tweeter, please consider sending this post out to your friends.
Thank you! 
………………………………………………………………………………………………………
A 1923 temporary defeat for Diana Belais & friends – here . Very bad new for animals & human orphans!
Medicine: Vivisection Upheld
The Codes Committee of the New York Assembly voted unanimously to kill the Cotillo-Leininger bills, designed to prevent medical "experimentation " on children or animals, after a spirited hearing at which prominent witnesses appeared on both sides. Former State Senator Charles W. Walton, Mrs. Belle De Rivera of the New York City Federation of Women's Clubs, Mrs. George Arliss, Mrs. Diana Belais, and others, for the " anti-vivisectionists," appealed to the legislators to prevent alleged horrible practices on poor orphan children……….
Notes – Salvatore Albert Cotillo (1886 – 1939), was an Italian born New York lawyer and politician. He was the first Italian-American to serve in both houses of the New York State Legislature and the first to who served as Justice of the New York State Supreme Court, First District, where he sat on the bench from 1925 until his death in 1939. He was a strong proponent of social and pro-labour legislation.
Florence Kate Montgomery Smith (1899–1946) (aka Mrs. George Arliss) – George & Florence founded the National Anti-Vivisection Society of Chicago, Illinois.
Comment via Facebook