Updated – Mon Oct 13, 2014
The Humanitarian League's team has had a busy year –  promoting veganism, opposing vivisection & planting many trees.
During the past 12 months The Ernest Bell Library has been given / has purchased more that 200 of the items on our main 'Search List' & has 'found' another 300+ items previously 'unknown to us'.
We now have more than 300 pieces of Ernest Bell's own writings.
We thank our friends & supporters.
Our physical items are kept in Hong Kong.
Our biggest supporter base is currently Hong Kong & China.
1934 – 2014 – 2022
We decided against having an 80 year celebration this year. We will build up to a 'big event' in September of 2022 – our 88th birthday. We will set it for September 1st, 2022 – a Thursday.
 ………………………………………………………………………
To learn more about the Ernest Bell Library & our other projects go – here
 ………………………………………………………………………
Posted – Tue Oct 1 , 2013
 Ernest Bell freeing a caged linnet – circa 1902
+ Click on any image to enlarge it. +
Henry S. Salt & the Henry S. Salt Archive
Henry S. Salt was a noted ethical vegetarian, anti-vivisectionist, socialist, and pacifist.
He is credited with being the first writer to argue explicitly in favour of animal rights, in his Animals' Rights: Considered in Relation to Social Progress (1894), rather than focusing on improvements to animal welfare. He wrote: "If we are ever going to do justice to the lower races, we must get rid of the antiquated notion of a 'great gulf' fixed between them and mankind, and must recognize the common bond of humanity that unites all living beings in one universal brotherhood." – http://en.wikipedia.org/wiki/Henry_Stephens_Salt
For many years a group of friends have been actively building up the archive of Henry S. Salt's writings at – http://www.henrysalt.co.uk – it is now time to further build up the Ernest Bell related sections.
Ernest Bell
Ernest Bell – ~ …gave much of his time to administration and fund-raising for three main reform causes: vegetarianism, humanitarianism, and animal welfare. Bell's fervency, family wealth, and publishing background made him an effective organizer. He became the honorary secretary of the Hampstead branch of the Society for the Prevention of Cruelty to Animals, and was later chairman of the Anti-Vivisection Society. At various times he was on the governing councils of the Royal Society for the Protection of Birds, the National Canine Defence League, the Cat's Protection League, the Pit-Ponies Protection Society, and the Anti-Bearing-Rein Association. He was in particular a main force behind the Animals' Friend Society (founded 1834). Twenty-two separate societies joined in giving him a lifetime award in 1929 in recognition of his work for animal causes. He was also an early member of the Humanitarian League, which had close connections with the Vegetarian Society; he became vice-president of the Vegetarian Society in 1896, and finally its president in 1914, a long tenure which only ended with his death in 1933. ~ (1)
The Ernest Bell Library
In 1934 Henry S. Salt originally suggested the establishment of the Ernest Bell Library as a fitting memorial to him. In this Library the literature of vegetarianism and all the other humanitarian movements in which Mr. Bell was so deeply interested would be collected and made available.
The Ernest Bell Library's primary objectives are to:
Collect all of Ernest Bell's book & non-book works and make them easily accessible to everyone.

Collect the literature of vegetarianism and all the other humanitarian movements in which Ernest. Bell was so deeply involved.

Assist students and scholars in their research.

Introduce, very briefly, all aspects of Ernest Bell's life, including his writings, campaign work, influences and his circle of friends.

To undertake our own research into missing aspects of Ernest Bell's life and work.
It is time for the library to go online.
There are currently more than 1,200 items in the library & archives.
We already have more than 200 pieces of Ernest Bell's own writings.
Additional items are being continuously added.
We are inviting wider collaboration – please contact us to discuss – humanitarianleague@outlook.com
We are launching crowd-funding projects to allow us to acquire additional items & to systematically reprint items.
Two extracts from our copy of  – The Vegetarian Messenger & Health Review – September 1934
Transcribed –
An Ernest Bell Library.
Ernest Bell, the late President of the Vegetarian Society, besides being a publisher was an author.
He had a whole-hearted belief in the efficacy, in propaganda, of the printed word, and it was through that medium that much of his great work was accomplished. It is therefore difficult to think of a more appropriate memorial of him than an Ernest Bell Library, the establishment of which is suggested on another page by Mr. H. S. Salt. In this Library the literature of vegetarianism and all the other humanitarian movements in which Mr. Bell was so deeply interested would be collected and made available, not only for reference but, if possible, for loaning also. There would probably be little difficulty in collecting the representative literature of the various movements, which, though differing in some degree, had a basic unity of which Mr. Bell often wrote. It should not be impossible to find an existing library that would house the collection.
The further requirements of cataloguing and binding (for much of the literature is in pamphlet form) would not involve any great cost and that could be met by small donations from the many people who appreciated Mr. Bell's labours.   The scheme is one that has our hearty sympathy.
Transcribed –
ERNEST BELL LIBRARY MEMORIAL.
WE give below copies of two letters in support of a proposed Ernest Bell Library Memorial. A representative committee will be formed to carry through the project and, in the meantime, the honorary secretary would be glad to receive promises of support:- Mr. Henry B. Amos, 6 King's Park Road, Bournemouth.
Reference is made to the proposal in our opening pages.
Sir,
From the letters that have reached us, I have little doubt that the proposal for the establishment of an Ernest Bell Library, which would specialize in humanitarian and progressive literature, and so form a sort of centre for students, will meet with a wide response.
I would now suggest that it would be a most helpful step if individuals who favour this idea would lend their names to strengthen the appeal that will have to be made to some Public Institution for the use of a room, and if Societies and Journals would also express their agreement.
Such a Memorial would be so personally suitable, in view of Mr. Bell's many and long continued services, and so valuable to the cause of humane progress in general, that it is difficult to see how any objection could be made to it: the sole question is whether the initial difficulties can be overcome. I trust all friends of the humanitarian cause will lend their aid.
HENRY S. SALT.
 Sir,
May I venture to write in strong support of Mr. H. S. Salt's suggestion that an Ernest Bell Library would be by far the most appropriate Memorial to our old friend. If "the true University of our time is a Library of Books," then such a collection as is proposed would constitute a real Humanitarian College, such as could keep in perpetual memory the vital humane character and activity of Ernest Bell.
Your obedient servant,
 London.                                                  T. BATY, (D.C.L., LL.D.)
Additional Notes on 1) Ernest Bell – 2) Henry S. Salt – 3) Thomas Baty
3) Thomas Baty aka Irene Clyde – everything beneath this is to introduce Thomas Baty.  Ernest Bell / George Bell & Sons published some of Baty's books.
Thomas Baty – a radical freethinker & international legal scholar. A very colorful character, he was 'almost' tried for treason for supporting Japan in the 30s & 40s & eventually his British nationality was revoked.
In 1916 Baty helped the suffrage activists & life partners, Eva Gore-Booth & Esther Roper, to establish the periodical 'Urania'. This was in collaboration with several others – including Jessey Wade – an animal rights campaigner.
Jessey Wade was Ernest Bell's close friend & private secretary from 1896/7 until his death in 1933.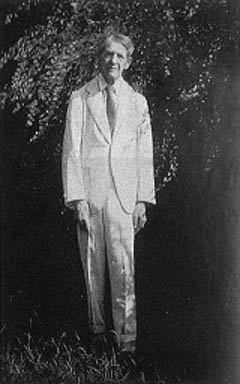 Thomas Baty – photo date unknown
Excerpts –
~ Baty was an internationally renowned publicist, author, and legal scholar. He spent the war years as the legal advisor to the Japanese Foreign Office in Tokyo. According to Patai and Ingram, Thomas Baty / Irene Clyde's articles and editorial commentaries were far more prevalent than any of the other editors named there. He used a variety of pseudonyms, such as Irene Clyde and Theta, which may make reference to the Greek letter meaning soul. ~
&
~ The feminist periodical Urania also used mystico-scientific evidence to promote an ideal of androgynous spiritual/sexual transcendence that destabilized sexology and biological sex difference. "It is impossible to express the sense of emancipated exhilaration which floods the soul when it has discarded the idea of sex," insisted the principle editor Thomas Baty, also known in his transgender persona as Irene Clyde. Upholding a spiritual/androgynous ideal, Baty argued that being forced into artificial gender categories resulted in "soul-murder."  ~
&
~ The paper was produced by a group of feminist idealists who met through their mutual interests in suffragism, esoteric religions, anti-materialism, pacifism, and New Age sexual spiritual politics: Thomas Baty/Irene Clyde, Eva Gore-Booth, Esther Roper, Dorothy Cornish, and Jessey Wade.' ~
TABLOID SENSATIONALISM OR REVOLUTIONARY FEMINISM?
The first-wave feminist movement in an Irish women's periodical by Sonja Tiernan – http://dit.ie/icr/media/diticr/documents/Tiernan.pdf – a very wonderful article.
Excerpt –
~ ……Aware of this, a group of radical thinkers, led by Eva Gore-Booth, began to monitor the printed media. The group included Esther Roper, suffrage activist; Dorothy Cornish, a Montessori educator; Jessey Wade, an animal rights campaigner, and Thomas Baty, an international legal scholar. Under the direction of Eva they established the periodical Urania in 1916. This remarkable journal reprinted newspaper articles concerning gender equality. ~
Comment via Facebook