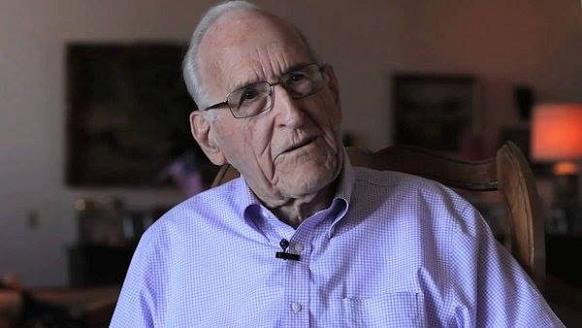 ~ As a middle-aged man, Wareham spent a lot of time in the operating room cutting into one patient after another who had heart problems. There, he noticed something: patients who were vegetarian mostly had much cleaner and smoother arteries than those who ate meat. The arteries of meat-eaters tended to be full of calcium and plaque.
So he made a choice. He decided to become a vegan. That decision was not too hard to make given the fact that many of the inhabitants of his southern Californian community were already very health conscious. Consider: there is no meat sold at one of the largest grocery stores in town. In fact, as recently as a generation ago, meat was difficult to find in the grocery stores of Loma Linda, as the New York Times reports. On top of that, smoking is banned in the town; alcohol is scarcely available; and fast food restaurants are hard to come by. ~ – Source.
~ Dr. Wareham attributes his health at least partly to the fact that he has been a vegan for the last 30 or 40 years (he does not remember precisely). ~ – Source.
…………………………………………………………………………………………………………….
An article which we 'saved' in 2008 – mentioning Marge Jetton & Dr. Ellsworth Wareham – 2 vegetarians who are featured in a book from National Geographic, "The Blue Zone: Lessons for Living Longer from the People Who've Lived the Longest." 
.
.
.
Originally posted at – http://www.sbsun.com – the link has now died
Living strong
Longevity book puts light on Loma Linda
Stephen Wall, Staff Writer
Article Launched: 04/12/2008 11:09:08 PM PDT
Marge Jetton, who is 103 years old and exercises five or six days a week, uses 5-pound weights in her Loma Linda home as a part of her healthy Seventh-day Adventist lifestyle.
Marge Jetton rises from her recliner and quickly heads out the door. 
It's just past sunset. 
She has already walked a mile, lifted weights and pedaled six miles on a stationary bike today. 
She's in no mood to slow down. 
"I'll show you how fast I can go," Jetton calls out to a visitor trying to keep up with her as she walks down the hall. 
At age 103, Jetton feels as good as ever. 
"Praise the Lord," she says with a smile. 
Dr. Ellsworth Wareham is also thankful. The 93-year-old still works as an open-heart surgeon. 
Jetton and Wareham have drawn the attention of researchers curious about their longevity. 
They are both profiled in a new book from National Geographic, "The Blue Zone: Lessons for Living Longer from the People Who've Lived the Longest." 
Author and explorer Dan Buettner uncovers the secrets of the Blue Zones – four geographic regions where small populations are living remarkably long, full lives. 
Buettner and a team of researchers unearthed four longevity hot spots: the Barbaria region of Sardinia, Italy; Okinawa, Japan; the Nicoya Peninsula in Costa Rica; and the community of Seventh-day Adventists in Loma Linda. 
In each region, Buettner and his crew found that people reach age 100 at rates significantly higher than the rest of us, and on average, live longer, healthier lives. They also suffer from only a fraction of the killer diseases common in most of the United States. 
Buettner quotes research funded by the U.S. National Institutes of Health, showing that the average Adventist in California lives four to 10 years longer than the average Californian. 
Adventists live longer because they don't smoke or drink and because they eat a healthy, low-fat, vegetarian diet rich in nuts and beans, according to researchers. 
About 9,000 Adventists live in and around Loma Linda, giving it the highest concentration of Adventists in the world, Buettner said. 
"We have good science that shows that Adventists who live in and around Loma Linda have a significantly higher life expectancy than Americans in general," said Buettner, a Minnesota native who is not an Adventist. 
Adventists' extended life spans also are attributed to their religious beliefs. They tend to be faithful churchgoers and have cohesive social networks, he said. 
"Because Sabbath is Saturday, they are a bit isolated, so they tend to hang out with each other," Buettner said. "Who you hang out with has a profound impact on what your habits are." 
The Saturday Sabbath in Loma Linda is a "subtly powerful habit" that contributes to improved health, he said. 
"For 24 hours, these people turn it all off, no matter how busy or how stressed they are," Buettner said. "When you go from being stressed to not stressed, your body literally changes." 
Modest and regular physical activity also increases longevity, lowering the risk of heart disease as well as breast and colon cancers, according to the book. 
Local Adventists try their best to adhere to the recommendations of their faith. 
Wareham gets up before dawn two or three times a week and drives to Los Angeles area hospitals to help perform open-heart surgeries. 
Wareham, who started the cardiac surgery program at Loma Linda University Medical Center in the 1950s, is not a primary surgeon anymore. He is the first or second assistant, performing minor parts of the operation. 
Besides staying busy with work, Wareham sticks to a vegan diet that forbids animal products. 
He also grows vegetables and landscapes his large hillside lot in the south end of town. 
"I tell my wife not to hire anyone to do things that require physical labor because I'll do them," said Wareham. 
He still finds the operating room an "energizing and stimulating" place. 
"I'm no paragon of righteousness," Wareham said. "I just work at it like everybody else. I think everybody can develop good habits. I think you start with one good habit at a time."
……
Marge Jetton – when aged 101

"It is Friday morning and Marge Jetton is barreling down the San Bernardino freeway in her mauve Cadillac Seville. She peers out of the windshield from behind dark sun shades, her head barely clearing the steering wheel. Marge, who turned 101 in September, is late for several volunteer commitments she has today, and she is driving fast, although this morning she has walked a mile, lifted weights, and eaten her oatmeal. 'I don't know why God gave me the privilege of living so long,' she said, pointing to herself, 'but look what He did!'" – Source.
……
Marge Jetton audio interview by Christian friends of hers – here.
Marge Jetton was born on September 29, 1904 in Yuba City, California, USA as Marge Hodge. She died on February 15, 2011 in Loma Linda, California.
……
Collect all of Ernest Bell's book & non-book works and make them easily accessible to everyone.

Collect the literature of vegetarianism and all the other humanitarian movements in which Ernest Bell was so deeply involved.

Assist students and scholars in their research.

Introduce all aspects of Ernest Bell's life, including his writings, campaign work, influences and his circle of friends.

Undertake our own research into missing aspects of Ernest Bell's life and work.
We already have more than 300 pieces of Ernest Bell's own writings.
.
We are also actively building a collection of examples of promotional material, campaign material, fundraising & marketing activities etc. – related to: –
veg(etari)an products.

veg(etari)an books & other publications.

veg(etari)an organisations.

veg(etari)an businesses.

animal rights organisations.

animal rights publications.

humanitarian organisations.

humanitarian publications.

rambling clubs run by members of the above groups & related publications.

the work of Richard St. Barbe Baker & the 'Men of the Trees' organization & its many sub-branches.
.
There are currently more than 2,000 items in the Ernest Bell Library.
…………………………………………………………………………………………………………….
If anyone would like more information, please send an email to: – 
humanitarianleague

 (at) 

outlook

 (dot) 

com 
– or message me through HappyCow – 
Comment via Facebook