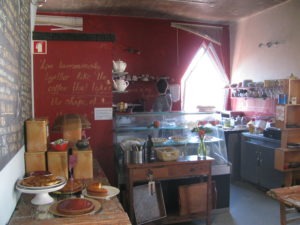 House of Wonders is a wonderful combination of a gallery, a café with a great rooftop terrace and a very good vegetarian restaurant with many vegan options. It is situated in a lovely village named Cascais.
Cascais is a beautiful little town by the sea, easy to access by train from Lisbon. It is a wondereful ride by train along the coastline. And once you arrive in Cascais, you have access to wide, sandy beaches.
The House of Wonders is owned by a very friendly Dutch lady named Anna and she is happy to show you all the vegan options they have.
The sign at the door says; Good Vibes Only. And that is what they offer, great food and good vibes!
The entire building is cosily decorated with warm and sunny colors. The gallery offers a wide range of art from local artists, from jewelry to photographs, from hand-painted stones to ceramics.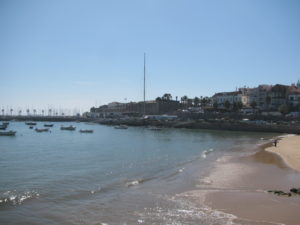 We came to Cascais for the beautiful beaches and for the House of Wonders. We started off by having a cappuccino with soy-milk on the rooftop terrace. When my sister ordered a freshly squeezed orange juice the waiter exclaimed: 'Get out of here! You don't want orange-juice! I have a perfect fresh fruit juice for you. I know you will like it!!'
Turned out that he was out of oranges at the moment, so that is why he knew for sure that my sister didn't want any orange juice :).
We enjoyed the sun and our drinks anyway and the waiter made us laugh with his 'one-man-show'.
After a stroll down the sandy beaches and the boulevard of Cascais we came back for a wonderful lunch.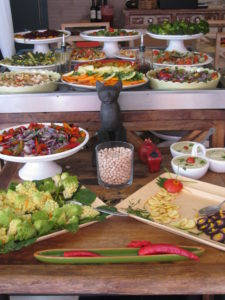 The restaurant offers a delicious Middle-Eastern and Mediterranean vegetarian/vegan cuisine. They have a wonderful buffet and they are happy to tell you what the vegan dishes are. I had a wonderful plate of colorful and very tasty food that I truly enjoyed!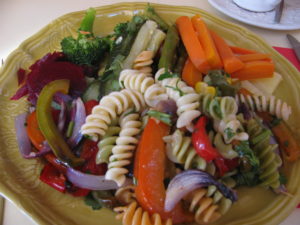 So if you are in Lisbon and your schedule allows you to take a train ride to Cascais, please do. And visit the beautiful beaches and the truly wonderful House of Wonders!
About the author: Mariëlle van de Kerkhof — happy urban gardner who loves to travel and eat great vegan food! www.mariellevandekerkhof.com
Comment via Facebook