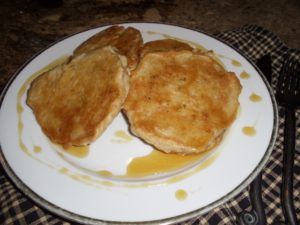 I definitely sway towards savory for breakfast, but every now and then I have a craving for pancakes.  These pancakes are fat, rustic and hearty.  They will definitely keep you satiated until lunch. You can thin out the batter with more nut milk if you want a thinner pancake, but I like mine thick and dense. Make sure to serve with lots of real maple syrup, as they deserve it.
RECIPE
2 1/2 C. flour
1 T. baking powder
1/2 t. baking soda
1/2 t. salt
1 t. cinnamon
1 T. sugar
2 small apples (unpeeled and diced)
1 can of coconut milk
coconut oil for cooking
DIRECTIONS
In a large bowl, mix dry ingredients. Add apples and coconut milk and mix just until incorporated. Melt coconut oil in a large fry pan over medium heat. Pour or scoop pancake batter into fry pan. Flip pancakes when bubbles start to form on one side. Cook the other side for a few minutes and you are good to go. Serve with vegan butter and lots of pure maple syrup.
Featured image source: Foodnetwork
Comment via Facebook