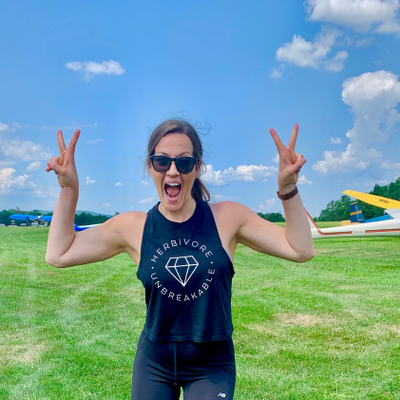 About:

Active vegan gal excited to share all things VEGAN with those that are interested. I love to eat and thrive on finding new vegan-friendly spots and showing the world a more compassionate way of living. Follow me on Instagram Lil_Ms_Vegan to see all my latest encounters!

Veg Status:

Vegan

Location:

Rye, New York

Joined:

12 Mar 2016

Gender:

Female

Relationship:

Married

Religion/Path:

Spiritual

Zodiac:

Gemini

Fav Place:

Home :)

I Admire:

Kathy Stevens, Gene Baur, Ingrid Newkirk, Ghandi, Dr. Barnard, James Aspey

Last Login:

21 May 2018

Profile Views:

203
More About Me
Reasons why I prefer to eat vegetarian or vegan:
Animals are my friends and I don't eat my friends.
I joined HappyCow Members Community because:
I love supporting this community of like-minded individuals and I am also excited to help the veg-curious find their VEG-WAY :)
Here are some places I've been that I liked... and places that I would like to visit one day:
I am on a mission to hit up all the TOP Vegan cities in the US! I'm looking at you Portland, Oregon and Seattle, Washington! And then I will be on to conquer the world- Berlin, Warsaw, Taipei - to start!
Some of my favorite veg*n foods include:
I love veganized comfort food- I could eat Beast Burgers and Mac and Cheeze all day long! I also have a sweet tooth the SIZE of TEXAS! I love vegan baked goods- from donuts to cookies and cakes! So Delicious Salted Caramel Cashew milk based Ice Cream is heaven sent!
Here are some books, movies, magazines, and my favorites that I would recommend to other HappyCow members:
I always look forward to receiving my Veg News Magazine for all the latest in the VEG world, I am personally featured in a book called Vegan Love, by Maya Gottfried- such a fun read! I also adore all of Kathy Stevens books on her life at Catskill Animal Sanctuary. I've also recently picked up the No Meat Athlete Cook Book - which I am totally digging at the moment! Also of all the documentaries out there What The Health has helped MORE people in my life to go plant-based than any other I have come across.
All images used on this site are user uploaded, obtained through what is believed to be not subject to copyright, or by Creative Commons usage. If your image was used without permission, please contact us.