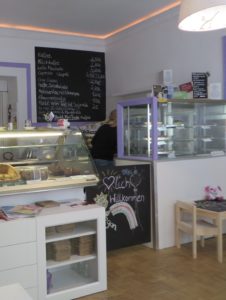 In the hustle and bustle of Friedrichshain, a neighbourhood in former East-Berlin where everything is hip & happening, you will find a little gem called Velicious. It's a cute, tiny, all vegan (and gluten-free), café with a very nice ambiance.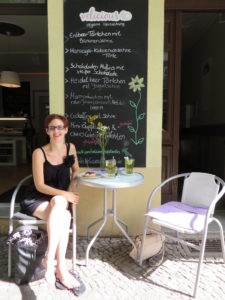 The owner is a lovely young woman called Steffi and it's been a dream of hers to create a vegan and gluten-free café where you can have breakfast, lunch and a wonderful coffee/tea break with really good cookies, cakes and everything in between. All in a romantic setting with fresh flowers.
We were there on a warm, sunny day and enjoyed the tiny terrace while sipping our tea and enjoying a wonderful tartlette with a creamy banana mousse, fresh strawberries and a crispy cookie- like crust.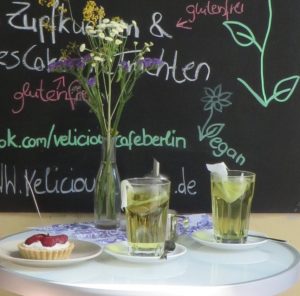 Unfortunately, we did not have the time to go back for lunch but whenever we go back to Berlin we will make sure to make a stop at Steffie's wonderful all vegan Velicious Café. I suggest you do the same 😉 You will not be disappointed!
About the author: Mariëlle van de Kerkhof — happy urban gardner who loves to travel and eat great vegan food! www.mariellevandekerkhof.com
Comment via Facebook