Here we reflect on some of our favorite early vegans (…..and aspiring vegans), and some of their writings / publications, where they discuss 100% perfectly consistent vegetable diets.
Definitions of old terms are in
green

 – debate welcomed!
We also share some special items from our

Ernest Bell Library

.
.
1886
Henry S. Salt – in his essay Food Reform – Published: Westminster Review, October 1886
"To Sylvester Graham, above all others, should perhaps be given the place of honour in the annals of vegetarian literature; for his 'Lectures on the Science of Human Life' form the text-book from which the advocates of the reformed diet derive their most powerful arguments." 
reformed diet =  a diet of vegetable food
In the same essay Henry S. Salt himself clearly proposes full veganism.
"The moderate use of eggs, milk, butter, cheese, and, some think, even of fish, is not necessarily censurable, and often furnishes a modus vivendi to would-be vegetarians, who cannot see their way all at once to the adoption of a perfectly consistent diet."
modus vivendi =  a Latin phrase signifying a temporary state of living with conflicting values – intended to be eventually replaced by a more substantial and thorough solution.
consistent – an adjective = (of an argument or set of ideas) not containing any logical contradictions.
a perfectly consistent diet = Henry S. Salt's somewhat cumbersome title for, what we today call, vegan eating = a diet containing no logical contradictions.
Henry S. Salt (1851-1939) – the photo is from the 1880s – the original is in our library
.
1886 again
Dr. Anna Bonus Kingsford

 MD – writing in the Preface to her 'Dreams and Dreams Stories' of 1886 – fully understanding the word 'vegetarian".
"For the past fifteen years I have been an abstainer from fleshmeats. Not a vegetarian, because during the whole that period I have used such animal products as butter, cheese, eggs, and milk."
Anna Kingsford, née Bonus (16 September 1846 – 22 February 1888), was an English anti-vivisection, vegetarian and women's rights campaigner
Anna campaigned for the London Vegetarian Society – but did not consider herself a true vegetarian – because she continued to eat foods containing eggs & milk
.
1883
Francis W. Newman was President of the UK Vegetarian Society for about 12 years in the 1870s and 80s.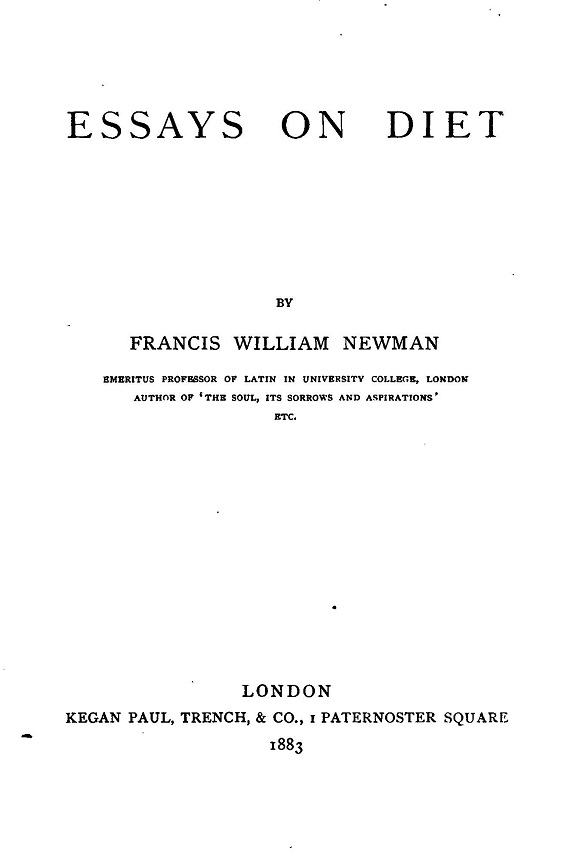 Essays on diet : By Francis William Newman
London : Kegan Paul, Trench, & Co., 1 Paternoster Square 1883
vi,[2],136p. ; 8° – a copy is in our Ernest Bell Library
Newman predicting the rise of veganism – 'Essays On Diet' – p44.
~ ……undoubtedly the pressure of dense population for milk is an evil, and tends to the adulteration of the milk, to a deterioration of it by giving to the cow whatever will increase its quantity, and to an enfeebling of cows generally, by asking too much milk of them, and by breeding them too quickly. Therefore I take pains to make no increased use of milk since I am a vegetarian, nor yet of eggs. We have not yet learned to get substitutes from oleaginous nuts. We are in a state of transition. A future age will look back on this as barbarism; yet we are moving towards the higher and nobler development in becoming even thus partial vegetarians. ~
 "……our aim is not to found a sect but to influence a nation — indeed, to influence Christian civilization, and that we ought more to rejoice in implanting our germs for future expansion than in rearing sporadic entire converts." – Francis Newman – in a letter to The Times newspaper – 187? – here.
.
1871
At the UK Vegetarian Society's 24th AGM, on October 18, 1871, Francis W. Newman proposed radical changes.
What Newman proposed was firstly to allow the Society to enrol associate members, based on four categories of pledges:
.


1. to feed on the fruits of the earth only [pure vegetarian/dietary vegan]
.


2. to avoid the flesh of animals killed for food [ovo-lacto-vegetarian]
.


3. to avoid all flesh of land animals and birds [pescetarian/piscerian – fish eater]
.


4. to avoid flesh-meat so far as circumstances permit. [flexitarian or meat-reducer] –

go deeper into this topic here

.
Newman's proposals were voted down!
'The Dietetic Reformer & Vegetarian Messenger' – January 1872 to December 1885 – 168 monthly issues – 14 complete years
The 'Ernest Bell Library' is looking after these
They contain details of Francis W. Newman's work / efforts & much more
.
1839
In 1839 Graham published his major work "Lectures on the Science of Human Life". This had a series of numbered paragraphs, and #1291 says:
"…though they do better on a milk and vegetable diet than one of flesh and vegetables, yet they do best when they confine themselves to a diet of pure vegetable food and pure water."
This came to the attention of William Horsell, secretary of the first Vegetarian Society, founded in England in 1847. Horsell was also a publisher and in 1849 he brought Graham's book to the much larger number British vegetarians, where it made a significant impact. – more.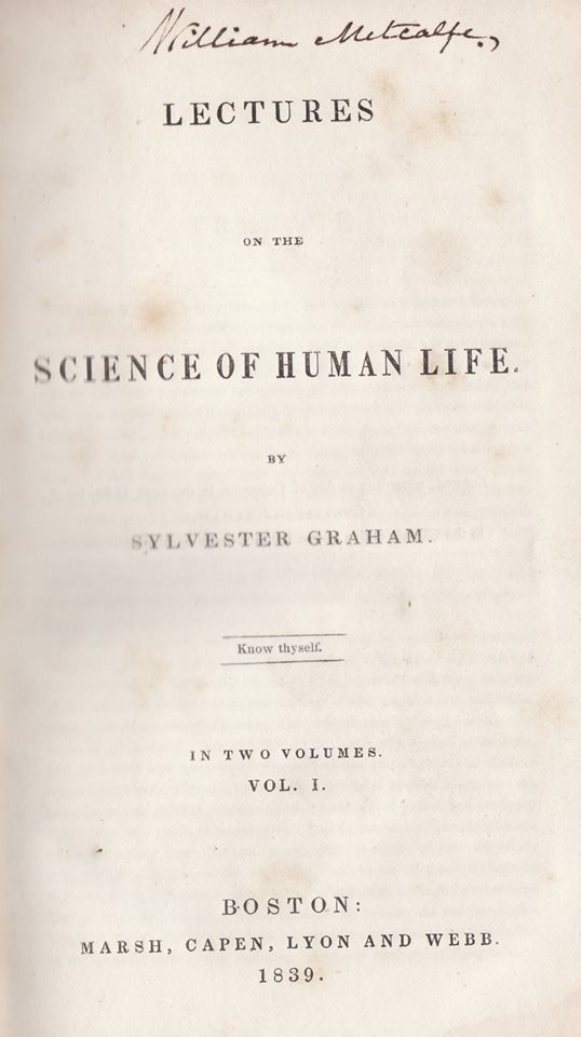 'Lectures on the Science of Human Life' by Sylvester Graham
William Metcalfe's signed copies of the 1st Edition
A note from the US dealer who sold these 2 books to us –
~ I purchased them from an auction in Pennsylvania. There were many other medical related items in the auction lot, even a very old doctor's bag. I can only guess there was a physician in the family. Wish I could tell you more. ~
.
1830s to early 1860s
Links to more about – Sylvester Graham, William Metcalfe (who ingested eggs, milk & honey) & some UK based vegans
Our Projects
The Ernest Bell Library was conceived in 1934. It is still strong & active eighty years later –  its primary objectives are to: –
Collect all of Ernest Bell's book & non-book works and make them easily accessible to everyone.

Collect the literature of vegetarianism and all the other humanitarian movements in which Ernest Bell was so deeply involved.

Assist students and scholars in their research.

Introduce all aspects of Ernest Bell's life, including his writings, campaign work, influences and his circle of friends.

Undertake our own research into missing aspects of Ernest Bell's life and work.
We already have more than 300 pieces of Ernest Bell's own writings.
We have a passion for sharing excellent quality vegan articles / items – making them easily available to 21st C folk.
Most early books & magazines on veganism were originally only published in the hundreds or in the low-thousands of copies.
Wars, weather, insects, careless humans, etc. have combined to make many of them very hard to find.
We are actively building a collection of examples of promotional material, campaign material, fundraising & marketing activities etc. – related to: –
veg(etari)an products.

veg(etari)an books & other publications.

veg(etari)an organizations.

veg(etari)an businesses.

animal rights organisations.

animal rights publications.

humanitarian organisations.

humanitarian publications.

rambling clubs run by members of the above groups & related publications.

the work of Richard St. Barbe Baker & the 'Men of the Trees' organization & its many sub-branches.
There are currently more than 2,800 items in the Ernest Bell Library.
We will complete the cataloging of the collection as & when adequate funds are available.
It is long past time for the library to go online!
 

"I have little doubt that the proposal for the establishment of an Ernest Bell Library, 

which would specialize in humanitarian and progressive literature, and so form a sort of centre for students, will meet with a wide response." 
Henry S. Salt – writing in September 1934
………………………………………………………………………………………………………
If anyone would like more information, please send an email to: – 
humanitarianleague

(at)

outlook

(dot)

com

 
– or message me  through

 HappyCow

 – 


If you are a Tweeter, please consider sending this post out to your friends.
Thank you! 
Comment via Facebook