Last month at the annual ExpoWest Natural Products Convention not many products stood out for me. However one cool new snack item for us vegans is EatPastry vegan cookie dough.  I arranged to interview the CEO Jessie Williams and I'm sharing that below.
HC) Hi Jessie, will you share a little about the history and founding of EatPastry.  Also, where did the name "EatPastry" come from and what does it mean to you?
JW) Alfredo and I met in New York City while attending Pastry School at the French Culinary Institute.  After graduating we began experimenting with vegan ingredients, in efforts to clear eggs and dairy from our recipes and our diets. When we decided to open the company, we wanted a name that was descriptive and catchy. The name EatPastry was actually taken from my email address!  Alfredo said, "Hey, how about your email?"  To us EatPastry means a lot. It is something that we began together, it lives in us.
HC) Can you describe your product line and let us know how it differs from other products available. How many varieties/flavors are there? What are they?
JW) All of our products are 100% vegan, and made with the highest quality ingredients…we do not use any ingredients we wouldn't eat ourselves.  We use Organic chocolate, light brown sugar, and applesauce, as well as Organic and Fair Trade evaporated cane juice. One of the best things about our cookie dough is that it can be eaten raw right out of the resealable container! Yay for vegan! We have 6 flavors:  Chocolate Chunk, Oatmeal Raisin Chocolate Chip, Peanut Butter Chocolate Chip, Chocoholic Chunk, Cinnamon Ginger Spice, and Gluten-free Chocolate Chunk (as you can tell, we really like chocolate!). And there's more to come!
HC) Which is your favorite and why?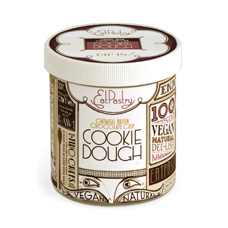 JW) Such a tough question, but I'd say the Oatmeal is my fav because it has the sweet/savory thing going on with raisins, chocolate, sea salt, and cinnamon…mmm. Pretty much some of my favorite things all mixed up in the perfect amounts. OK, I need to pause this interview, I'm starting to salivate. Seriously though, I eat this stuff every day.
HC) Are there any health benefits to your products?
JW) Well there are proven health benefits to a lot of the ingredients we use, even dark chocolate has been said to have health benefits! We don't claim any health benefits ourselves, but there have been a few blogs out there claiming our cookie dough is the healthiest on the market! Pretty cool.
HC) Where can people find them? International?
JW) Currently we're sold at most natural grocery stores on the west coast. We're in the process of expansion, and hope to be available in more states within the next few months—fingers crossed! So definitely keep a look out for us in the fridge! You can also check our website (www.eatpastry.com) for updates on where to buy our products. We aren't available internationally yet, but that time will most definitely come!
HC) Any other interesting company facts or ideas you'd like to share?
JW) We recently enrolled in the Non-GMO Project, and are super stoked about it! It's very important to us to have our customers know that when they buy our cookie dough they are buying healthy, natural, non-GMO ingredients.
Learn more about EatPasty on their website: www.eatpastry.com
Very fun website: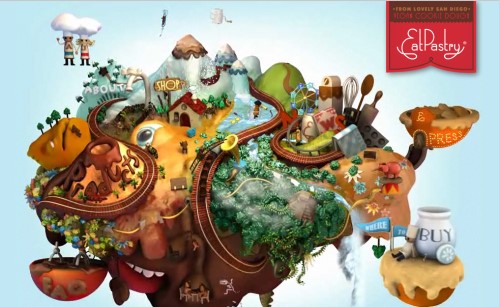 Comment via Facebook