In English-speaking countries, where a typical meal consists of a piece of meat and two vegetables, people often wrongly imagine that vegans must live on a diet of mushy peas and mashed potatoes. In other parts of the world, however, plants play a much more prominent role in the native cuisine.
From Asia to the Middle East to Africa, most of the world's traditional cuisines are largely plant based and use animal products only sparingly. For this reason, many people who adopt a vegan lifestyle find that their diet actually becomes more varied, not less so. Becoming vegan leads to a discovery of whole new cultures and cuisines, each of which includes a huge variety of naturally vegan dishes.
There are so many vegan treasures in these cuisines that it's hard to choose just one. Nevertheless, here are my picks for the best vegan dishes that you must try in nine of the world's most vegan-friendly countries. (Make sure to read through to the end for a special GIVEAWAY too!)
1. China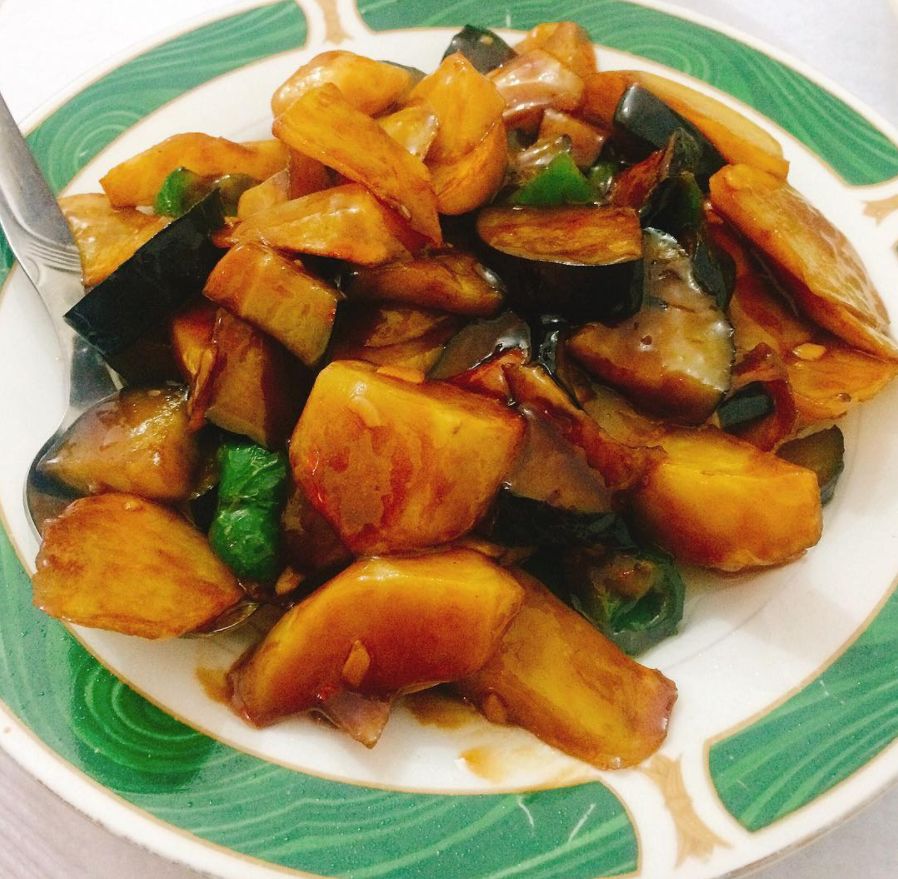 Dìsānxiān – The name of this dish roughly translates to "three flavors of the earth", and it consists of a mix of stir-fried eggplant, potato and bell peppers seasoned with chili and cooked in soy sauce. It's a specialty of northern China but is pretty widely available throughout the country and is typically eaten with rice.
Authentic Chinese food is quite different from what's served up in Chinese restaurants outside China, and for some visitors it takes a while to adjust. This is one dish, though, that's a perennial favorite with locals and foreigners alike.
2. Ethiopia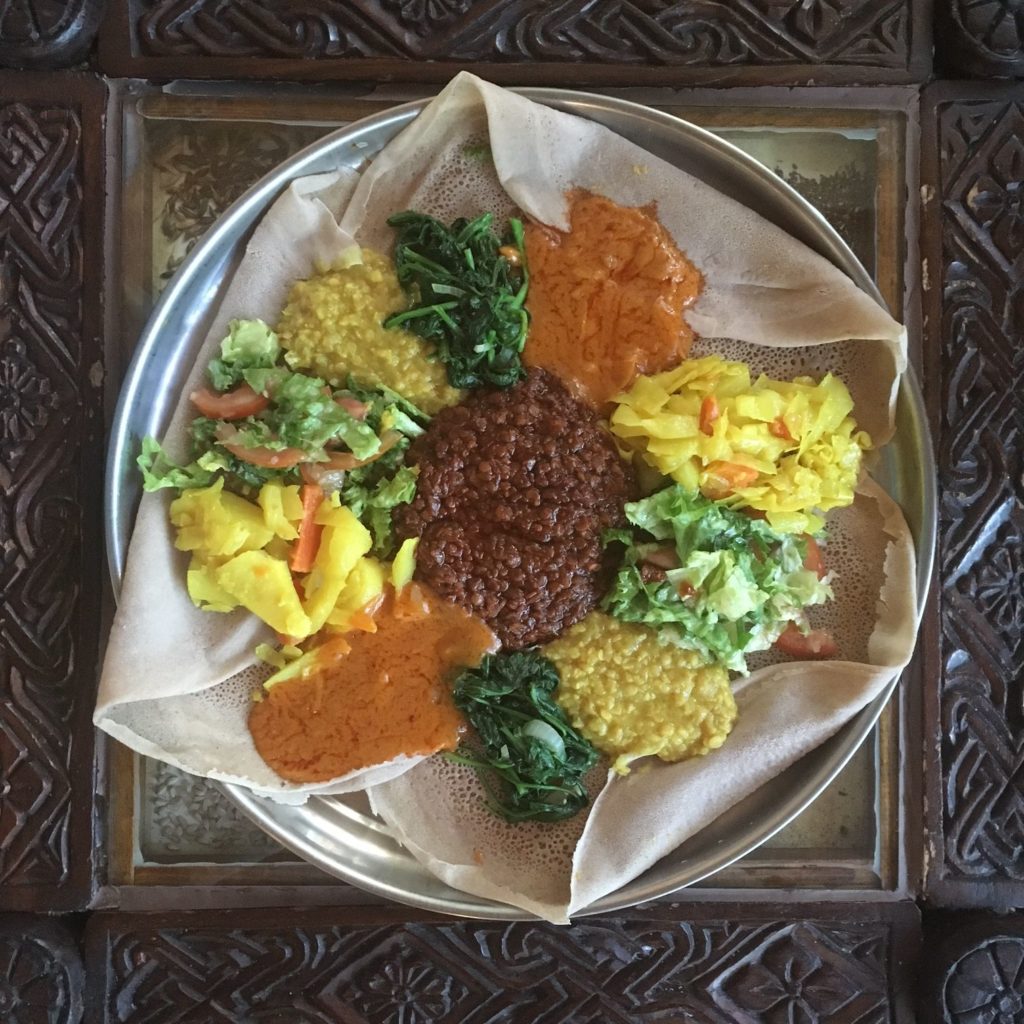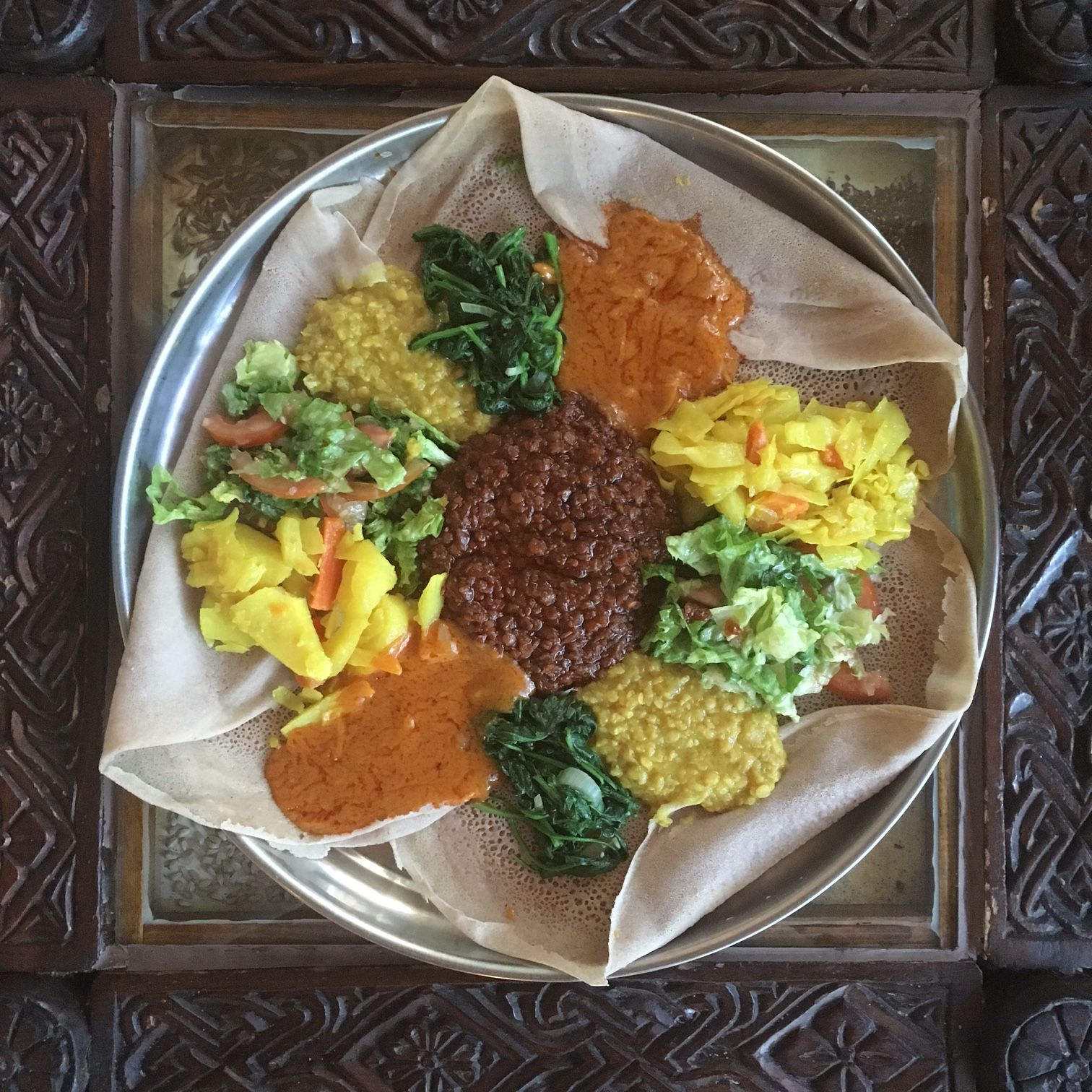 Yetsom beyaynetu – Ethiopian cuisine includes many vegan dishes that are eaten by locals on "fasting" days, when Ethiopian Orthodox Christians follow a vegan diet for religious reasons. The best way to sample a variety of these is to order a yetsom beyaynetu – a mixed platter of many different legume-based stews and vegetable dishes served on top of the Ethiopian sourdough bread known as injera.
Most commonly, shiro – a thick sauce made from chickpea flour – is ladled onto the center of the injera, and other dishes are placed around the edges. The injera serves not only as the plate but also as cutlery. The meal is eaten with the hands, using a piece of injera to scoop up the saucy stews.
3. Greece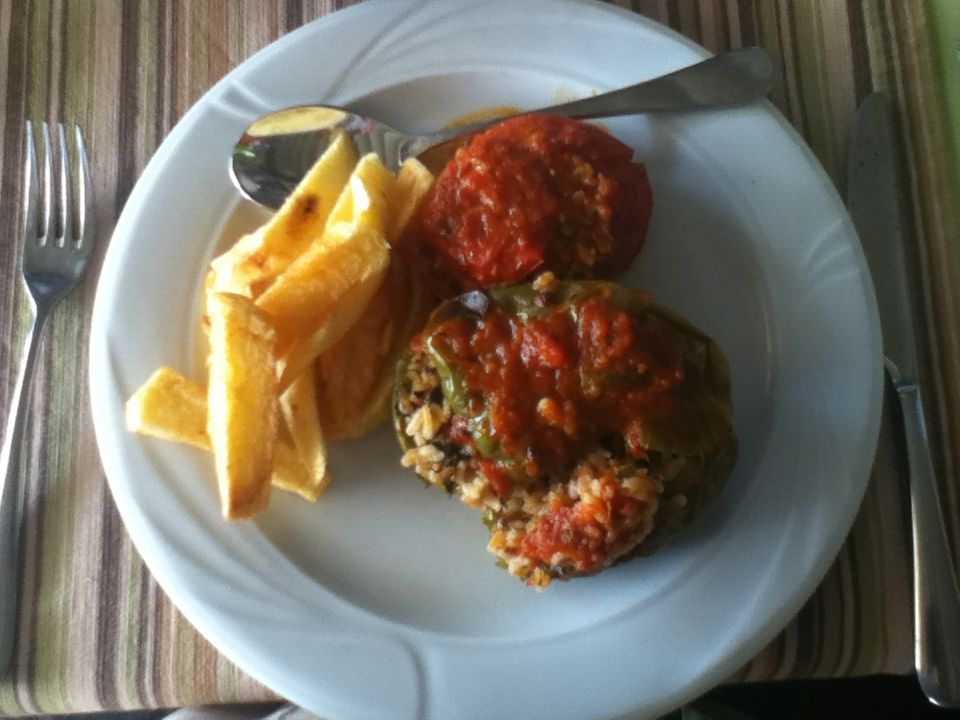 Gemista – This popular dish is made by stuffing either tomatoes or red bell peppers with a mixture of rice and herbs and then roasting them in the oven. Sometimes it can even be a mix of tomatoes and bell peppers. It's usually served with thick French fries, which are themselves a delicacy not to be missed in Greece. The stuffing mixture occasionally contains minced meat, but usually it's made vegan.
Like in Ethiopia, the Greek Orthodox Church also prescribes a number of fasting days, when believers follow a mostly vegan diet. This helps explain why there are so many vegan options to choose from in Greek cuisine.
4. Turkey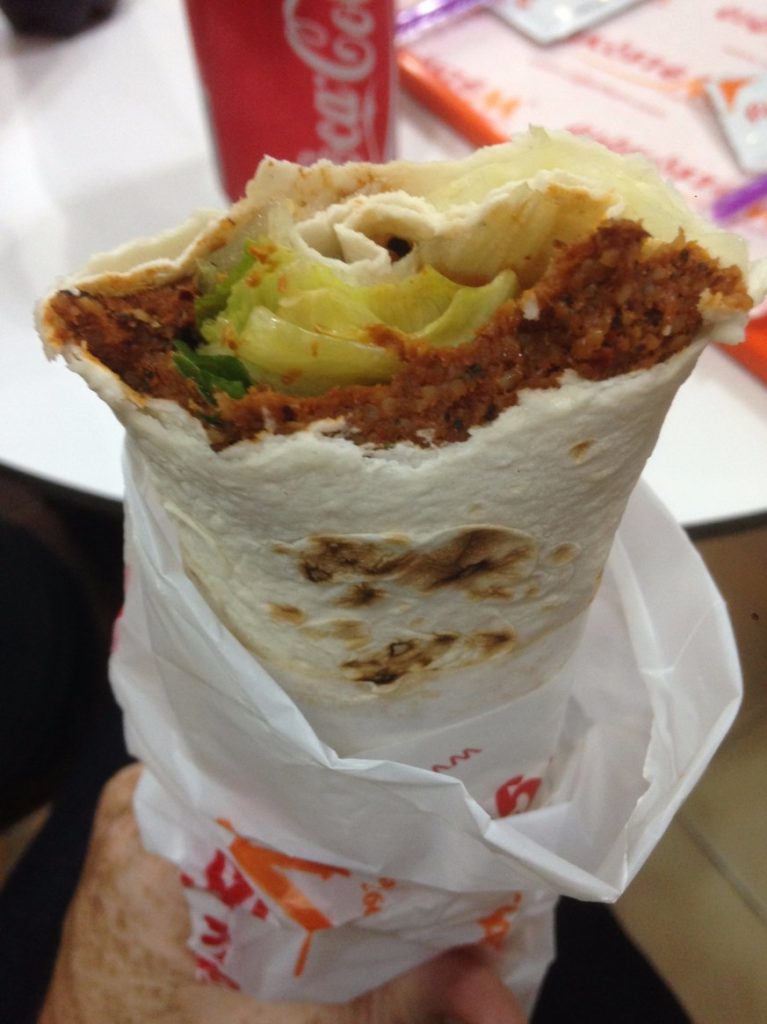 Çiğ köfte – This is a popular and inexpensive street food sold at many stalls throughout Turkey. The word "çiğ" means "raw", and traditionally this dish was in fact made from raw meat. Gross. Under modern health regulations, however, this is no longer allowed. The modified version of çiğ köfte that is sold today is a spread made from bulgur wheat, ground walnuts, tomatoes and red pepper paste.
It's often spicy, and you have the option of topping it with an additional spicy sauce as well, and/or sweet pomegranate syrup. You can also choose whether you'd like it served in a wrap (called a "dürüm") or on a plate over a bed of lettuce. In addition to the take-away stands that serve nothing but çiğ köfte, it's also sometimes served as an appetizer in Turkish restaurants.
5. India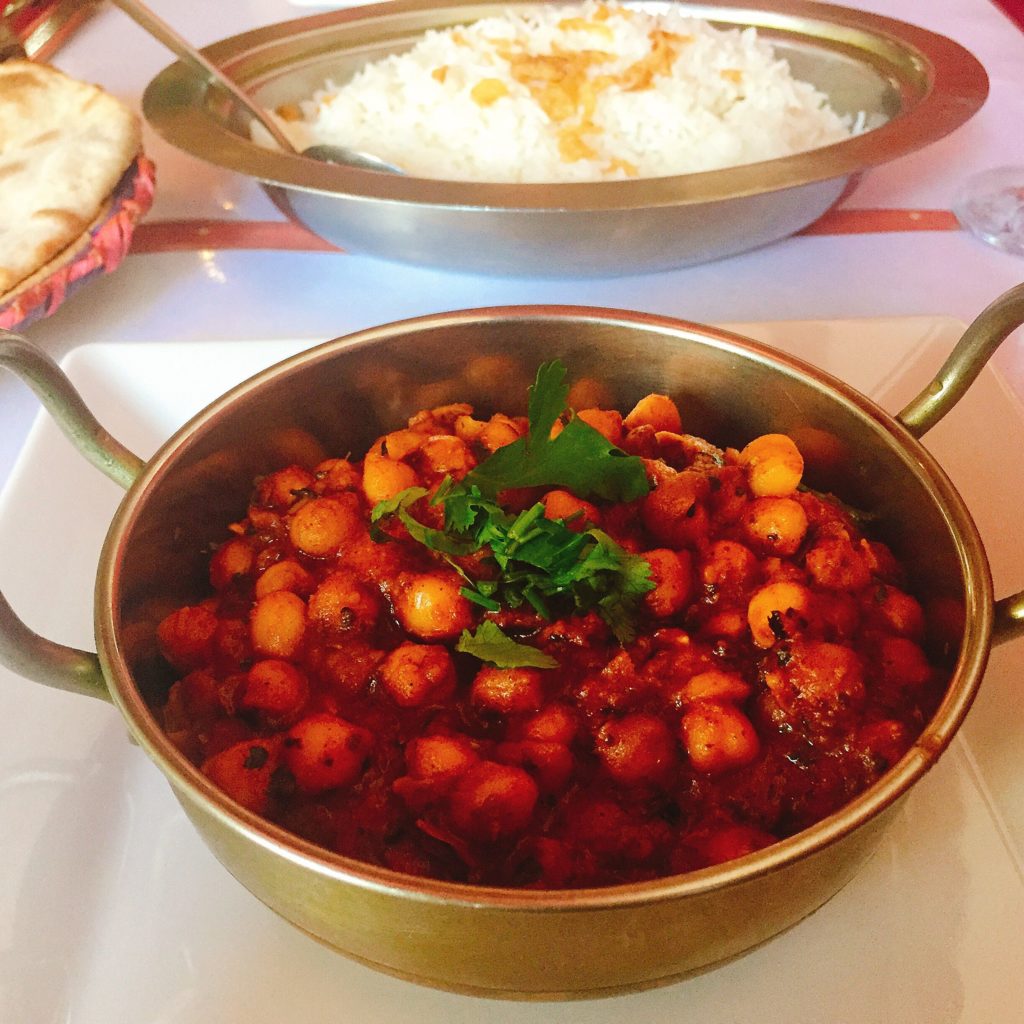 Chana masala – This chickpea curry is popular in northern India, although it's also eaten as a breakfast food in the southern state of Kerala. In addition to chickpeas, the usual ingredients include onion, chopped tomatoes, coriander seeds, garlic, chilies, and garam masala spice mix.
Traditionally, the type of chickpea used is the one known in India as chana or kala chana, which is much smaller and firmer than the chickpeas typically eaten in Western countries (which are called chole in India). In restaurants, however, chana may be replaced with the larger chole. Either way, it's a delicious and filling meal.
6. Italy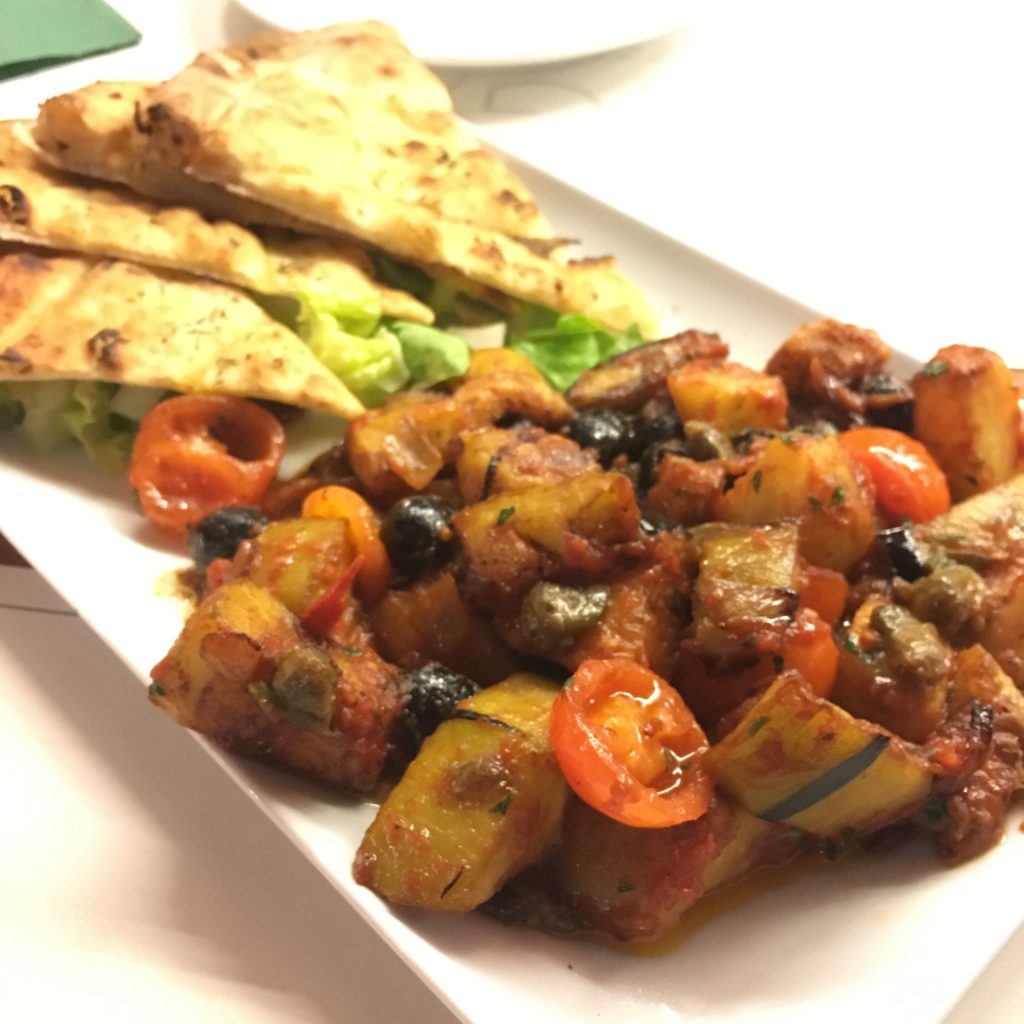 Caponata – Commonly served as a side dish, but also sometimes appearing as an appetizer or even as a main course, Sicilian caponata is a vegetable stew in a sweet and sour sauce flavored with sweetened vinegar. Eggplant always features prominently, and there are usually some capers thrown into the mix, but the rest of the ingredients can vary.
Some cooks will add olives, carrots and bell peppers, while others will use potatoes, or even raisins and pine nuts. Regional variations abound in Italian cuisine, so it's important to note that while the Sicilian version of caponata is vegan and is the one that's most widely known, other (non-vegan) versions do exist. In Naples, for example, caponata is made with mozzarella cheese and sometimes tuna or anchovies.
7. The Middle East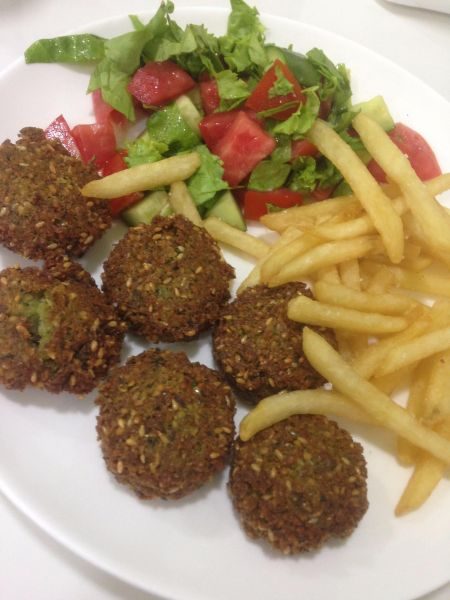 Falafel – These fried patties are often eaten as a street food in the Middle East and throughout the world, though they can also be served as an appetizer. They are most commonly made with chickpeas, at least in Palestine and Israel, although in Egypt they are usually made from fava beans.
When eaten as a street food, they are wrapped up in pita bread along with chopped onions, cucumbers, garlic, etc. The sauce squirted on top sometimes contains yogurt, but you can ask for plain tahini instead.
8. Morocco
Kseksu Bidawi – The name of this dish translates as "seven vegetable couscous". Moroccans consider seven to be a lucky number, so this version of the ever-popular couscous is made with seven vegetables and preferably seven spices. The specific vegetables can vary, but common ones include cabbage, carrots, pumpkin, peas, artichoke hearts, turnips and sweet potatoes. This is a common vegetarian/vegan dish that you'll find on most restaurant menus in Morocco, and also in Moroccan restaurants abroad.
9. Thailand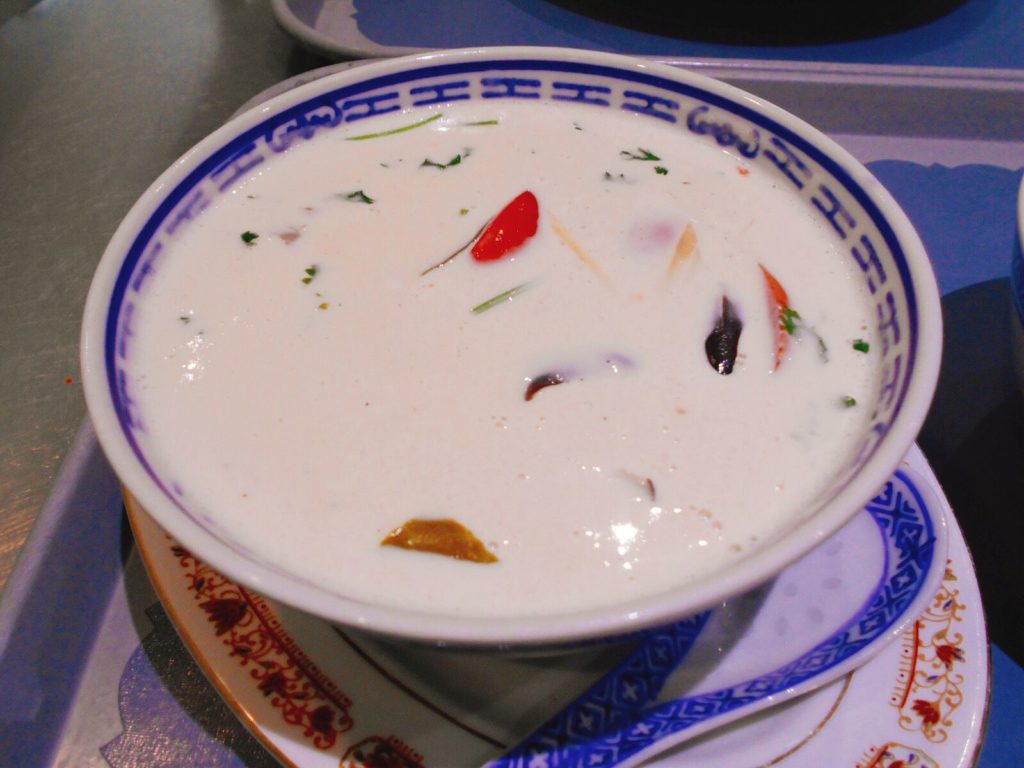 Tom Kha Taohu – This spicy and sour coconut soup is popular in both Thai and Lao cuisines. The main difference between the two is that, while the Lao version calls for dill weed, in Thailand cilantro is used instead. Tom kha is most commonly made with chicken, in which case it's called tom kha gai, but you can ask for it with tofu (taohu) instead.
Another veganizable variation is the one made with mushrooms, which is called tom kha het. This soup is flavored with lemongrass, galangal, and kaffir lime leaves, much like the popular hot and sour soup known as tom yum. In tom kha, however, the addition of coconut milk adds a whole new dimension to the flavor profile.
Are you hungry after our whirlwind tour around the world? This was just a small sampling of the incredible vegan dishes that the world has to offer. Each of these nine countries has plenty more in store for the vegan traveler, not to mention the many other world cuisines that we didn't even get a chance to touch on here.
You can discover many more vegan delicacies in these and other cuisines in my upcoming book, Veggie Planet, available for pre-order now.
GIVEAWAY
In celebration of the release of Veggie Planet, we are giving away 10 FREE digital copies of the book! This giveaway is open worldwide with no geographic restrictions. To enter, all you have to do is perform one (or more) of the following actions on the RaffleCopter widget below to earn points. You can perform the actions as many times as you want during the next week to earn more points. The more points, the more chances to win! RaffleCopter will choose 10 winners at random on July 17th, 2017. Good luck!
About the author:
Wendy Werneth is the creator of The Nomadic Vegan, where she shows you how you can be vegan anywhere and spread compassion everywhere. Her latest book, Veggie Planet, highlights the many vegan dishes in 11 of the world's most famous cuisines and shows just how vegan friendly these cuisines really are. Pre-order before July 21st to get free access to exclusive bonus materials.
Comment via Facebook