Even if you've never been to Thailand, China, Japan, or Indonesia I bet you can find a restaurant that serves ethnic food from these countries nearby. If you are vegan, you want to seek out Asian restaurants because you will more than likely be able to find veg food on the menu or have the chef make you something tasty without animal ingredients. Even in my home town, a tiny suburb outside Ft. Worth, I can find decent Thai and Indian restaurants that have great options for vegans.
When actually traveling in these countries it can be a bit more tricky to get vegetarian food. With a language barrier it can be difficult to communicate that you do not want meat, fish sauce, or dairy in your meal. Or the chefs are just not willing to make something special or out of the norm. I've been traveling around Asia for the last 4 months and this has been my experience in many places. Thankfully, with a resource like HappyCow, I don't have to worry about being stuck without access to vegetarian-friendly places to eat in most cities.
Here are some of my favorite Asian restaurants in places I've traveled to recently.
Thailand
Pun Pun is "a small organic farm, seed-saving center, and sustainable living and learning center." But, not only that but they have an organic restaurant set on the temple grounds of Wat Suan Dok and have cooking courses at their farm. It was some of the tastiest food I've ever had! It's also the most affordable vegetarian dining in Chiang Mai, with dishes priced 30-60 baht ($1-2).
May Kaidee is famous for her innovative cuisine, restaurants in both Bangkok and Chiang Mai, and her delicious cooking classes. We had the Pumpkin Hummus, Papaya Salad (the best I've had in Thailand so far), Massamam Curry, fresh spring rolls, and Pad Thai. All perfectly seasoned, not too salty or spicy, and reasonably priced around 60 Baht a dish ($2).
Malaysia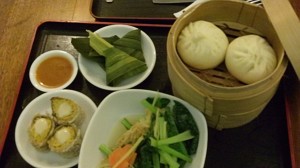 You must go to Woods Marche Cafe if you are ever in Kuala Lumpur. I found a macrobiotic vegan restaurant where I had one of the best meals of my life. I had the special set meal, which had the tastiest dumpling I've ever put in my mouth, seitan-stuffed buns, stuffed yuba rolls that were deep fried and topped with a mustard sauce, steamed veggies, and this other thing that is hard to describe but had sauteed shiitake mushrooms with a spicy coconut yam mash wrapped in a banana leaf. It probably doesn't sound like much but it was Extraordinary! Perfect balance of flavor, salt, and sweet, all the 5 elements, delish.
Japan
I had the best meal of my life at Tenryuji Temple (天龍寺, Tenryū-ji) in Kyoto. This type of food is the most beautiful, exquisite meal found anywhere in Asia. It's called Shojin Ryori, which is a consciously thought out meal prepared by monks at a Buddhist temple. It's a special experience to try this food. You can find it across Japan.
To follow along on The Blissful Chef's travels please visit her website and subscribe with your email.
Comment via Facebook