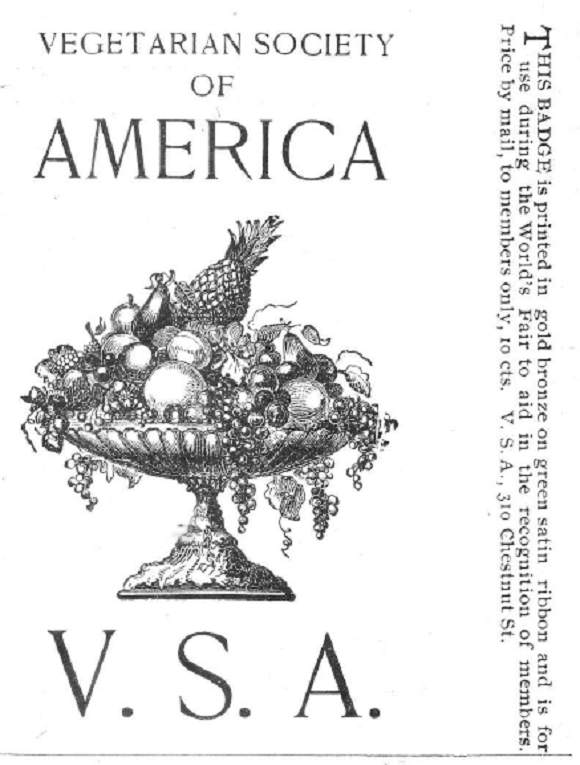 From the May 1893 issue of Henry S. Clubb's magazine Food, Home and Garden.

To be worn by vegetarians at the World's Fair: Columbian Exposition in 1893.
Glorifying Christopher Columbus / Cristoforo Colombo!
…….
Wiki – The World's Columbian Exposition (the official shortened name for the World's Fair: Columbian Exposition, also known as The Chicago World's Fair and Chicago Columbian Exposition) was a world's fair held in Chicago in 1893 to celebrate the 400th anniversary of Christopher Columbus's arrival in the New World in 1492.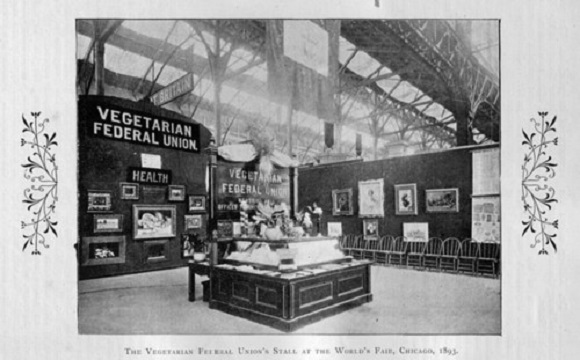 British and other Europeans vegetarians attended / exhibited – details here – 3rd International Vegetarian Congress 1893 Chicago, USA.
…….
HENRY STEPHENS CLUBB, 1827-1922, was a pioneer vegetarian from England who emigrated to the United States, where he became an abolitionist journalist, state senator, the leader of a small Swedenborgian sect and the president of the Vegetarian Society in America. His biography is a fascinating journey from provincial England, through utopian communitarian experiments to the abolitionist and temperance worlds of ante and post bellum America……
Read all of James Gregory's excellent bio of Henry S. Clubb – here.
…….
Our 3 Main Projects
The Ernest Bell Library was conceived in 1934. It is still strong & very active eighty years later –  its primary objectives are to: –
Collect all of Ernest Bell's book & non-book works and make them easily accessible to everyone.
Collect the literature of vegetarianism and all the other humanitarian movements in which Ernest Bell was so deeply involved.
Assist students and scholars in their research.
Introduce all aspects of Ernest Bell's life, including his writings, campaign work, influences and his circle of friends.
Undertake our own research into missing aspects of Ernest Bell's life and work.
We already have more than 300 pieces of Ernest Bell's own writings.
We are also actively building a collection of examples of promotional material, campaign material, fundraising & marketing activities etc. – related to: –
veg(etari)an products
veg(etari)an books & other publications
veg(etari)an organisations
veg(etari)an businesses
animal rights organisations
animal rights publications
humanitarian organisations
humanitarian publications
rambling clubs run by members of the above groups & related publications
the work of Richard St. Barbe Baker & the 'Men of the Trees' organization & its many sub-branches
There are currently more than 2,000 items in the Ernest Bell Library.
We will complete the cataloging of the collection as & when adequate funds are available.
It is long past time for the library to go online!
 "I have little doubt that the proposal for the establishment of an Ernest Bell Library, which would specialize in humanitarian and progressive literature, and so form a sort of center for students, will meet with a wide response." 
Henry S. Salt – writing in September 1934
…….
"A people without a history is like a tree without roots."
April / May 2007 – Satya
Q) Colleen Patrick-Goudreau – You use the phrase "historical amnesia" to refer to the fact that contemporary animal activists—and society as a whole—know nothing of the legacy of animal activism in the U.S. What are some of the effects of having "historical amnesia"? Why is it so important to know our legacy?
A) Diane Beers – Animal advocacy has an amazing history, yet it is essentially an untold story. African American activists will often say, "A people without a history is like a tree without roots." Indeed, if activists don't know the history of their cause, they can have no sense of their movement's struggles, long-term strategies, achievements and heroes. In addition, they can't promote their long impressive movement to the public, and their opponents—the meat industry, medical research industry and the government—will fill the void. They have been the ones most aggressively and successfully constructing negative images and outright myths of animal advocacy that the public often believes.
…….
An Appeal
Please consider helping us to build up the Ernest Bell Library.
Our history is rich.
It is not yet very well documented.
We freely share our items with museums, universities, libraries & scholars worldwide.
We have a wonderful team of friends / supporters.
……we never have enough $ – € – £ – ¥ – CHF – kr – ₩ – ﷼ – Rp – etc.
If anyone would like more information, please send an email to: – 
humanitarianleague

(at)

outlook

(dot)

com 
– or message me  through HappyCow – 
…….
Comment via Facebook