Veg Topics: Travel: Cities
10 Top Vegan Cities In The World
Updated Aug 11, 2017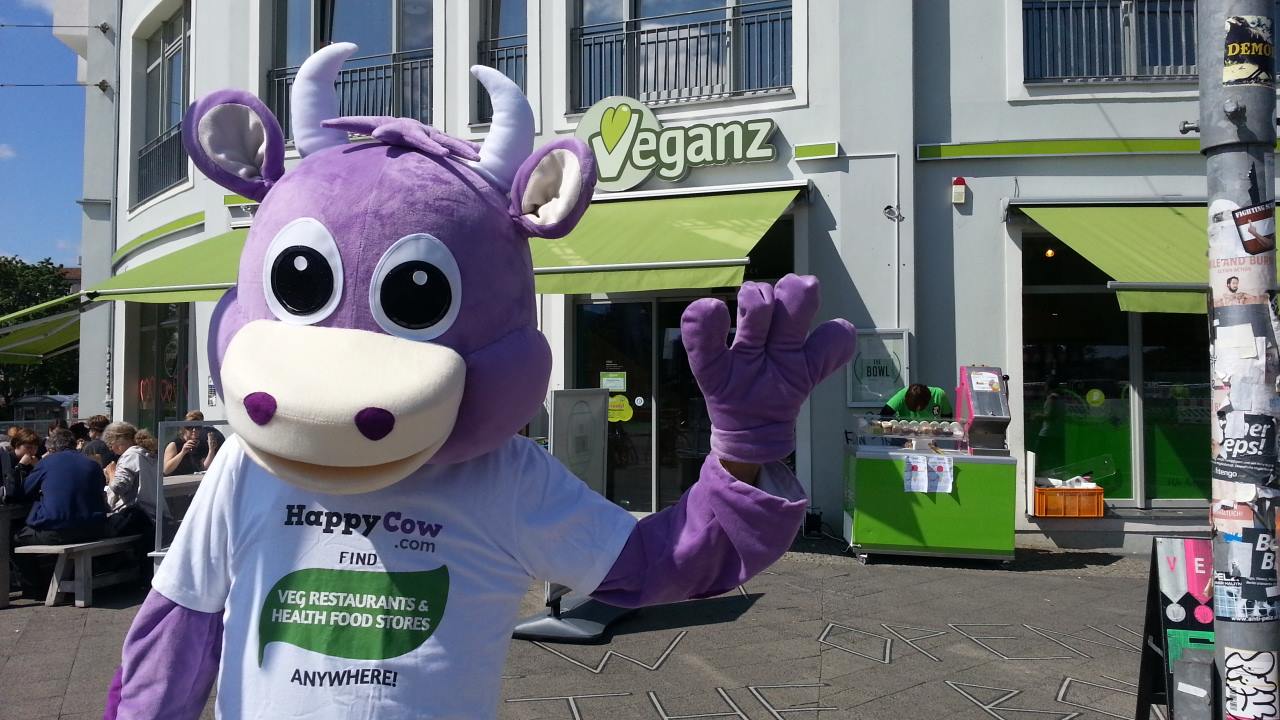 Love to travel and eat vegan food? We've compiled a list of the top 10 most vegan-friendly cities worldwide! This list is determined by three factors: the total number of vegan restaurants/businesses in the city, the population density to vegan restaurant ratio, and our impression of the over-all vegan-friendliness of the city.
Although traditionally known for its beer gardens and brats, Berlin has recently developed a shining reputation as an international vegan mecca. Not only are there 55+ fully vegan and 320+ veg-friendly restaurants currently listed on HappyCow, but the word "vegan" can be seen advertised throughout the city on a diverse array of restaurants. Berliners are familiar with the widely accepted and practiced vegan lifestyle, and it's incredibly easy to find options wherever you go. From stellar pizzas at La Stella Nera, world-class vegan döner kebab at Vöner der Vegetarische Döner, quality veggie burgers at Chaostheorie, creative gourmet cuisine at Lucky Leek or Kopps to healthier, raw vegan gourmet delights at Rawtastic, you'll find any type of vegan dishes you are craving. Berlin has a street section, sometimes referred to as "the vegan avenue" called Warschauer Straße which boasts a vegan shoe store ( Avesu), a vegan clothing store ( Deargoods), and a branch of the largest vegan supermarket chain in Europe (originating in Berlin) called Veganz with Goodies Cafe inside and The Bowl vegan restaurant upstairs. If you can't find what you are looking for at Avesu or Deargoods, you may want to head over to new vegan clothing store additions Loveco and Suessstoff. If you're still craving sweets, you can check out gourmet cake shops I Am Delicious and Velicious, and if you're seeking a permanent souvenir, you can even get a vegan tattoo at Lightworkers.
Berlin's vegan scene continues to thrive and expand, and it's a truly a fantastic city for vegans. The vast number of superb quality vegan offerings combined with the city's vegan attitude makes Berlin our top pick for the world's most vegan-friendly city.
Watch our video of Berlin's famous vegan avenue.

Photo of Rawtastic by coco_papillon
Home to a number of notable vegan celebrities such as Joaquin Phoenix, Alicia Silverstone, and Casey Affleck, Los Angeles boasts 72+ fully-vegan and 243 veg-friendly restaurants. Despite LA's sprawling urban layout, you won't have any trouble finding delicious healthy (or less-than-healthy) options throughout this large city. LA is known for its wide variety of international vegan cuisines, including 18 vegan Thai restaurants (we recommend Arraya's Place and Satdha), two vegan Ethiopian restaurants ( Rahel Ethiopian Vegan Cuisine and Azla Vegan), a mouth-watering vegan cheese restaurant ( Vromage), an upscale gourmet vegan Japanese restaurant with 2 locations ( Shojin), the second location of vegan Vietnamese favorite Au Lac, and the world's first and only Cuban vegan restaurant ( Equelecua Cuban Café). Vegan cheese pizza can be ordered at numerous restaurants throughout the city, or you can choose to stick with entirely plant-based Cruzers Pizza. LA is also home to iconic vegan musician Moby's Little Pine vegan bistro, serving upscale Italian/Mediterranean fusion dishes; and also to celebrity chef Tal Ronen's wildly successful Mediterranean fusion restaurant, Crossroads. Some superb vegan bakeries include Donut Farm, Erin McKenna's Bakery LA, or Pomegranate and nearby is Moo Shoes for vegan shoes and accessories.
Although these options are spread out over a large area of the city, it's no wonder why LA is often referred to as a vegan haven.

Photo of Shojin by Val Blakely
With 38+ fully-vegan restaurants, almost all within one easily walkable square mile of the city, Warsaw has rapidly grown into one of the most unexpectedly vegan-friendly cities on the planet. Vegan burger joint Krowarzywa's two locations sell what was voted twice as the "Best Burger in Warsaw," beating out all competing meat burgers. The city has been blessed with two spectacular vegan sushi restaurants ( Edamame and Youmiko Vegan Sushi), a fine vegan Italian restaurant ( Leonardo Verde), and a number of other superb restaurants including Vege Miasto, Lokal Vegan Bistro and Vege Bistro, all showcasing vegan versions of traditional Polish dishes such as: pierogi (dumplings), golabki (cabbage rolls) and Schabowy (meat cutlets made vegan). There are also a number of excellent middle eastern/falafel restaurants including Tel Aviv and Falafel Beirut. Vegestacja offers spectacular vegan ice cream, Lokal Dela Krem serves gorgeous cakes and other baked goods, and Physalis confectionery creates superb to-order cakes, pies, pastries, and macaroons. Warsaw has two vegan grocery stores ( Evergreen and TerraVege), and a vegan and organic certified wine shop ( Solvino Bio). HappyCow has over 118 listing for veg-friendly options in the city of Warsaw, and this number is growing more rapidly than in any city in the world.
Watch our video of Warsaw's vegan scene | See vegan Warsaw documentary by Patryk B.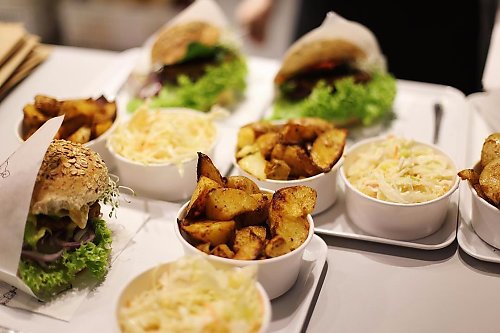 Photo of Krowarzywa - Hoza by Fisty022
Taipei is internationally renowned for its delicious and inexpensive vegan/vegetarian restaurants on nearly every street. Most notably, it's home to an abundance of Chinese/Taiwanese food restaurants specializing in mock meats, vegan buffets, and upscale restaurants offering 8-course vegan meals. Western-vegan fusion cuisine restaurants such as Mianto, specializing in mouth-watering vegan pizza and sweet cakes, and About Animals, loved for their delectable vegan burgers, are also wildly popular. On the healthier side, Taipei has 3 phenomenal vegan raw food restaurants including Ooh Cha Cha, Plants, and Universe.Cafe. If you love desserts, Taipei is home to Nice Cream, with their creamy, delicious vegan gelato, and Vegan Heaven, a small, colorful vegan bakery. A new vegan bakery just opened in May, 2017 called Hip Pun. In addition to vegan baked goods, they also offer events and baking workshops. Although HappyCow lists 30 fully vegan places and 207 veg-friendly listings, Taipei is so densely populated with veg-options that HappyCow only lists some of the more exceptional quality restaurants and food stands. Taiwan is a wonderful place to soak in the local culture while dining on some of the world's finest vegan food.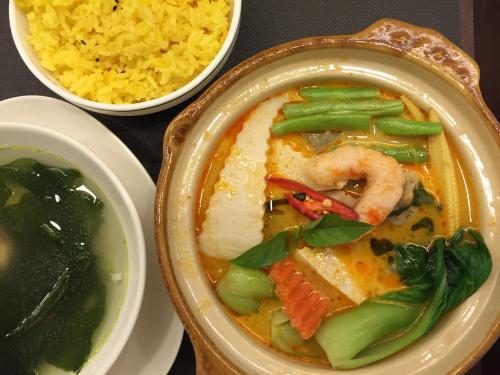 Photo of Loving Hut - Guangfu by Andrea1966
Even without including Brooklyn, Queens, and the outer boroughs, Manhattan alone is blessed with 57 fully vegan restaurants of incredibly diverse cuisines. For a quick, tasty meal or a fresh juice, Terri's locations can be found throughout the city. You might also want to try what GQ Magazine rated "The Best Burger of 2015": the Superiority Burger (a vegan burger). If you are seeking an upscale experience, Candle 79 and Blossom are superb choices, both specializing in elegant vegan American/International fusion dishes. Both restaurants also have less formal, less pricey versions throughout the city. Hangawi was perhaps North America's first vegan Korean restaurant, and with its gourmet vegan Korean fare, the restaurant still remains wildly popular today. Hangawi's sister restaurant Franchia Vegan Cafe also offers spectacular vegan Korean/Asian fusion food. If you are in the mood for French vegan food, Delice & Sarrasin serves amazing vegan crepes and vegan versions of other French classic dishes. New York City has 3 vegan bakeries ( Jennifer's Way Bakery, Vegan Divas Bakery, and Erin McKenna's), a vegan confectionery ( Confectionery!), a vegan ice cream parlor ( Gelato Giusto), a vegan shoe store ( Moo Shoes), and a vegan coat store ( Vaute Couture) among its extensive vegan offerings. Although New York's vegan offerings to population ratio aren't as high as some of the other cities on the list, this city has more vegan restaurants than any other city on the planet.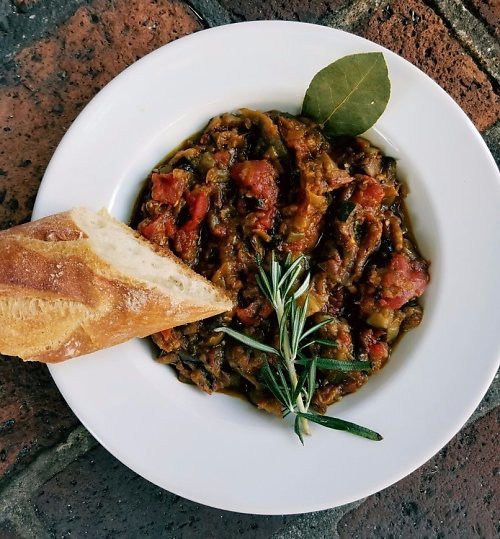 Photo of Delice & Sarrasin by ChristopheC
Singapore is one of the most veg-friendly cities on HappyCow, with 590 veg-friendly listings (40 of which are fully-vegan restaurants) packed onto this tiny island. Even Singapore Changi Airport has more vegan options than some major cities in the world. Locally popular Fortune Centre is a haven for vegetarians. Almost all the eateries (restaurants and cafés) in this 4-level building offer vegetarian food, and a few of them are vegan. Although the majority of vegan restaurants in Singapore, including the famed Genesis restaurant, are Asian-fusion influenced, you can also find western-influenced burger restaurants such as Singaporean favorites NomVnom and Veganburg, and there are many vegan options for any budget in this city/country island.
With two locations, highly popular vegan ice cream parlor Brownice, which also serves vegan pizza and other Italian favorites, serves creamy, delicious vegan ice cream, brownies, fluffy waffles, and more treats. The owners recently opened a new ice cream parlor called Smoocht. At Loving Hut, vegan versions of traditional dishes Singaporean dishes such as Mee Pok, Orh Nee, and Nonya Laksa are available. VegCafe also serves vegan versions of local favorites such as Char Kway Teow, Laksa, and mutton curry rice. You are never far from veg options in this clean, beautiful city.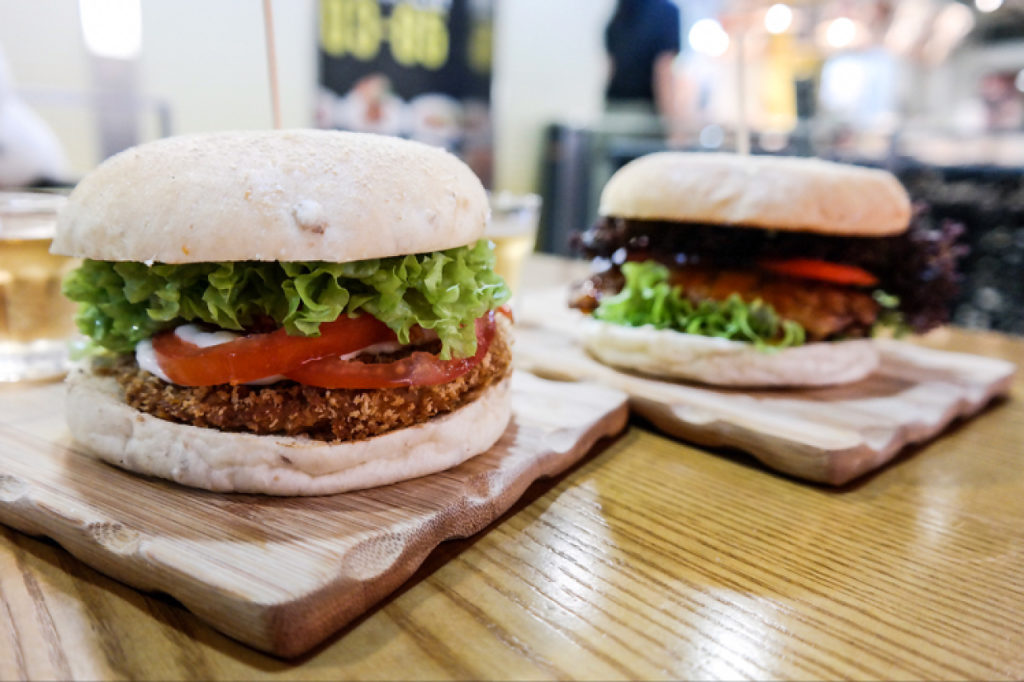 Photo of NomVnom by cherilynsaw
With 79 vegan restaurants, and an abundance of vegan-friendly stalls, bakeries, cafes, and smoothie bars, when in London, you are never more than a tube stop away from anything vegan you might desire. Whether it's a jackfruit burger at the Vegan Hippo (pick up Kizzy's vegan cookies for dessert), PickyWops vegan pizzeria, the acclaimed 222, or a superb vegan dinner at Italian favorite Fed By Water, London has you covered. The world's first vegan chicken shop, The Temple of Hackney, opened recently in the city and has been a huge hit. Ethnic favorites include Itadaki Zen Japanese Macrobiotic restaurant, Zionly Manna for delicious Caribbean / African food, Andu Caffe on the east side for Ethiopian, or if you have a big appetite, try the Dou Dou - Qing vegan Asian fusion buffet. If you crave something sweet, Ms. Cupcake or Vida Bakery will hook you up with their gourmet vegan cupcakes. Vegan food shopping is a breeze in London, as there are loads of health food stores with vegan products, plus several completely vegan grocery stores including Organic For the People, with their superb vegan deli, and GreenBay in west London. For those interested in raw foods Tanya's Superfoods has what you are looking for. Vegan apparel can be found at The Third Estate, and London is even home to a fully vegan hair salon ( The Rabbit Hole Vegan Hair Parlour).
The "How Many Vegans?" survey conducted May, 2016 by the Vegan Society found that there are about 542,000 following a vegan diet in Great Britain, of which around 120,000 live in London. This is a major increase since the last estimate of 150,000 in 2006, making veganism one of the UK's fastest growing lifestyle movements.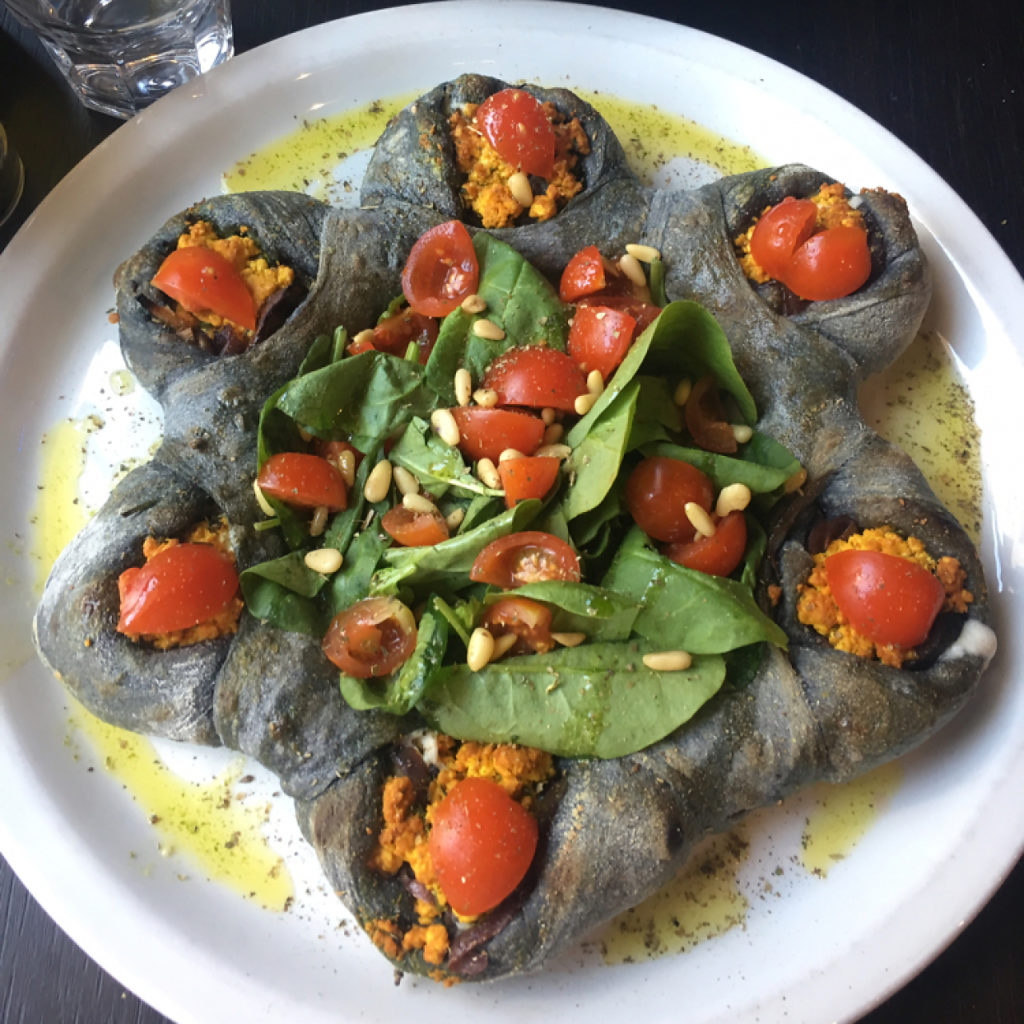 Photo of Fed By Water by MariaCG
Israel has the highest percentage of vegans globally, with an estimated 5 to 8 percent of the entire population being vegan, the majority of whom inhabit Tel Aviv. Most of the 25 fully-vegan restaurants in Tel Aviv serve a combination of Israeli/Middle Eastern/Mediterranean cuisine with some western influence. The first vegan cafe in Tel Aviv was Anastasia, which is best known for its amazing breakfasts. Zakaim - Vegan Boutique is a fine dining restaurant which is considered one of the top vegan places to eat in the city, featuring a menu with Persian and other Middle Eastern dishes. The city has the only fully vegan Georgian cuisine restaurant in the world ( Nanuchka), which contains a lively bar that stays open until the wee hours. Tel Aviv also boasts one of the world's few authentic vegan Ethiopian restaurants ( Tenat), with a terrific ethnic atmosphere and chef-approved meals. If you are seeking vegan Sushi, try The Green Roll, and if you're in the mood for gourmet raw food, check out Neroli Organic Juice Bar and Rawfood Diner. Hatool HaYarok has some of the city's best vegan pizza, topped with house-made cashew cheese. If you're after a quick bite, there's a popular veggie fast food restaurant, and diner-style restaurant called Goodness. The city also has a vegan grocery store, ( Taam L'Chaim - Taste For Life) and if you love sweets, Seeds is a fantastic all-vegan bakery in the center of town with an amazing variety of baked goods that vegans can't always find like vegan cheesecake, and they have been consistently top-rated on HappyCow.
Due to the density of the vegan population, the restaurants, and city's vegan mentality, Tel Aviv has earned a reputation as one of the world's vegan capitals. The Israeli Defense Force even provides vegan meals, and leather-free boots and helmets to vegan soldiers. HappyCow's Tel Aviv city page lists over 170 veg-friendly eatery options. Israel has the most vegans per capita and the vegan food options in Tel Aviv are incredible.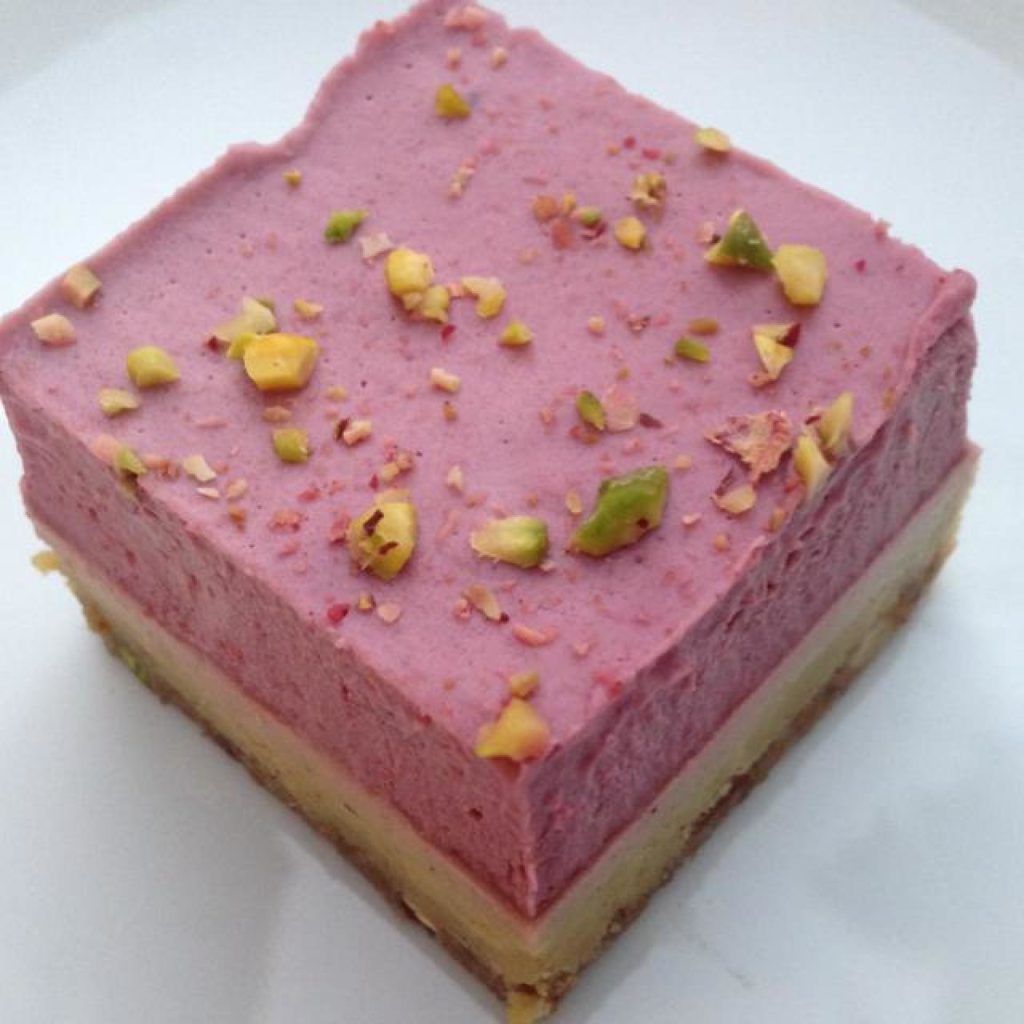 Photo of Anastasia by Brok O. Lee
Veganism and plant-based eating are an integral part of Portland's social fabric. The city's landscape is dotted with a wide variety of fabulous vegan eats, including 20 types of vegan artisan cheese produced at Vtopia Cheese Shop & Deli, fine Pacific Northwest local seasonal ingredients featured at Harvest at the Bindery, and exquisitely prepared and presented small plates at top-rated American/European fusion restaurant Farm Spirit.
In addition to many vegan restaurants, Portland is well known for having a number of vegan food carts such as Homegrown Smoker Vegan BBQ with its highly rated mouth-watering vegan barbeque, a vegan bed and breakfast ( The Cherokee Rose Inn), a vegan shoe/handbag/clothing/accessory store ( Ether Shoes Warehouse), a decadent vegan chocolate shop ( Missionary Chocolates), and even a vegan strip mall with a vegan tattoo shop ( Scapegoat Tattoo), grocery store ( Food Fight! Grocery), bake shop ( Sweetpea Baking Co.) and clothing shop ( Herbivore Clothing). Some new Vegan spots have opened recently such as Doe Donuts, Aviv for Israeli cuisine, and Virtuous Pie pizza. The second Food Fight! location is developing into a new vegan mini mall with a vegan cafe ( Jet Black Coffee Company) next door and a vegan Mexican vegan food truck (Los Gorditos).
Portland is a very hipster and eco-friendly city, and with 34 fully-vegan restaurants, 28 vegetarian, and 166 veg-friendly options, Portland's high density of vegan establishments mean you won't have to travel far to find what you are looking for.
Watch our video highlights of Portland and VegFest.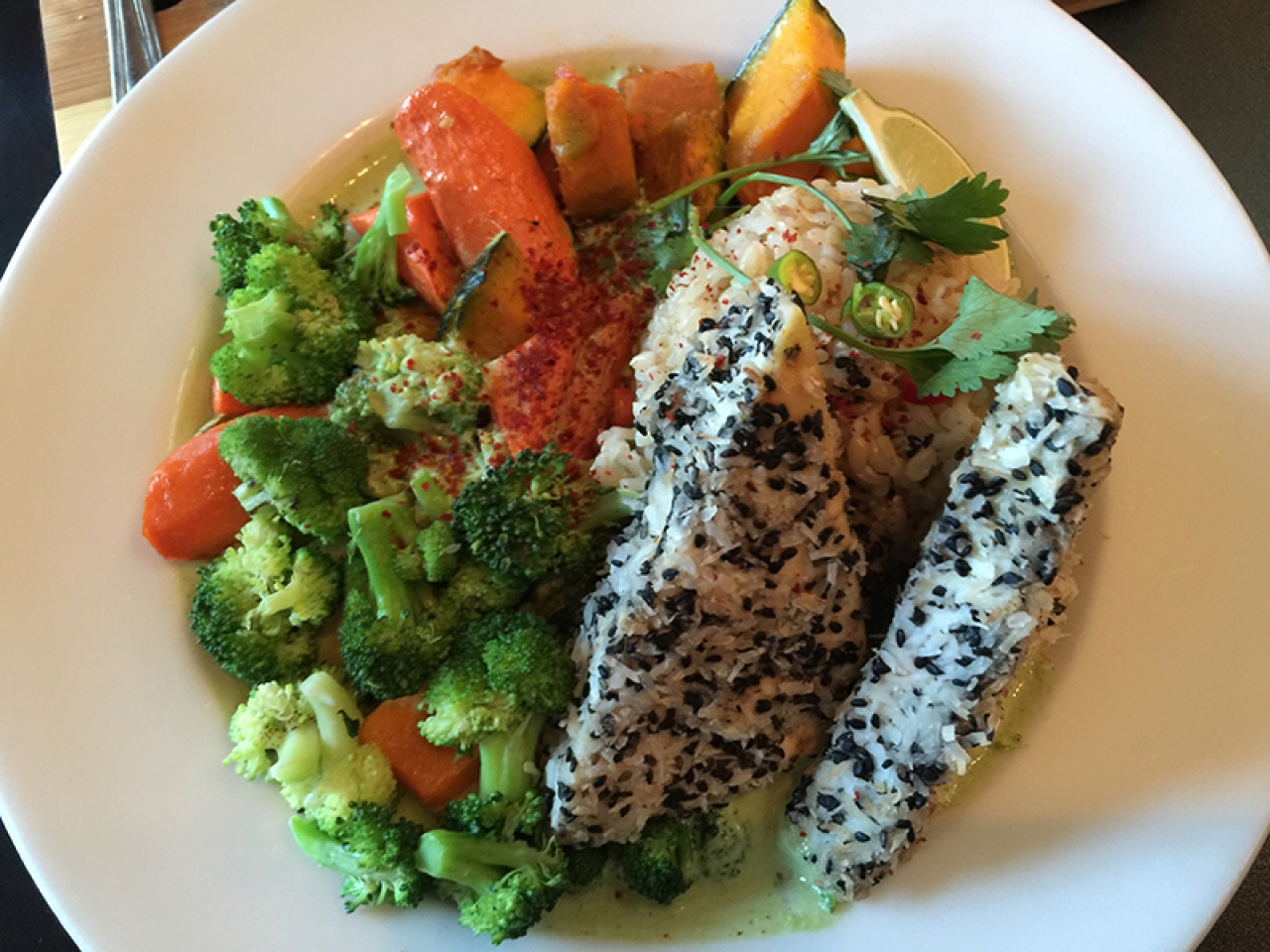 Photo of Blossoming Lotus by Wheat-free Vegan
Aside from its quintessential Victorian-meets-modern architecture, steep hills, picturesque views, and cable cars, food is one of the many reasons why people fall in love with San Francisco. There are over 38 fully-vegan places within the San Francisco metropolis, as well as a highly progressive attitude towards vegan culture here.
The city is home to some of the west's best Asian vegan food, including phenomenal Japanese vegan restaurant Cha Ya, serving elegantly presented rice and noodle bowls, vegetable tempura and other Japanese favorites, and Shizen Vegan Sushi, serving gorgeously presented vegan sushi. For less expensive fare, Golden Era Vegan Vietnamese Restaurant has been a local favorite for many years, and Loving Hut is also popular. If you are craving more Latin American-influenced food in a lively atmosphere, Pena Pachamama serves outstanding Bolivian/Peruvian/Latin American food with live entertainment, and Gracias Madre has some of the world's finest Mexican vegan food. For a quick delicious salad/sandwich combo or a healthy dessert, Nourish Cafe's two locations are excellent choices. If you're after coffee, all San Francisco area cafes offer a soy/almond milk option as far as we know. Over the bridge in Oakland, the memorable San Francisco upscale vegan American fusion restaurant Millennium recently reopened, and Souley Vegan is also a favorite for soul food. Timeless Coffee Roasters and Bakery has outstanding cakes and pastries. In Berkeley, there's the Butcher's Son, a vegan deli serving sandwiches and meats/cheeses to go, and Cinnaholic, with their famously adorned vegan cinnamon rolls. With over 199 veg-friendly listings in the San Francisco Bay area to choose from, zipping around on a cable car while navigating the HappyCow app is sure to be a memorable treat!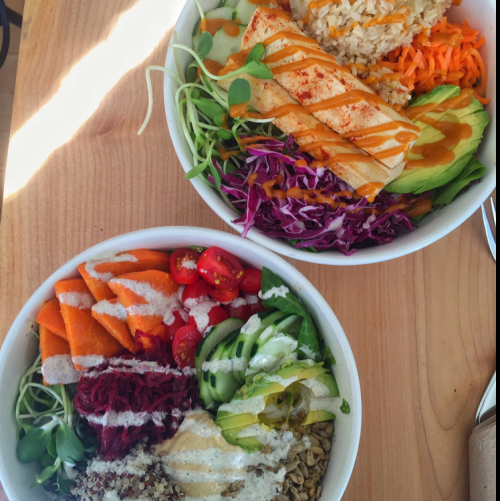 Photo of Nourish Cafe by lolacooks
Thanks to these HappyCow Ambassadors for their suggestions and guidance:
AshleyLorden - San Francisco Ambassador
Brok O. Lee -  Tel Aviv Ambassador
Cascadian -Portland Ambassador
HaileyPoLa - Taipei Ambassador
Jimmy Seah - Singapore Ambassador
J-Veg - Berlin Ambassador
Kezia - London Ambassador
slo0go - New York Ambassador
Vera Peres - Warsaw Ambassador


By Ken Spector, Emma Cebuliak, and Emily Middin, July, 2017
Did your city make the list? Share your favs here...
Cities with the Most Vegan Restaurants:
* location count within a 15 miles radius of city center (as of June, 2017)
Cities with most listings:
* location count within a 15 miles radius of city center (as of June, 2017)