Veg Topics: Health: Food Combining & Digestive Health
Your Health Is In How You Poop
Eating Vegetarian Food and Combining Tips
For the sake of easier digestion and avoiding digestive problems, it is best to keep the foods simple, avoid combining too many foods which creates indigestion, bloating, gas, and uneasiness.
---
Some people seem to be born with good digestion and appear to be able to eat anything in any combination. If you're not in that category and find yourself bloated and/or tired after eating, here are some points to consider regarding healthy eating:
- Good quality food, combined well is best for health
- It's worse to eat good quality food combined poorly, then to eat bad (poor quality food) combined well.
- Cold water freezes and contracts your digestive system and leaves you weak and tired after a meal (drink no more than 4 oz beverage with meal). Additionally, drinking water or beverage during or after meals washes down the enzymes that are needed to facilitate digestion.
- Make each meal either mostly carbohydrate, mostly protein, or just fruits.
- Avoid products containing dairy (milk, cheese, butter, sour cream), which often cause food allergies and produce mucus.
- In one meal have no more than 2 types of starches or 1 type of protein (i.e. don't combine nuts)

Starch: Rice, Bread, Pasta, Potatoes, Carrots, Beets, Mung Bean Sprouts
Protein: Beans, Legumes, Tofu, Tempeh, Soy Products, Microalgaes
High Fat: Nuts, Seeds
Fats: Oils, Olives, Avocados

- Frequent small meals are better than 3 large ones. But too short intervals won't allow you to get 'chi' as well (the body needs time to digest).
- If you eat three meals a day, try the following:

Breakfast - moderate to small meal (fruit is fine except when yeast or 'cold' condition exists)
Lunch - largest meal (carbohydrate)
Dinner - smallest meal (but largest amount of protein)
(*3 hours between meals is good.)

- If you eat two meals:

First - Carbohydrates at 10 a.m.
Second - Protein at 5-6 p.m.

- Melon, citrus fruits are best consumed by itself.
- Use the chart below. Combine only foods that are directly next to each other (ie. "Sweet" & "Sub-acidic" fruits, but not sweet & acidic fruits OR "Proteins" & "Green" but not "Proteins" & "Fruits").
---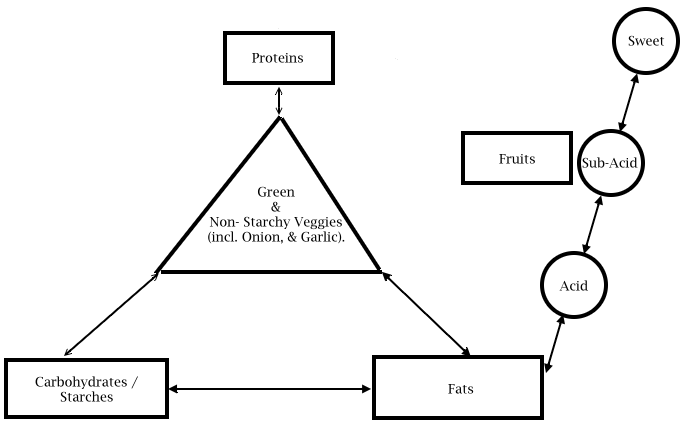 Note: Some of the information contained in this page on food combining has been adapted from Paul Pitchford's excellent book on eating for health, Healing With Whole Foods.
Good Health to You.
---
Disclaimer: The views expressed in articles published on happycow.net are those of the authors alone. They do not represent the views or opinions of happycow.net nor its staff.
Some links in this article are possibly part of Amazon's affiliate program, so when you make a purchase a small amount will go to support the HappyCow website.
This information is not intended to replace the diagnosis, treatment and services of a physician. Any recommendations and indications are at the user's discretion. For severe or life-threatening conditions, always seek immediate medical attention. While we work to ensure that product information is correct, and list only products containing vegetarian ingredients, on occasion manufacturers may alter their ingredient lists. Actual product packaging and materials may contain more and/or different information than that shown on our Web site. We recommend that you do not solely rely on the information presented and that you always read labels, warnings, and directions before using or consuming a product. For additional information about a product, please contact the manufacturer. HappyCow.net assumes no liability for inaccuracies or misstatements about products.