Veg Topics: Vegetarianism
Vegetarian Diet & Vegetarianism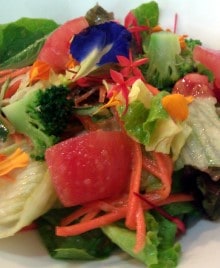 My reason for objecting to every species of matter to be used as food, except the direct produce of the earth, is founded as may be seen in my last publication on the broad ground that no other matter is suited to the organs of man, as indicated by his structure. This applies then with the same force to eggs, milk, cheese, and fish, as to flesh meat.
---
The sweet sounding English word 'vegetarian'
Vegetarian is first found in print publications in 1842. "At any rate there is generally with vegetarians, and especially fruit eaters, a calmness and even sweetness of temper, and we believe also a clearness of reason, that are highly desirable for humanity, and for health"
Why Go Vegetarian?
Some people eliminate animal foods from their diet because of health concerns. Numerous studies have indicated that all animal products increase the risk of obesity, heart disease, cancer, diabetes, cataracts, stroke, hypertension, and other life threatening illnesses, while many vegetable foods protect against these same diseases.
Many people adopt a 100% vegetarian diet because of concerns for animal rights, global warming and the environment, or for personal spiritual well being.
Whatever the reason may be, or however you spell the word (vegitarian, vegterian, etc) choosing a wholefood plant based diet is a win-win situation for your health, the earth, and the animals!!
Terminology
For the past 160+ years various 'Vegetarian' Societies around the world have misused the word 'vegetarian' for mixed diets which include animal products such as milk, eggs, honey, etc... - this is unfortunate, especially for the animals & insects which are abused to satisfy the tongues of humans.
In essence, "vegetarianism" was created to describe those who held the belief to only consume as food that from the plant and mineral kingdoms and have compassion for all living creatures regardless of size or habitat. While the majority of "vegetarians" have adopted the altered definition put forth by various organizations since 1847, we have decided to stay with the original definition and work towards reclaiming the word "vegetarianism" with the sentiment of the 'ism' it was created for.
A true vegetarian diet consists purely of plant-based foods. Plant-based foods include vegetables, fruits, nuts, beans, herbs, spices, and grains. 100% Vegetarians do not consume any animal-derived products whatsoever.
How many?
While statistics vary, as of Oct 2012, within the USA, it appears that about 5% (or 16 million people) are vegetarian[1], but a much larger number of people eat mostly vegetarian (33% or 100 million people)[2].
More Terms
Some commonly used dietary terms in restaurant names, book titles, etc. (more are discussed on other HappyCow pages):
100% Vegetarian or Vegan Diet (can also be called Herbivorous / Pythagorean)
A 100% vegetarian or vegan (pronounced VEE-gan) is someone choosing a lifestyle free from animal products for the benefit of people, animals and the environment. They eat a plant-based diet free from all animal products. Many choose not to wear leather, wool, or silk (adapted from a quote on The Vegan Society's website).
Vegan Raw Foodist Diet - a diet of vegetables & fruits in their raw, uncooked form.
Raw Foodist Diet - usually only vegetables & fruits - but check carefully whether or not they consider raw animal and bee products to be human food.
Macrobiotic Diet - usually only plants are cooked or served raw, though some do eat (sea) animal products. A dietary and medical philosophy, balance of yin and yang. Emphasizes natural, whole, locally grown plant foods.
Carnism / Carnist Diet - followed by perhaps 93%+ of the people in the world. Eating and drinking animal flesh, eggs, and dairy.
From our friend Dr Melanie Joy:

Carnism is the name I've given to the belief system, or ideology, in which it's considered ethical and appropriate to eat (certain) animals. Carnism is essentially the opposite of vegetarianism; while a vegetarian is a person who believes it's unethical to eat animals and therefore eschews meat, a carnist is a person who believes it's ethical to eat animals and therefore eats meat.

Most people, however, don't recognize that their choice to eat meat reflects a deeper belief system. They don't think, for example, about why they love dogs but eat pigs, why they find the meat of some animals disgusting and the meat of other animals appetizing, or why they eat any meat at all. Most of us consider meat eating a given rather than a choice, and when we do think about our consumption of animals, it is through the lens of biology rather than ideology. But meat eaters are not carnivores, which are animals that need meat in order to survive. Nor are they merely omnivores, which, like vegetarians, are animals that are able to survive consuming both plant and animal matter. "Carnivore" and "omnivore" reflect nothing more than a biological predisposition. For humans, eating meat is not a biological necessity (with the exception of those within geographical or economic constraints), but a philosophical choice based on a set of assumptions about animals, the world, and oneself. As long as eating meat is not necessary for survival, it is a choice, and choices always stem from beliefs. - Read more
Mostly Vegetarian Diet - a term used by those who wish to reduce the amount the amount of animal products which they consume. Some people switch gradually to an all plant based diet. People may start by removing all red meats from their diet believing them to be the most injurious 'foods' for the human body. Then they may gradually remove dairy, eggs, poultry and fish. Those who choose to continue their journeys will eventually get to the stage where they are eating only plant-based foods.
Note: many recent studies clearly indicate that cow milk may be very unhealthy for humans to consume - so, purely from a health perspective, persons considering modifying their diets may be wise to stop consuming all milk products even before they cease their flesh & egg consumption.
Lacto Diet - often misleadingly called lacto-vegetarian - it is diet that includes the milk of various non-human mammals - termed 'dairy products' (milk, cheese, butter, yogurt, etc.) but usually excludes eggs & animal body tissues (flesh).
Ovo Diet - often misleadingly called ovo-vegetarian - a diet that includes the eggs & embryos of various creatures, practitioners might or might not include dairy in their diets but they do not eat animal body tissues (flesh).
Note: At HappyCow we do make use of the terms lacto-vegetarian and ovo-vegetarian. We actively encourage dairy & egg eaters to switch to pure 100% vegetarian plant food diets.
Pescetarian Diet - a diet where sea animals are consumed but the flesh of land creatures is not. Dairy & eggs are sometimes also consumed.
Asian Buddhist Diet - historically excludes all animal and insect products but 'always ask' as some folk use this term for a diet including milk and (unfertilized) eggs. Many Chinese Buddhists do not use leeks, garlic, or onions.
Fruitarian Diet - a diet which consists of only raw fruits.
Ital Cuisine - from the Rastafari movement that originated in the 1930s Jamaica. The diet is based on their scriptural dietary guidelines and pacifism. Food is real vegetarian/vegan except for honey, though some Ital restaurants do also serve fish.
Vegitarian, vegeterian, vegiterian, vegetare, vegitarien - less common spellings - always clarify with the person / restaurant about what they actually consider to be food.
At HappyCow our main focus is the promotion of 100% plant-based diets.
The article above includes material from I.V.U.: read additional historical material & more: www.ivu.org/history/vegetarian.html
Sources:
[2] 100 million Americans eating more plant-based-Harris Study, March 18, 2012
Related topics you might like
More information on vegetarian diets:
How to shop at a health food store, by Larry Cook
---


---
Disclaimer: The views expressed in articles published on happycow.net are those of the authors alone. They do not represent the views or opinions of happycow.net nor its staff.
Some links in this article are possibly part of Amazon's affiliate program, so when you make a purchase a small amount will go to support the HappyCow website.
This information is not intended to replace the diagnosis, treatment and services of a physician. Any recommendations and indications are at the user's discretion. For severe or life-threatening conditions, always seek immediate medical attention. While we work to ensure that product information is correct, and list only products containing vegetarian ingredients, on occasion manufacturers may alter their ingredient lists. Actual product packaging and materials may contain more and/or different information than that shown on our Web site. We recommend that you do not solely rely on the information presented and that you always read labels, warnings, and directions before using or consuming a product. For additional information about a product, please contact the manufacturer. HappyCow.net assumes no liability for inaccuracies or misstatements about products.