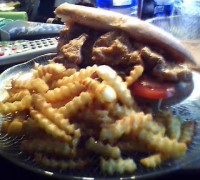 Ingredients
Eggplant Nuggets:
1 medium eggplant, cut into 1 inch cubes
1/4 cup veganaise
1 tablespoon olive oil
1 cup vegetable oil
3 cup corm meal
1/4 cup whole wheat flour
2 teaspoon sea salt
1 teaspoon black pepper
1 teaspoon paprika
1 teaspoon granulated garlic or gralic powder
1/4 teaspoon cayenne pepper
Sauce:
1/2 cup veganaise
2 TBSP olive oil
2 TBSP chili sauce
2 TBSP ketsup
1 teaspoon prepared mustard
1/2 teaspoon black pepper
juice of 1/2 lemon
dash of soy sauce
1 TBSP finely minced onion
2 cloves garlic, minced
shredded lettuce
sliced tomato
sliced pickles
baguette, French bread or sandwich roll
Instructions
In a medium bowl, beat the tablespoon of olive oil and 1/4 cup veganaise. Stir in eggplant and let stand for 5 minutes.

In a large food storage bag, combine the cornmeal, flour, salt, and other spices.

Take an piece of eggplant from the oil-veganaise mixture, let excess drip off, and toss in the bag. Shake until well coated. Repeat with remaining eggplant.

Fry the eggplant in batches for about 3 minutes, or until golden brown.

Split 1 roll or section. Spread with sauce. On the bottom of the roll, arrange layers of shredded lettuce, eggplant, tomato slices, and sliced pickles. Sprinkle with salt and pepper. Repeat with remaining rolls, eggplant, and filling ingredients. Enjoy!

Sauce: Whisk all ingredients together and refrigerate until use.
Have a better photo? Please send it to us: contact123 (at) happycow.net