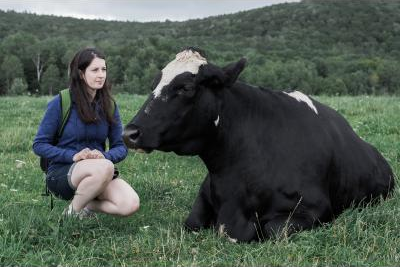 About:

Meat-free for a decade. Bodybuilder. Healthy eater. Biology graduate. Bracelet-maker. Lives with 2 rats and a cat.

Veg Status:

Vegan

Location:

Halifax, Nova Scotia, Canada

Joined:

25 Nov 2013

Gender:

Female

Age:

29

Relationship:

Involved

Zodiac:

Aquarius

Fav Place:

It's a toss up between Nicaragua and Cape Breton Island

Fav Books:

Vegan Health and Fitness

I Admire:

Robert Cheeke (vegan bodybuilder/author)

My Website:

Last Login:

16 Oct 2015

Profile Views:

741
Entries Added to HappyCow
(0)
Please ask me to submit some.
More About Me
Reasons why I prefer to eat vegetarian or vegan:
I went vegetarian at 14 after accidentally seeing PETA's Meet Your Meat the night before Thanksgiving (I did not have turkey the next day!) I slowly started learning about how animals are treated and the health benefits surrounding a meat-free diet. My dad's heart attack at 50 had me moving more towards healthy-eating. Veducated and Earthlings helped me go vegan and gave me the strength to reduce harm as much as I can. I've been bullied for much of my life over my appearance and diet. I want to disprove some of those myths.
I joined HappyCow Members Community because:
No answer yet
Here are some places I've been that I liked... and places that I would like to visit one day:
I've spent half of my life living on Cape Breton Island. The island is beautiful and the people are friendly. I also went to Costa Rica and Nicaragua as part of a volunteer veterinary team. Nicaragua was stunning and beautiful. It wasn't too difficult following a vegetarian diet there. I also had the opportunity to visit Farm Sanctuary in Watkins Glen, New York. I'd love to go back there!
Some of my favorite veg*n foods include:
Lara bars, Simply bars, sweet potato, Vega protein powder, dark chocolate, homemade desserts, cupcakes from the Wild Leek, vegan sushi from B-Well, soy milk lattes, spinach, rice cakes with peanut butter
Here are some books, movies, magazines, and my favorites that I would recommend to other HappyCow members:
"Chimps of the Fauna Sanctuary" by Andrew Westoll, Veducated (Movie), Speciesism: The Movie
All images used on this site are user uploaded, obtained through what is believed to be not subject to copyright, or by Creative Commons usage. If your image was used without permission, please contact us.