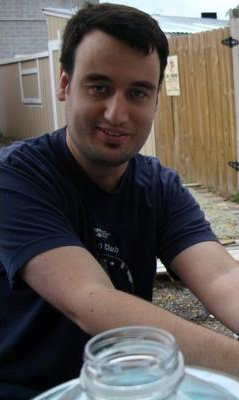 About:

Hi, I'm Pete. I went veg in 1999 and vegan in 2002. I was born and raised in the Boston area, spent a brief seven months in San Francisco, then came to Texas in February 2004. I've been here in the Lone Star state since, mostly in and around Austin. I'll be a Fall 2010 graduate from Texas State University and will then teach high school social studies. Go vegan! :)

Veg Status:

Vegan

Location:

Austin, Texas

Joined:

14 Nov 2006

Gender:

Male

Age:

34

Relationship:

Single

Religion/Path:

Atheist

Zodiac:

Libra

Fav Place:

Wherever I am at the time

Fav Books:

Ishmael, Ender's Game, Calvin & Hobbes, The Onion: Our Dumb Century

Fav Music:

Radiohead, Fugazi, Wilco, Spoon, Ted Leo and the Pharmacists, Piebald, Led Zeppelin, Jimi Hendrix, Miles Davis, Elliott Smith

I Admire:

Thom Yorke, Ian MacKaye, Ralph Nader

Last Login:

14 Jun 2017

Profile Views:

1590
More About Me
Reasons why I prefer to eat vegetarian or vegan:
I'm a generalist when it comes to the reasons for being vegan. I see my veganism as a boycott against a crappy industry. Animal agriculture, especially factory farming, has to be one of the worst examples of corporate industrialial capitalism run amok - driven primarily by profits instead of respect for the animals, their customers' and workers' health and safety, the safety of the food supply, and the well-being of the surrounding and global ecosystem. I'm not a totally anti-capitalist guy, either, but I can't support something like that.
I joined HappyCow Members Community because:
I joined primarily to add entries that I saw were lacking in the various areas that I've lived in.
Here are some places I've been that I liked... and places that I would like to visit one day:
Eventually, I'd like to take advantage of my summers off as a teacher and do some extensive traveling...particularly, I'd like to roadtrip across the North American West, and also spend some several weeks at a time in South America and Europe. Of places I've been to, San Francisco, Boston, and Austin are cool cities, despite that they're overhyped.
Some of my favorite veg*n foods include:
I'm a comfort food guy...pizza, pasta, sandwiches, potatoes, etc.
Here are some books, movies, magazines, and my favorites that I would recommend to other HappyCow members:
Ishmael, The Onion: Our Dumb Century, Ender's Game
All images used on this site are user uploaded, obtained through what is believed to be not subject to copyright, or by Creative Commons usage. If your image was used without permission, please contact us.