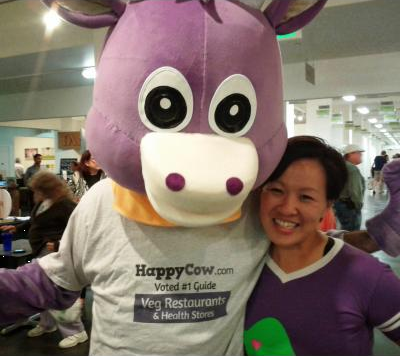 About:

If you'd like more local postings, join my page "HappyCow members and friends - Long Beach" on facebook :) I love being an herbivore (Somewhere on the definition line of usually vegan but always vegetarian), it's been a part of who I am for most of my life. But far from the veggiehead stereotype, I have a bottomless pit for a stomach and I've always been into sports. This region is huge, so I'm always up for finding new places a brontosaurus can eat happily. Join me for a paddle or run and we can eat even more afterwards!

Veg Status:

Herbivore

Location:

90808

Joined:

18 Nov 2007

Gender:

Female

Relationship:

Married

Religion/Path:

Other

Zodiac:

Gemini

Fav Place:

The Okavango/Chobe/Savuti region

Fav Books:

Harry Potter x7, Usagi Yojimbos, and any glossies for brain candy

Fav Music:

the old stuff. Classic rock, opera to metal. 80s cheese, it's all good. Anything that makes me dance or feel sappy

I Admire:

simply way too many, on large and small scales.

My Website:

Last Login:

12 May 2018

Profile Views:

3896
More About Me
Reasons why I prefer to eat vegetarian or vegan:
I have simply always loved animals and admit to closet crunchiness. I'm a bit of a tomboy and grew up doing martial arts, but no matter how tough I was perceived to be (either by others or myself) I have nothing but a softspot for non-humans. I could be drunk or sick or ready to clobber someone, but if there's an animal around, I approach it as if I'm Jane Goodall. Animals are the best thing on this planet and they deserve nothing but compassion and respect.
I joined HappyCow Members Community because:
Just looking for places I can eat as much as I want without thinking about where the food came from. :) Also, as I ain't getting any younger, my system is so adjusted to clean veggie foods, that even a little bit of meat "cooties" can make me feel queasy.
Here are some places I've been that I liked... and places that I would like to visit one day:
Parents were in diplomacy and languages so I've been fortunate to spend time in asia, the middle east and southern africa. love love love some of those regions for sentimental reasons. But along the cuisine train of thought, I'd love to go (back) to the buddhist restaurants and eateries in hong kong and taiwan. I gained about 15 pounds in Hong Kong, eating my way through. People find it hard to believe vegetarians can also put on the pounds, but I'm living proof :P
Some of my favorite veg*n foods include:
Just fresh natural food, the whole food thing, and I like trying to stay 'locavore.' But in general, I love middle eastern stuffs, indian food, italian pasta/veggie dishes, chinese fake meat dishes, anything tofu (even the super stinky!), leafy greens, and I'm a real sucker for sweets, from all over. Hmmm, that's a lot of 'favorites.'
Here are some books, movies, magazines, and my favorites that I would recommend to other HappyCow members:
not related, but I love the [geek alert] harry potter world, star wars, lord of the rings, basically all movies for that matter - the comedies, dramas, martial art and action films, animation, etc. Love films and theater. But as for veggie related things, I suppose there's vegetarian times.
All images used on this site are user uploaded, obtained through what is believed to be not subject to copyright, or by Creative Commons usage. If your image was used without permission, please contact us.