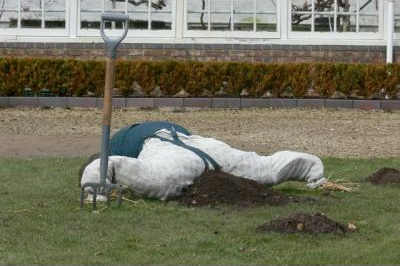 About:

"It is an important and popular fact that things are not always how they seem. For instance, on the planet Earth, man has always assumed that he was more intelligent than dolphins, because he had achieved so much - the wheel, New York, wars, and so on - whilst all the dolphins had ever done was muck about in the water having a good time. But conversely, the dolphins had always believed that they were far more intelligent than man - for precisely the same reason." -- Douglas Adams

Veg Status:

Vegan

Location:

Bremen, Germany

Joined:

28 Jul 2012

Gender:

Male

Relationship:

Married

Religion/Path:

Atheist

Zodiac:

Gemini

Fav Place:

in front of the kitchen table on a Sunday morning, kneading bread dough

Fav Books:

Eating animals, Landleben, Last Chance to See, The Hitchhiker's Guide to the Galaxy, The God of Small Things, The God Delusion, and many more

Fav Music:

Zoe Mulford, Herman van Veen, Old Blind Dogs, Pink Floyd, Supertramp, Crowded House, Tom Petty, Dire Straits

I Admire:

my wife :)

Last Login:

18 May 2018

Profile Views:

1063
More About Me
Reasons why I prefer to eat vegetarian or vegan:
(1) I don't want any animal to die or suffer for what I eat. (2) I don't want to support factory farming because it's bad for the animals, our planet, and my health. (3) I've noticed that my diet has become more varied and exciting since I've become vegetarian in 1999 and again since I've become vegan in 2013.
I joined HappyCow Members Community because:
It's a great way of sharing information and promoting places that support veg*nism.
Here are some places I've been that I liked... and places that I would like to visit one day:
Favourite areas: New Zealand (Fiordland and West Coast on South Island), Scotland (Highlands), South Africa (Kruger National Park, Cape).
Some of my favorite veg*n foods include:
I love Indian food, in particular dhals, curries such as aloo rajmah (potato and kidney beans), and deep-fried bread (poori/bhatura). I also love bread and cakes, both the eating and making of them. :)
Here are some books, movies, magazines, and my favorites that I would recommend to other HappyCow members:
"Eating animals" discusses vegetarianism from many different perspectives. If you can read German, "Tiere klagen an" and "Landleben" both include vegetarianism and related topics. I also enjoyed "Last Chance to See" because of the many facts about animals almost extinct and, of course, Douglas Adams' distinctive sense of humour.
All images used on this site are user uploaded, obtained through what is believed to be not subject to copyright, or by Creative Commons usage. If your image was used without permission, please contact us.