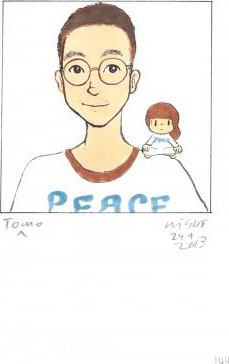 About:

With the grace of the gurus, Tomo was introduced to the path of Jivamukti Yoga in 2006, by Jules Febre, who was on a Yoga tour in Japan at the time. Ever since this initial inspiration, Tomo changed his lifestyle completely to a strict vegan lifestyle and delved further into the studies of Yoga. Through the teachings which have been passed on from Sharon Gannon and David Life, transmitted through Jules Febre, he has realized what it means to walk the path of Yoga. Tomo graduated from the 2009 Jivamukti Teacher Training, and further pursued his path under the guidance of Lady Ruth Lauer-Manenti, who mentored him through his apprenticeship and continues to inspire and teach him. In 2011, he received his advanced certification. Tomo travels throughout the world teaching, assisting and translates the teachings in both Japanese and Korean. He hopes that by helping to make the teachings more accessible, he can help to inspire others along their path, much like he was. Tomo extends his gratitude to Lady Ruth Lauer- Manenti, Jules Febre, Sharon Gannon and David Life, for their continued inspiration and guidance.

Veg Status:

Vegan

Location:

tokyo, japan

Joined:

14 Feb 2013

Gender:

Male

Relationship:

Long Story!

Religion/Path:

Doesn't Matter

Zodiac:

Pisces

Fav Place:

wherever i am

Last Login:

07 May 2018

Profile Views:

828
More About Me
Reasons why I prefer to eat vegetarian or vegan:
The Path of Yoga has let me to veganism. Go Jivamukti, Go Vegan!
I joined HappyCow Members Community because:
Because its the best place to get information on vegan info.
Here are some places I've been that I liked... and places that I would like to visit one day:
Berlin was a vegan paradise. I love it!
Some of my favorite veg*n foods include:
Vegan Sushi!
Here are some books, movies, magazines, and my favorites that I would recommend to other HappyCow members:
Sharon Gannon's Yoga and Vegetarianism.
All images used on this site are user uploaded, obtained through what is believed to be not subject to copyright, or by Creative Commons usage. If your image was used without permission, please contact us.