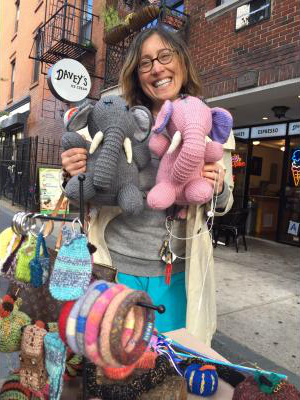 About:

www.suzannahbtroyartist.com check out my youtubes on nyc politics, safety issues, art including mine! http://www.youtube.com/user/Suzannahartist

Veg Status:

Vegan

Location:

Williamsburg

Joined:

08 Oct 2015

Gender:

Female

Age:

55

Relationship:

Doesn't Matter

Religion/Path:

Doesn't Matter

Zodiac:

Doesn't matter

My Website:

Last Login:

21 May 2018

Profile Views:

388
Love Outside seating and indoo...

Love Outside seating and indoor seating beautiful bathrooms beautiful space peaceful quiet great vegan drinks and vegan cacao balls supposedly antidepressants! Very kind with customer service

Epione Juice Epione Juice

17 yrs Washington Sq Park acro...

17 yrs Washington Sq Park across from law school

NY Dosas NY Dosas

excellent downtown and uptown

excellent downtown and uptown

Le Botaniste Le Botaniste

western salad, donut, juice ha...

western salad, donut, juice happy

Terri - Chelsea Terri - Chelsea

Sunflower Seed Baklava I died ...

Sunflower Seed Baklava I died I am in Heaven

XYST XYST
More About Me
Reasons why I prefer to eat vegetarian or vegan:
Gary Yourofsky life changing video devastating I cried on and off for three days in Hampton Vegan now for two weeks. It was the morning of the three-year anniversary of her running punched my eye at the doctors a hole in my retina violence and lies ongoing including the doctors office of the police devastated devastating still in shock and that morning I went to Facebook and found some article about Gary's video transforming 8% of Israel into veganism. Here transformed my life - I am vegan now - just boots Doc Marteens on line. Please Google Dr Fagelman or Dr Fagelman assault and what his attack receptionist in the 34 seconds YouTube after she repeatedly violated my patient rights she could close the door but instead she tried to beat me to a pulp -- Watch that me my kid a glimmer of why am so upset about what I saw in the video besides the horrific animal murders
I joined HappyCow Members Community because:
I want to remain vegan and being part of a community surely a way to developing a vegan lifestyle and strengthen my commitment brought in my horizons have more fun find out about fun places to eat shop etc.
Here are some places I've been that I liked... and places that I would like to visit one day:
It's only been two weeks so right now my most favorite place has to be champs, champs Junior, haymaker Vegan supermarket, Amazon shopping for Vegan clothing and books, integral yoga's supermarket and bookstore as well as Organic Avenue and Juice Press...and my kitchen - special thank you to Amy's a wonderful woman does public relations who sent me a pamphlet on veganism directed me to Facebook pages and gave me some coupons
Some of my favorite veg*n foods include:
Tofu scrambled faux (eggs) wish I was free from animal food labels, beet burger, faux mayo
Here are some books, movies, magazines, and my favorites that I would recommend to other HappyCow members:
I bought so many vegan books on iTunes including on the go about The formation of the animal defense group in America as read in the audiobook by the head of PETA -- it was brutal I cried it was back to back with Yourofsky's video -- really sealed veganism - not a diet it is politics.
All images used on this site are user uploaded, obtained through what is believed to be not subject to copyright, or by Creative Commons usage. If your image was used without permission, please contact us.