Polynesia Vegan Travel Guide: Tahiti and Moorea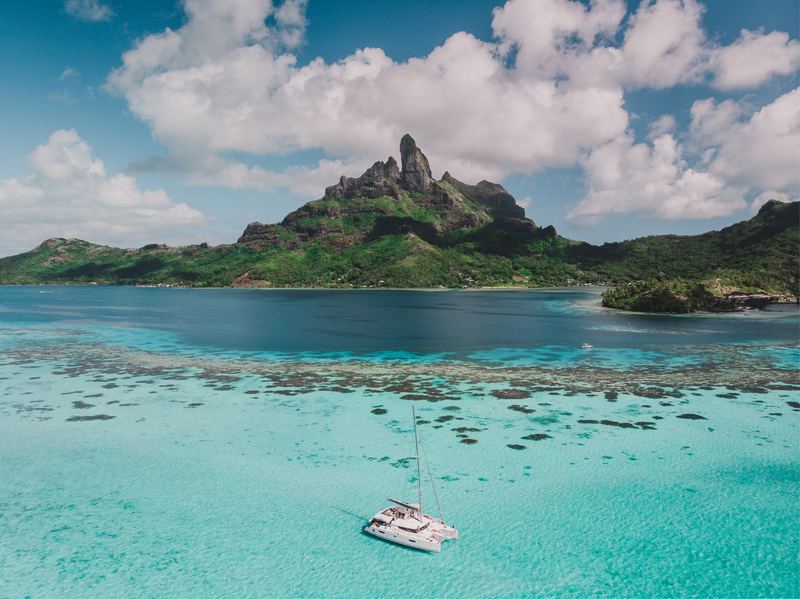 Iaorana and Bonjour ~ Fresh flower-scented air warmly greets you as you escape from the airport into the outskirts of town, Tahiti, French Polynesia. Also known as "Pearl of the Pacific," the Polynesian islands are home to abundant natural wonders and beauty: sweet fruits, fragrant blossoms, lush jagged mountains, and crystal blue waters that glisten in the sun. Welcome to paradise!
Rainbow of blues, crystal, teal, turquoise, and aquamarine
French Polynesia consists of a cluster of small islands in the Pacific Ocean to the northeast of Australia, about midway between Hawaii and New Zealand. The most famous and inhabited of these islands include Tahiti, Moorea, and Bora Bora. Newlyweds and sea lovers worldwide come to the islands for the ultimate dream vacation and tropical island getaways. Undoubtedly the seascape inspires dream and romance.
Like a rainbow of blues, crystal, teal, turquoise, and aquamarine, the coastal water is so clear that one can watch the fish play all day long.
The locals are Polynesian islanders with tan skin, thick and frizzy black hair, and round dark eyes - beautiful, mild mannered, and warm.
Their modern day diet consists of mainly fresh seafood, canned and frozen processed meats, combined with tropical fruits and local vegetables such as papaya, pineapple, breadfruit, coconut, taro, bananas, red and purple potatoes.
Everywhere, including heavily French and tourist populated towns like Papeete in Tahiti, vegetarian food is scarce. Restaurant menus predominantly focus on seafood, imported meats, cheese, and French style pastries smothered in butter. Very little vegetables is offered if at all! Throughout the day you will pass by people taking bites from salami and cheese baquette sandwiches.
Foodwise, there is really no obvious choice for vegetarian and vegan travelers to this region of the world. Locals, the French, and tourist all eat meats, cheeses, seafood, roots and fruits. One will not find any very vegetarian-friendly restaurants or health food stores.
HappyCow's Vegetarian Travel Guide to Restaurant Dining in Tahiti and Moorea
Restaurants often use monosodium glutamate (MSG), so make sure ask about it if that is of concern to you. Most restaurants do offer at least 1 ovo-lacto vegetable salad which could likely be made vegan upon request - just ask! If you eat dairy and eggs, you will be able to find a couple things from most restaurant menus. But if your diet is vegan, good luck -- well, you can always resort to baquette topped with lettuce, tomatoes, and cucumber you buy from the market and make it yourself.
On the positive side, you will abundant find fresh locally grown fruits at most conventional markets and some roadside fruit stands. And if you have access to a kitchen, you can buy locally grown vegetables like potatoes, taros, lettuce, cucumber, etc... and make your own meals.
Word to the wise vegetarian: bring some foods with you, maybe dried nuts, energy bars, cereal mixes, nutritional supplements, etc... You will want them. You can always supplement your daily diet with lots of fresh locally grown fruits. And if you pescatarians don't mind eating fish, the catch here is always fresh.
Places where you will find some vegan foods while in French Polynesia
In Tahiti:
Mobile Food Stalls at the main Papeete Ferry Plaza in Tahiti. At sunset each evening around 18:00, approximately 10 fast food mobile vendors set up tables for casual dinners cooking up sizzling hot Chinese, Italian, and local cuisine. Prices are around FR$900-1300 for each vegetarian fry rice or chao mien/fry noodle dish. Food is served usually with a basket of baquettes - a local tradition adopted from French influence. Note that MSG is often added, so ask to leave it out. Ingredients used are conventional, so the quality is not particularly good or healthy, but one can at least get an all vegetables only dish here. Advice: come early and be the first person to order so food and cooking utensil are not contaminated with meats orders. Vendors accept only cash in local currency.
Papeete Market just across from the main Ferry Plaza 1 block in from the main road, Tahiti. From morning until late afternoon each day, dozens of vendors sell locally grown fruits and vegetables, fresh flowers, souvenirs, clothes, seafood and meats. There are also fast food booths selling mostly non-vegetarian foods. Cash only.
In Moorea:
Hilton Moorea (previously Sheraton Resort) off the main road in Pihaena, northern coast Moorea. The outdoor cafe and bar sits on a lovely sandy beach by the water and is open everyday. Lunch menu features mostly seafood dishes but also offers 1 grilled vegetables sandwich and 2 lacto-veg salads all of which can be made vegan upon request. Mini baquette rolls are served with meal. Fresh juices and fruit sorbet available. Dinners are available at the restaurant inside the resort where the menu consists of 2 vegetarian options though special requests may be accommodated - just ask. International credit cards are accepted.
Champion Supermarket on the main road in Vaiare just south of the Ferry Pier, eastern coast Moorea. A large conventional supermarket that sells everything one needs, but products are conventional and not organic nor necessary healthy or vegan - including packaged and dry conventional foods, bottled water, locally grown and imported fresh fruits and vegetables, and others. International credit cards are accepted.
Farmers' Market on the main road in Maharepa at Centre Socredo shopping square just west of airport, eastern north coast Moorea. There are usually 2-3 small farmer market stands that sell locally grown seasonal fruits and vegetables like papayas, cucumber, red and purple potatoes, tomatoes, and seasonal produce. Days open may vary depending on produce availability. Cash only.
Magasin ABC - General Store on main road in Hauru at Le Petit Village next to gas station, western coast Moorea. Moderate size conventional store that carries some fresh fruits and vegetables both locally grown and imported - new stock on Tuesdays and Fridays. Merchandise is mostly packaged and dry conventional foods (not vegan). Onsite bakery makes fresh baquettes and pastries each morning. Open daily. NOTE: the gas station next door sells a few locally grown seasonal produce like pineapples, cucumber, limes, papayas, etc... at fair prices. International credit cards are accepted.
Tahiti on a Budget: Resources, news, and tips on travel Tahiti and French Polynesia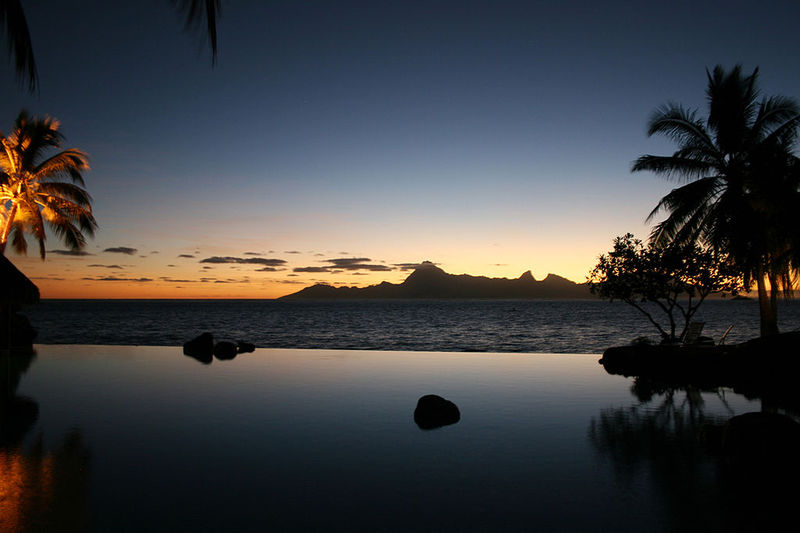 Remi Jouan [
GFDL
,
CC-BY-SA-3.0
or
CC BY-SA 2.5
],
via Wikimedia Commons
Traveler's updates:
July 2011 by Emilc of Santa Monica, CA:
I just returned from a trip to French Polynesia (June/July 2011) and would like to report the following:
Yes, it is true that it's hard finding vegan options in FP, but I have found that most restaurants were accommodating. There are no pure vegetarian or vegan restaurants, sadly. This is mostly due to the influence of the French diet, as well as the fact that the restaurant industry caters mostly to tourists, many of whom come from countries with meat-heavy diets, such as the US. In general, most places offer pasta or pizza dishes. In such cases, you can request no cheese or butter. Substitute butter sauces for tomato-based ones. Also, salads are available, but most come with some kind of meat. Again, request that it be left off. I had no problems adjusting menu items to exclude any kind of dairy or egg. You can also use the allergy line, if necessary ("I'm allergic to milk and egg products.") So, you don't necessarily have to survive on baguettes and lettuce to survive in FP! Specifically here is my personal experience: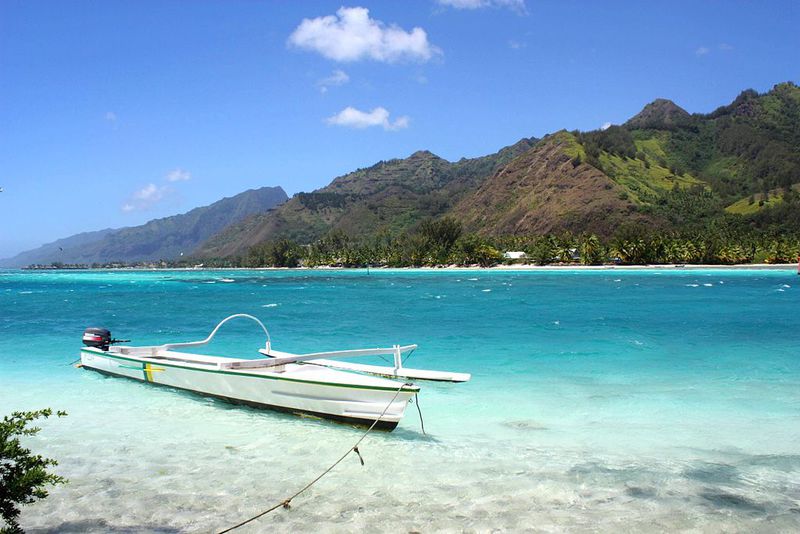 DANIEL JULIE from Paris, France [
CC BY 2.0
],
via Wikimedia Commons
MOOREA
* Stayed at the Hilton Moorea Resort. Their restaurants feature numerous vegetarian options, especially pastas and salads. An arrabiatta pasta was one option, as an example. At their crepe bar, I asked for no cheese in my veggie crepe, and the chef obliged, and added more veggies to my crepe. Breakfast buffet has plenty of fresh fruit and pickled veggies, breads and jams. Not worth paying the ~$50 for the breakfast buffet, though.
* Ate at Les Tipaniers restaurant. Numerous vegetarian options on menu, especially pastas. Request "no cheese."
* Supermarket in Pao Pao (on water side, right by bridge) stocks soy milk and other products that are vegan, including produce.
BORA BORA
* The restaurants at the InterContinental resorts, which I stayed at, have some veggie options on their menus, but not many. Again, insist on no cheese or butter, and pasta dishes should be fine.
* Le Bounty restaurant offered some veggie pasta and pizza dishes. I got a veggie and tomato pasta one time, and a veggie pizza with no cheese another time. Food was good and the waitress was friendly and accommodating with requests.
* La Villa Mahana--the "fanciest" restaurant, apparently. I have mixed reviews, to be honest. I e-mailed the chef a month in advance, told him I am pure vegetarian (no meat, no fish, no dairy, no eggs). He said "no problem," so I made reservations. Once I arrived, however, the staff and chef seemed a bit confused and almost bewildered, asking "so, no butter?", then, "so, no milk?" After confirming, and explaining my situation, the chef created some vegan dishes for me. They were good, but nothing spectacular. Lots of meat meat meat at this place. And super expensive. I'd say it's a "no" for me.
* Supermarket in Vaitape town has some produce. Not a huge selection, though.
TAHITI
* More options here. Many large supermarkets, including Carrefour, which have TONS of produce and vegan options
* Food trucks ("les roulottes") line up in front of the cruise ship terminal in Papeete, starting at about 6 pm. Lots of vegetarian options in most places, and good prices. Just be sure to specify "no butter or eggs.
* Hotels tend to have some vegetarian options on menu. Just mention the usual "no butter, dairy or eggs, please.
In summary, go for the fresh tropical fruits when you can. And specify your dietary needs: most places will be happy to accommodate. This is certainly no vegan paradise, but not a vegan hell, either. Hope this was helpful.
Please CONTACT US if you'd like to share your report from your veg-vacation in Polynesia!
See more information on places to eat vegetarian in Tahiti & French Polynesia at:
HappyCow's French Polynesia listings
Note: some links in this article are part of Amazon's affiliate program, so when you make a purchase a small amount will go to support the HappyCow website.
---
Related Content