It's that time of the year to shower your loved ones with kisses, roses, chocolates, and fancy dinners. Even if you aren't in a relationship you can take your best friend or yourself out for a night on the town and a lovely meal at one of these restaurants. We polled our Facebook fans and asked if you could take your sweetheart anywhere in the world for Valentine's Day where would you go? We got hundreds of comments, but these 5 made our list.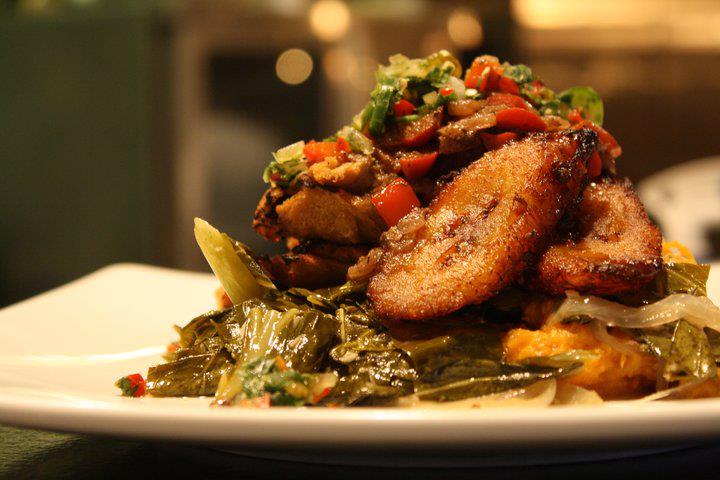 Plant
165 Merrimon Ave
Asheville, North Carolina 28801
828-258-7500
Asheville's first all vegan restaurant got many votes in our poll. And with their emphasis on local, organic seasonal produce they get my vote too! You will find everything on this menu, from Thai, Italian and Mexican plus raw food choices and they have brunch. Something for everyone! I'm drooling over this jerk seitan with collards and smashed sweet potatoes and plantains in the photo above!
Portobello Vegan Trattoria
1125 SE Division St (at the Banana Building)
Portland, Oregon 97214
503-754-5993
The food at Portobello is exquisite, creative, and mouth-watering. I had the pleasure of dining there last year after a long wait that was totally worth it. Best to make a reservation because this place is always packed! This vegan Italian-style trattoria has an inventive menu that changes seasonally with starters like Chard, Mushroom and Caramelized Onion Tart, main dishes like Braised Seitan with soft polenta & crispy onion rings, don't forget dessert, and be sure to start with one of their inventive cocktails. Or maybe Sunday brunch is more your style.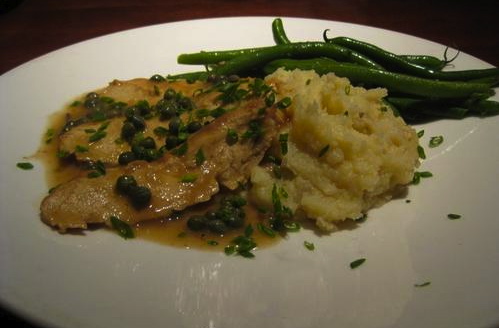 photo by HappyCow user SynthVegan
Sublime
1431 North Federal Hwy (at north of Sunrise)
Fort Lauderdale, Florida 33304
954-615-1431
Sublime in Florida also got many votes on our Facebook poll and happens to be one of the best vegan spots in Ft. Lauderdale. It's fine-dining at it's…finest with a wonderful atmosphere, large bar area, extensive menu, and a mission that benefits animal advocacy non-profits. Try the tofu caviar or a dynamite sushi roll for a starter, fresh-made mushroom ravioli or bbq cheddar pizza for a main, and a luscious tiramisu parfait for dessert.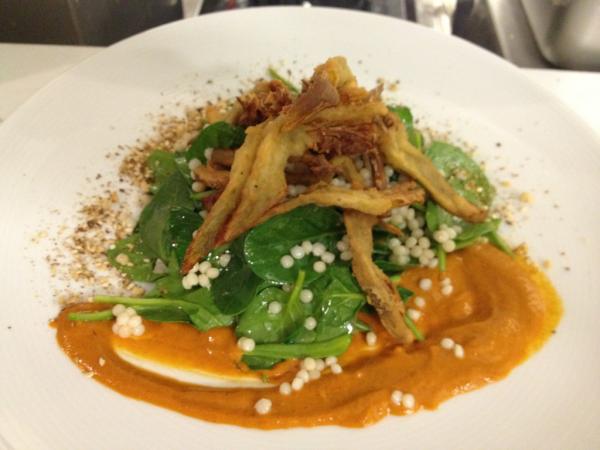 True Bistro
1153 Broadway (at Teele Sq)
Somerville, Massachusetts 02144
617-627-9000
People of Boston are very excited to have a fine-dining option for vegan cuisine and True Bistro is highly rated on HappyCow. If you consider yourself a foodie or a wine lover this is the place for you. Or maybe you want to experience a delicious brunch with crepe, waffles, tofu scrambles, biscuits and other sweet and savory options. Either way you will be pleased with the atmosphere, the ownership, and the food at True Bistro.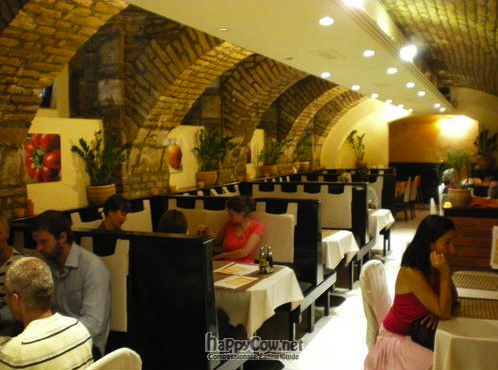 Photo by HappyCow user rajaman
Napfényes Étterem
Rozsa u 39, District VII (at Kiraly u.)
Budapest, Hungary 1077
+36-1-3135555
We head over the pond for a wondering dining experience at the highest rated vegan restaurant in Budapest. As you can see from the above photo this is an excellent place to take a date. The portions are generous, there's a self-service salad bar, a variety of daily rotating menu choices, and desserts and teas. Reviewer favorites are the fried pancakes, vegan pizza, fake curd dumplings, and anything in the pastry case.
Everyone at HappyCow wishes you a delightful and delicious Valentine's Day! 
Comment via Facebook