I live on the east coast of Australia in a coastal town called Byron Bay. We have juice bars and salad bars and most places will be able to "veganise" a dish by leaving out a few ingredients. The pub down the road from me has vegetarian nachos. When I go there for dinner, I ask them for the vegan version, which means I get the corn chips, salsa, guacamole and beans minus the cheese and sour cream – the chefs usually give me a double serving of corn chips, which I think is really lovely. I recently attended a new restaurant with friends, and before going, I checked if they had vegan options; they said they did, but I wasn't convinced. Sure enough, the vegan options were limited to two – hot chips and roast veggies. I later wrote a very friendly message to the new owners, via their Facebook page, explaining to them that I was very disappointed and that when key ingredients in a dish were omitted and not replaced, the flavour was severely lacking. They replied promptly and were very apologetic, saying that they would try much harder. That would be a win, I would say.
Then in December 2016, The Beet officially opened – the first 100% vegan restaurant in Byron Bay.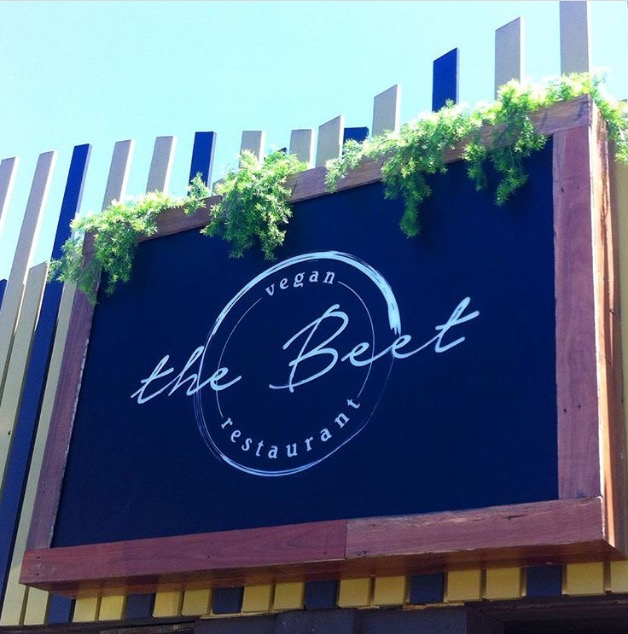 That's right, 100% vegan and in Byron Bay – we were all wondering why it hadn't happened sooner. All our local vegan Facebook groups were flooded with this glorious news; if the wind was blowing from the right direction, harps could be heard playing and angels could be heard singing.
There is a huge level of comfort and ease, when going somewhere to eat, knowing that you could close your eyes and point to any place on the menu, order that food and eat it without a second thought.
I generally go to The Beet once a month and only once have I been with my vegan tribe. All my non-vegan friends have been suggesting that we go there for dinner and have loved the experience, some of them going back with their other non-vegan friends.
The Beet is situated in the heart of the Byron Bay CBD. It is a quaint, intimate and ambient space, with indoor and outdoor seating – heaters are provided in the cooler weather.
The Beet is open for lunch and dinner. Both menus are filled with delicious dishes that have fresh flavours, tasty combinations and are beautifully plated. While the kitchen isn't fully open, you can see the chefs preparing the food in the kitchen. There is a cozy and comfortable corner seat that is perfect for larger groups, sitting under the signature beetroot neon sign on the wall.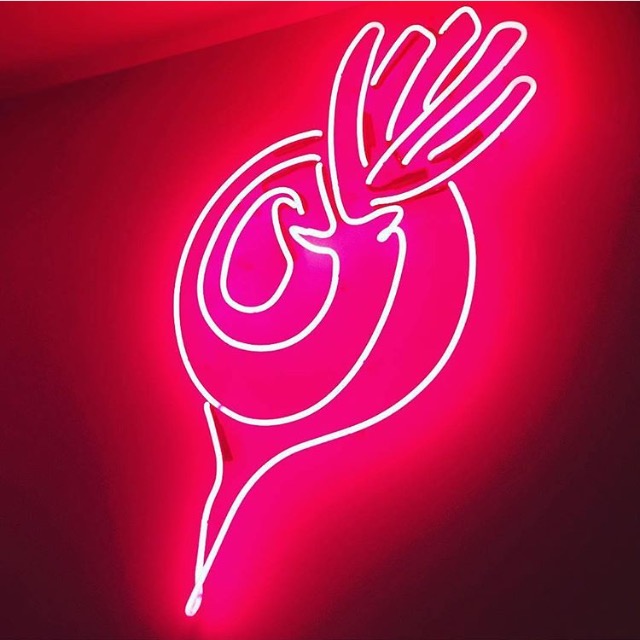 You can order a few starters and share them with friends, which is a great way to experience a number of dishes in one sitting.
The main meals are packed with flavour, colour and texture – each one holding its own and impossible for me to pick a favourite. I had been hearing lots of good things about jack fruit in social media, never having tried it, and experienced it for the first time at The Beet.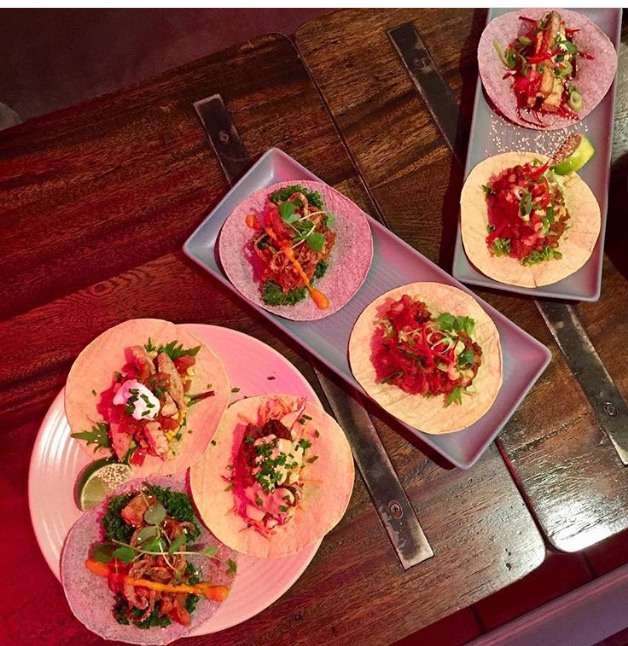 I am working my way down the menu, having devoured the signature The Beet Burger (twice), Fettuccini Boscaiola,  House-made Mushroom Tortellini and Glasshouse Zucchini Flowers.
The Beet also has had a couple of themed nights – a pasta night and a Mexican night, which didn't disappoint.
One word of warning, leave room for desert and a warm beverage to cap off your dining experience.
The Beet has been so well received by the Byron Shire and word has spread far a field so that people are driving a couple of hours from another state to eat their delicious food.
I feel very lucky that I can call The Beet my local vegan restaurant.
About the author: You can find out more about Tattooed Byron Vegan here.
Comment via Facebook