By: Veronica Stenberg, creator of Elegantly Vegan
Take your soup making skills to new heights with my advice for enhancing both taste and presentation.
Soup is both nourishing and a source of much needed warmth during this time a year. I've gathered my best advice for making soups that not only taste delicious but also look the part.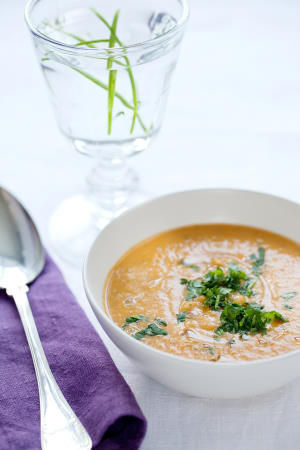 Use fresh produce – to accomplish a real yummy soup, ditch the frozen aisle and head over to the fresh vegetable section and select the most beautiful vegetables for your meal.
For a more intense flavour – oven roast your vegetables first. Simply slice up your veggies and lightly brush with olive oil, sprinkle with salt and slow roast in the oven before using them in your soups.
Skip the nasties – use premium vegetable stock free from MSG and other chemicals.
Use fresh lemon juice – it ties all the different flavours together beautifully. Use sparingly since lemon can overpower the taste of your soup completely. A tablespoon should be enough for a large pot.
For silky smooth soups – use a hand-blender or a blender to achieve the right airy texture.
Garnish with fresh herbs or herb oils – this adds not only to the taste but also the presentation of your dish. Quickly add finely chopped fresh herbs, and blend with a flavourful vegetable oil and drizzle on top.
Freshly baked bread is the perfect soup companion – that completes your meal. It doesn't have to be anything too complicated. While making your bread add herbs and spices to your dough that compliments the flavours of the soup you are making. This is a simple way to enhance your meal.
Note to the recipes:
These recipes are from Elegantly Vegan – a delicious, beautiful vegan cookbook for iPad and iPhone. A book where I've gathered absolutely scrumptious options to traditional dishes made purely from plant based ingredients.
Available worldwide in AppStore:
https://itunes.apple.com/gb/app/elegantly-vegan-light/id658264874?mt=8
For more information visit: http://elegantlyvegan.com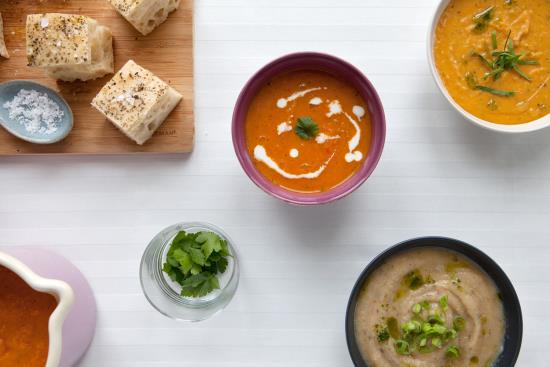 Creamy butternut soup
4 servings
800 gram butternut squash
400 ml coconut milk
1 pc vegetable stock cube
2 pcs garlic cloves
150 ml fresh coriander, chopped
1 pc red onion
1 pinch cayenne pepper
1 pc chili fruit
1 tbsp lime juice
olive oil to fry in
Directions:
Slice the butternut into equally thick slices and brush with olive oil. Place on an oven tray with baking paper.
Roast in the oven for about 20 minutes at 225 degrees C, the butternut should be soft throughout.
Let the butternut cool off then remove the skin.
Heat up olive oil in a pot, fry garlic, red onion and finely chopped chili on medium heat.
Add the cayenne pepper and vegetable stock. Pour in half of the coconut milk, and add the butternut, whisk around and mash the butternut gently in with the coconut milk. Then pour in the rest of the coconut milk and add lime juice.
Raise the heat of the plate and cook for about 10 minutes on a low heat.
Chop the coriander and add to the soup, cook on low heat for about 10 minutes under a lid.
For a smooth texture, mix your soup with a hand blender. Serve immediately and garnish with extra coriander leaves.
The easiest Focaccia
12 servings
1 sachet of dry yeast (1 sachet = 12 gram)
700 ml water
2 pinches sea salt
1,3 liter spelt flour
5,5 tbsp olive oil
Directions:
Mix dry yeast in water heated to the temperature specified on the packaging in a bowl. Add salt and oil, stir.
Pour in half of the flour and stir. Add measure after measure with flour as you work into a dough. The consistency of the dough should be loose and airy but still smooth.
Let the dough rise in the bowl under a tea towel in a draft-free place for 30-40 minutes.
Prepare a large, deep oven tray with baking paper, make sure the tray is covered completely.
When the dough is ready, pour it out on the tray, press out and smooth out the dough either with floured hands or by using a utensil. The dough's consistency should be loose, airy and a bit stringy.
If you want to garnish your bread, do so after you have brushed the surface with olive oil.
Then let rise for another 15 minutes under a tea towel. Bake in center of oven at 225 degrees C for about 25 minutes.
*Photography by Sonja Dahlgren for Elegantly Vegan
Comment via Facebook