Now that cold weather has arrived here in Texas all I can think about making is SOUP! Are you feeling me? To be honest with you I never had potato and leek soup before I went vegan. I wasn't a fan of cream based soups and this one traditionally has many cups of milk or heavy cream. Talk about a fattening soup. But when you make it vegan style and with no butter or oil, the calories and fat plummet. I use almond milk to give it the creamy consistency and throw in some greens for good measure. Enjoy!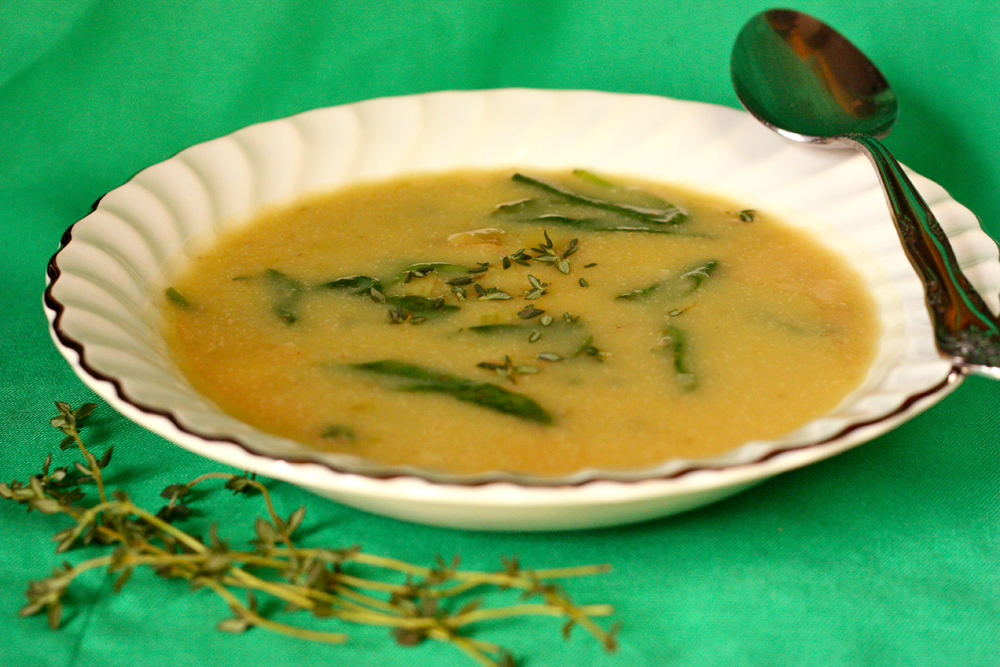 Potato and Leek Soup With Thyme and Spinach
Makes 6-8 servings
4-5 cups broth
2 large leeks, white and light green parts, chopped
Pinch salt
1 tablespoon garlic powder or 2 cloves fresh garlic, minced
1 teaspoon coriander
3 Yukon potatoes, chunks (about 5 cups)
1 large bay leaf
1/2 cup unsweetened non-dairy milk
2 tablespoons nutritional yeast
Handful fresh spinach
2 teaspoons fresh herbs (I used thyme)
1 tablespoon miso
White pepper and salt, to taste
Preparation
Take 1/4 cup of the broth and bring to a simmer in a stockpot. Add leeks, salt, garlic and coriander. Sauté for a few minutes. Add the next four ingredients with remaining broth (potatoes need to be covered with liquid). Bring to a boil then simmer, covered, until potatoes are soft and tender (about 10 minutes).
Remove bay leaf. Puree soup in a blender with miso, leaving some potatoes in the pot if you like the soup to be more chunky. It isn't necessary to put the whole amount of liquid into the blender. You can use a skimmer or slotted spoon to pull out the veggie bits and add in a cup or so of the soup broth then blend.
Return blended potatoes to pot and add in the spinach and herbs. Heat over a low flame. Season with salt and pepper to taste. Serve hot.
What is your favorite soup in the colder months?
Comment via Facebook