I love all varieties of potatoes – especially baked sweet potatoes.
Here are some baked potato memories: a favorite 'street' recipe: some historical references: some related items from our Ernest Bell Library: plus a good amount of rambling……
Message me if the "Simple Potato Oven" appeals to you!
……
Baked Potato History – London – United Kingdom
A baked potato is sometimes called a jacket potato in the United Kingdom. The baked potato has been popular in the UK for many years. In the mid-19th century, jacket potatoes were sold on the streets by hawkers during the autumn and winter months. In London, it was estimated that some 10 tons of baked potatoes were sold each day by this method.
Baked potatoes are often eaten on Guy Fawkes Night; traditionally they were often baked in the glowing embers of a bonfire.

The baked-potato man –

1851 – Henry Mayhew – "London Labour and the London Poor"
"Such a day as this, sir, when the fog's like a cloud come down, people looks very shy at my taties. They've been more suspicious since the taty rot. I sell mostly to mechanics, I was a grocer's porter myself before I was a baked taty. Gentlemen does grumble though, and they've said, "Is that all for tuppence?" Some customers is very pleasant with me, and says I'm a blessing. They're women that's not reckoned the best in the world, but they pays me. I've trusted them sometimes, and I am paid mostly. Money goes one can't tell how, and 'specially if you drinks a drop as I do sometimes. Foggy weather drives me to it, I'm so worritted – that is, now and then, you'll mind, sir". – source.
One of the most successful baked potato sellers worked in Smithfield and supposedly sold "about 2 1/2 cwt. of potatoes on market-day; or, in other words, from 900 to 1,000 potatoes [a day]." Mayhew estimated that on "average, taking the good stands with the bad ones throughout London, there [were] about 1 cwt. of potatoes sold by each baked-potato man—and taking the number…throughout the metropolis at 200,…a total of 10 tons of baked potatoes [were] consumed every day…Hence there [were] 60 tons of baked potatoes eaten in London streets, and £750. spent upon them every week during the season." – source.
The street vendors of food and drink continued to be a common sight in London until the end of the Victorian Era; and for good reason. If they served as a kind of outdoor café for the poorest of the poor, they served a significant portion of London's population. As late as 1889, Booth estimated that 30 percent of Londoners lived in poverty…. source.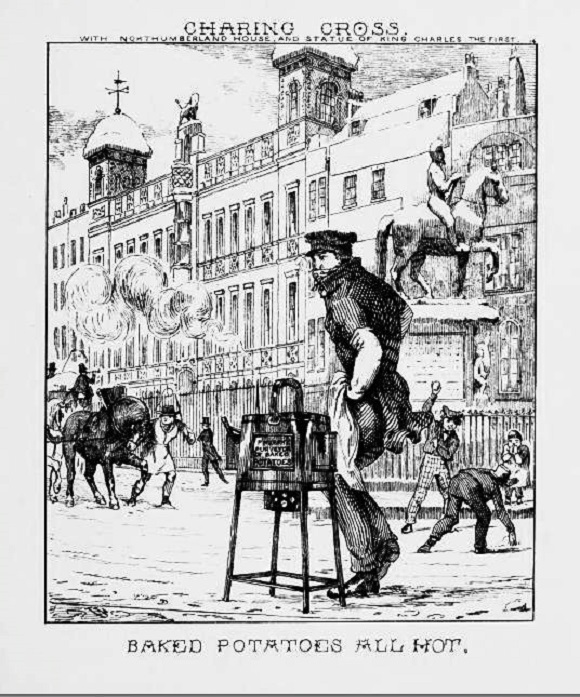 Charing Cross — Baked Potatoes, All Hot! – 

John Leighton – 

1847 – 

The Cries of London & Public Edifices, Plate 13 – c

redit to –  the Internet Archive and the University of Toronto Library – here.
Baked Potatoes, All Hot!
How very cold it is! the Potato-merchant jumps about to warm his feet. It is fine time for the boys; they are pelting each other with snowballs…… 
……
Dugald Semple – Cooking Outdoors – circa 1930.
Dugald was primarily vegan from ~ 1906.
Personally, I began rather drastically over 50 years ago by cutting out not only all meat or flesh foods, but milk, eggs, butter, tea and coffee. Cheese I have never eaten; indeed I hate the very smell of this decayed milk. Next, I adopted a diet of nuts, fruit, cereals and vegetables. On this Edenic fare I lived for some ten years, and found that my health and strength were greatly improved. Probably this was also because I lived more in the fresh air and closer to Nature.
Dugald Semple – written c. 1963 and first published in the booklet –  Here's Harmlessness – compiled by H. Jay Dinshah – published by The American Vegan Society.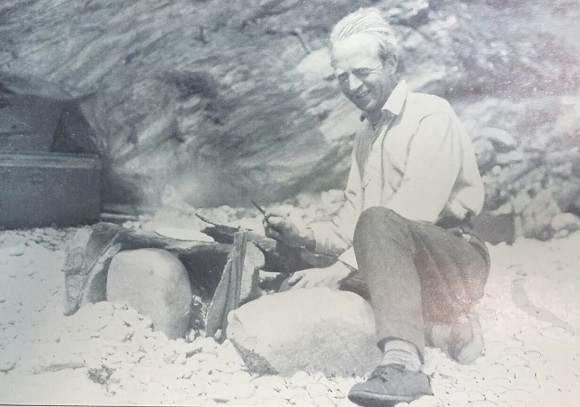 Image from – A Free Man's Philosophy – Dugald Semple – Published London: C. W. Daniel Co. – 1933
The ordinary method of cooking potatoes in boiling water is both wasteful and unscientific. By paring the skins and throwing away the water in which the potatoes are cooked we thereby rob this wholesome vegetable of its valuable organic salts and precious vitamins. Added water or steaming is always a mistake, for it washes out the very soluble mineral salts and delicate flavours which are essential to healthy digestion. Heat is all that is necessary to burst the starch granules, and when we make use of water it should be simply to prevent food from burning. Hot air or dry heating is the best method of cooking, such as we employ when baking cereals of bread. Those, too, who have roasted potatoes in their skins or jackets, know how delicious they taste.
When camping I used to roast my "tatties" in the ashes of the camp fire, and from this way gradually evolved the idea of a simple hot-air oven for home use. The oven is made of thick blocked tin, and has a copper base to distribute the heat quickly and equally. There is no fear of burning or scorching, and there is no possible loss of food material. It cooks or bakes potatoes, carrots, turnips, etc., in their own food juices at the minimum of cost and labour. This new oven can be placed on a single gas burner, electric or oil stove, and thus ensures better meals at considerably less cost. It can be used also over a good red-hot fire, preferably where smokeless fuel is burned. Not only is it a great saving in labour, but there is no danger of cracked pots or water boiling over. – Dugald Semple – 'Potatoes For Health' – The Vegetarian News – November 1934.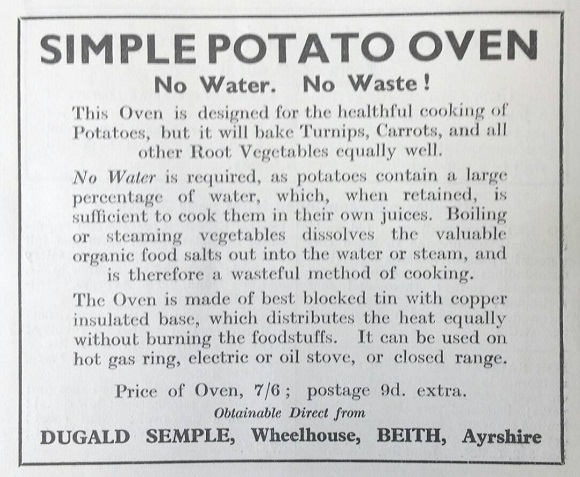 Dugald Semple's "Simple Potato Oven" – The Vegetarian News – November 1934
……It is then time for dinner, which usually consists first of a few ounces of flaked nuts, a large helping of raw salad, baked potatoes in their skins, and to finish, a few dates or prunes with nut cream. After dinner I rest a little or read the papers, then do some work in the garden for most of the afternoon. When the weather is fine, I make for the seashore and perhaps take some nature photos. On other days I go for long walks to study nature or to visit friends. My last meal is about 5:30p.m., when I take a light salad meal – more green leaf than root vegetables – with perhaps a baked potato and nut butter. – Dugald Semple – from the 1963 booklet –  Here's Harmlessness.
……
My 2016 version of Dugald Semple's "Simple Potato Oven"
Made of cast iron.
Available in 3 sizes.
More Dugald Semple information –
Living The Simple Life – here.
Joys Of The Simple Life – here.
Cathie & Dugald Semple – spreading vegan knowledge – here. 
……
Our Projects
The library is still strong & very active eighty years later –  its primary objectives are to: –
Collect all of Ernest Bell's book & non-book works and make them easily accessible to everyone.
Collect the literature of vegetarianism and all the other humanitarian movements in which Ernest Bell was so deeply involved.
Assist students and scholars in their research.
Introduce all aspects of Ernest Bell's life, including his writings, campaign work, influences and his circle of friends.
Undertake our own research into missing aspects of Ernest Bell's life and work.
We already have more than 300 pieces of Ernest Bell's own writings.
We are also actively building a collection of examples of promotional material, campaign material, fundraising & marketing activities etc. – related to: –
Veg(etari)an products.
Veg(etari)an books & other publications.
Veg(etari)an organisations.
Veg(etari)an businesses.
Animal rights organisations.
Animal rights publications.
Humanitarian organisations.
Humanitarian publications.
Rambling clubs run by members of the above groups & related publications.
The work of Richard St. Barbe Baker & the 'Men of the Trees' organization & its many sub-branches.
The history of Democratic Socialism.
Pre-WW2 Trade Union badges / pins / ephemera.
There are currently more than 2,000 items in the Ernest Bell Library. We will complete the cataloging of the collection as & when adequate funds are available.
 "I have little doubt that the proposal for the establishment of an Ernest Bell Library, which would specialize in humanitarian and progressive literature, and so form a sort of centre for students, will meet with a wide response." 
Henry S. Salt – writing in September 1934
……
If anyone would like more information about our projects, please send an email to: – 
humanitarianleague

(at)

outlook

(dot)

com

 
– or message me  through

 HappyCow

 – 
……
….
..
Additional Rambling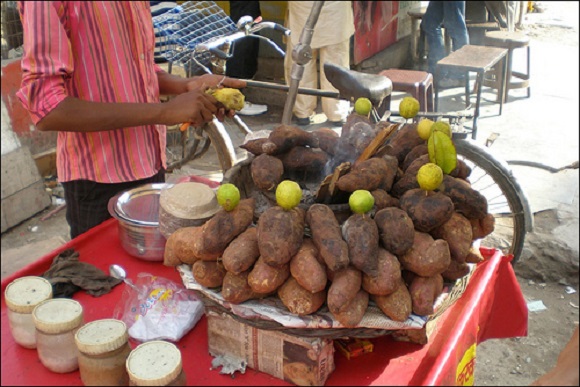 A street food vendor in Delhi, India roasting sweet potatoes
I spent much of the early 1980s in North India.
Shakarkandi – शक्करकनदी – roasted sweet potatoes – sustained me very nicely each winter.
In Delhi the sweet potatoes are cooked inside a mound of burning wood / wood powder.
Once cooked, the vendor adds to taste –
Freshly squeezed lime / lemon juice
Red chilli powder
Chat masala (recipe)
Salt
Finely-chopped coriander / cilantro
……
Roast Potato Seller in Japan (Yakiimo ya)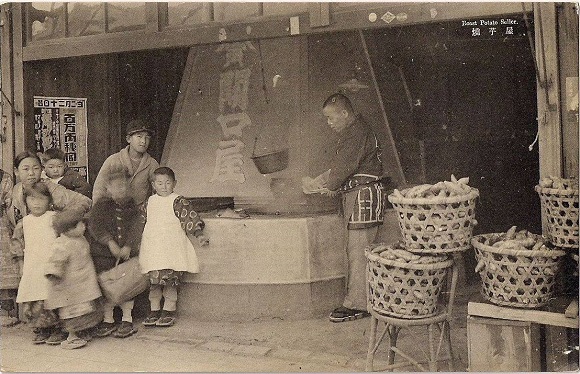 Ernest Bell Library card – Roast Potato Seller (Yakiimo ya) Japanese.
Taisho-early Showa era, pre-1940 Artist Unknown 8.8 x 13.8 cm
 
Leonard A. Lauder Collection, Museum of Fine Arts, Boston – here.
In March 2002 Leonard A. Lauder donated his collection of more than twenty thousand Japanese postcards to the Museum of Fine Arts.
More about Leonard A. Lauder – here.
In Japan it seems like as the wind blows in the winter weather it also blows in the calls of "O-imo da yo! Yaki-imo da yo!" from multiple ishi-yaki-imo-ya (石焼きいも屋). Ishi-yaki-imo-ya are mobile food sellers whose specialty, and in fact their only menu item, are stone-baked satsuma imo (さつまいも), or Japanese sweet potatoes. These yaki-imo-ya used to consist only of a seller pulling around their cart, which housed a wood burning stove constantly baking sweet potatoes, but recently, while the original carts have not yet gone out of style, the call can be heard coming from the loudspeakers on trucks driving through the neighborhood. source.
……
 Fred Spurgin 
Potato – by Fred Spurgin – p

ostcard – undated – probably WW1 era – WW1 rationing cartoon propaganda.
Comment via Facebook