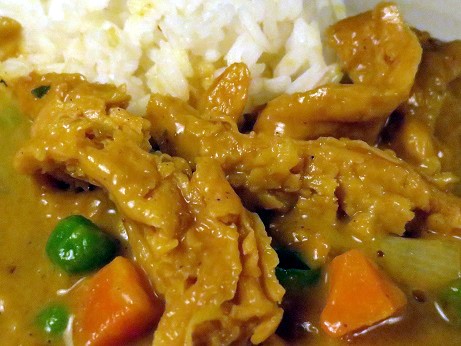 If you're not familiar with Butler Soy Curls, this is an amazing product. Soy curls are an unseasoned and unflavored dehydrated bean  curd. Since they're dehydrated, flavor can be infused by rehydrating them in a flavorful sauce. For example, in the picture above I used this product to make a vegan chicken curry.The dried bean curd was simmered in a sauce that was flavored with vegan chicken bouillon and seasoned with a mixture of Madras curry powder, garlic, ground cayenne pepper, Old Bay seasoning, garlic, and vegan peanut butter. Not only were these bean curds moist and flavorful but their natural color even made them look like chicken.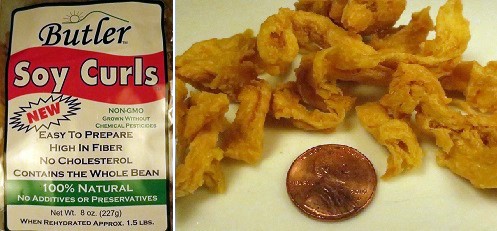 In thinking more about this product, I couldn't help but think about Te Chang brand tofu. Like Butler, Te Chang produces a dried bean curd. Unlike Butler, these Taiwanese products have been marinated in a flavorful sweet sauce. Sadly, the Te Chang product line which includes such flavors as vegetarian and black pepper, is not vegan friendly because they contain sugar.
I think the reason these products are different  is because Te Chang has a different target market. I'm not talking about the obvious difference – that Te Change sells to the Taiwanese while Butler Soy Curls are sold here in the states. In addition to this difference, Te Chang's product line was produced as a snack. The Taiwanese literally eat these curds straight out of the bag just as Americans might do with potato chips.  In contrast, Butler Soy Curls were created as a meat substitute for vegetarian cooks. When eaten out of the bag this product is tough, bland, and boring.
With this being said, this got me to thinking. If Butler soy curls were made with dried tofu, why don't they look more like a rehydrated form of Butler Soy Curls?
The answer was simple. Te Chang's sweet and flavorful marinade includes food coloring. Knowing that Te Chang had used food coloring, I began playing with the soy curls in my kitchen.  I flavored a broth with a mixture of tamarind paste, fructose, lemon juice,plantain flour, and vegan chicken bouillon.  I also added a mixture of red and yellow food dye. When mixed with vegan mayonnaise along with minced carrots and onions to provide contrasting color and texture, I wound up with a product that tasted like an imitation lobster salad. Unfortunately since the food dyes bled, the mayonnaise turned orange. (See picture 1).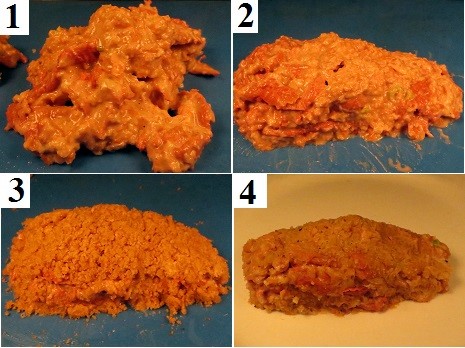 Unwilling to toss this rather tasty product aside, I came up with a plan B on the fly. I added bread crumbs to stiffen the salad and (see picture 2), formed the salad into the rough shape of a lobster tail. I then made a breading mixture using bread crumbs, soy milk mixed with Vegg (to simulate egg yolks), white wine, margarine, and mustard. I spread this mixture over the tail (picture 3) and then stuck the pan under a broiler for 3 minutes. The end result? A vegan lobster thermidor! I enjoyed this thermidor with a remoulade sauce.
The original remoulade was French condiment made with mayonnaise mixed with capers, mustard, chopped pickles, and anchovy paste. In Louisiana, Cajuns adapted this sauce that had been introduced to New Orleans by French immigrants. They replaced the capers and anchovy paste with Louisiana style hot sauce along with garlic and paprika. The resulting product has been described as an "upscale tartar sauce."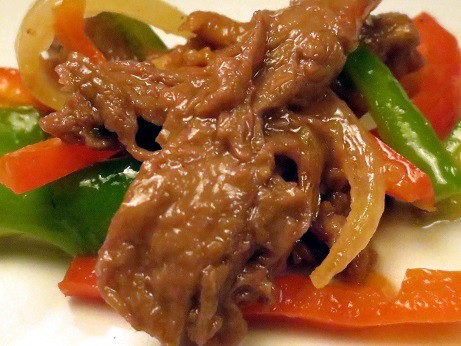 By way of a different twist, this evening I re-hydrated some Butler Soy Curls using mushroom bouillon and mushroom soy sauce. Mushroom soy sauce is a wonderful vegan substitute for oyster sauce. 
This time instead of using red and yellow food coloring to make an orange colored product, I used red, yellow, and blue to create the browness of cooked meat. I used these soy curls in a stir fry and produced a succulent  Sichuan pork.
This dish was juicy and spicy hot – just the way Sichuan food should be. The bean curd even LOOKED like sliced strips of pan fried pork.
The recipes for Sichuan Pork and Chicken Curry may be found in my vegan cookbooks being offered for sale through Amazon.com. The recipe for Lobster Thermidor will appear in a future cookbook that will most likely be published before the end of this year.
David Chin, Author of:
Unintentional Vegan: Salads, Dressings, Dips, and Appetizers
These e-books are available through Amazon.com. If you don't have a kindle, don't worry. You may download a free kindle reader to your PC by clicking on the following link. Amazon prime members may also borrow one e-book per month for free!
Free Kindle Reader for your PC
How to Give an Kindle Book as a Gift
For information about upcoming volumes or to read my daily blog, please visit: Unintentionalvegan.com
Comment via Facebook